About SonicWall
Deliver boundless cybersecurity for the hyper-distributed era. With real-time visibility and breakthrough economics, SonicWall has been closing the cybersecurity business gap for enterprises, governments and SMBs worldwide for over 30 years. Read the 2022 Midyear Threat Report from Sonicwall (PDF).
---
Next-Gen Firewalls
Whether a small business or a global enterprise, SonicWall's next-gen firewalls are easy to deploy and manage in order to better protect your network. Read Buyer's Guide (PDF).
SonicWall Gen 7 NSsp Series
This network security services platform is built to prevent zero-day and advanced threats. Eliminate attacks in real time without slowing or interrupting performance.
---
SonicWall Gen 7 NSa Series
Deploy comprehensive security features including intrusion prevention, application control, malware analysis and more to the very perimeter of your network.
---
SonicWall TZ Series
SonicWall's integrated SD-Branch platform is built for next-gen SMBs and branches.
SonicWall Secure Mobile Access (SMA)
Secure anywhere, anytime access to resources across multicloud environments, based on user and device identity, location and trust.
---
Best Practices for Secure Mobile Access
Read SonicWall's recommended best practices to help you balance effective security, access, and performance for your mobile workforce.
---
SonicWall Cloud Edge Secure Access
Learn how SonicWall Cloud Edge Secure Access leverages zero trust and least privilege access to protect cloud-first organizations.
SonicWall CAS
SonicWall Cloud App Security (CAS) extends the most complete, in-depth security stack for Office 365 and G-Suite users.
---
Is Your 0365 and G-Suite Email Really Secure?
Easily deploy SonicWall's threat prevention system across your enterprise to target phishing, malware, zero-days, insider threats and more.
---
SonicWall Cloud App Security
With email as a major threat vector for cyber attacks, SonicWall helps improve SaaS security, deliver zero-day malware scanning and enforce data loss prevention.
---
Endpoint Security
SonicWall Capture Client is a unified client platform that delivers multiple endpoint protection capabilities, including next-gen malware protection and application vulnerability intelligence. It leverages cloud sandbox file testing and provides easy-to-use actionable intelligence for reporting and enforcement.
SonicWall Capture Client
Stop breaches faster than ever before with endpoint security features like machine learning and system rollback.
---
What to Look For In An Endpoint Security Solution
Get a fresh perspective on the challenges of endpoint protection and what factors administrators should consider for an effective endpoint security solution.
---
SonicWall Advanced Threat Defense
Quickly detect and protect against enterprise breaches and potential threat vectors.
SonicWall 600 Series Access Points
SonicWall's 600 series access points provide outstanding performance even in high-density, multi-device environments.
---
Streamline Wireless Network Management
Deliver a highly intuitive, scalable and centralized management solution with SonicWall Wi-Fi Cloud Manager.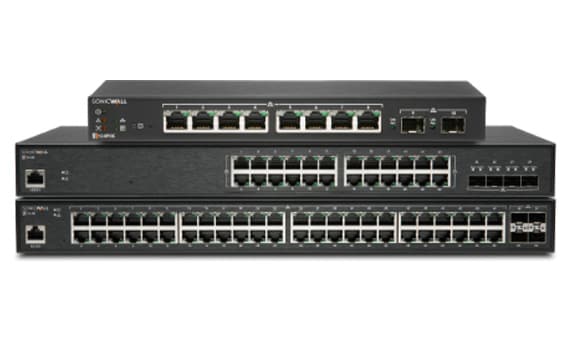 Interested in a SonicWall solution or offering?

---