Feel safe and confident with CDW Product Protection on your device.  Plans are available in various levels of protection.

Shop CDW Protection Plans
About CDW Product Protection Plans
CDW Product Protection Plans are designed to extend and/or enhance the manufacturer's original warranty and are applicable across multiple brands and devices. CDW Product Protection Warranties are underwritten by Safeware and are backed by an AM Best™ A-Rated insurance carrier.
CDW Premium and Standard+ Plans
CDW Premium and Standard+ Plans provide enhanced protection, including accidental damage from handling and device protection in the event of drops, falls, or spills. Premium Plans also include a feature that removes the limit on the number of covered repairs over the life of the plan. 
CDW Standard Plans provide coverage in the event of mechanical or electrical failures your device experiences after the manufacturer's limited warranty expires.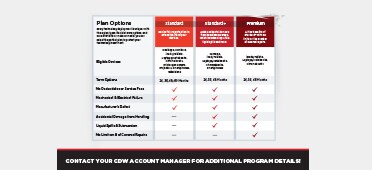 Coverage Overview and FAQs
Review the coverage levels of CDW Product Protection Plans and frequently asked questions.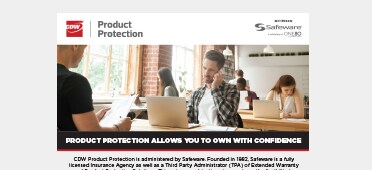 CDW Product Protection Overview
See how CDW Protection Plans administered by Safeware can keep your best tools protected from damage, while giving your organization flexibility to meet its needs.
 
Explore how the claims process works in the event a covered device experiences damage or failure.