About Extreme Networks
Extreme Networks creates effortless networking experiences that enable all of us to advance. Extreme pushes the boundaries of technology leveraging ML, AI, analytics and automation to deliver end-to-end, cloud-driven networking solutions. Extreme delivers top-rated services and support to advance their customers' digital transformation efforts and deliver progress like never before.
Your Network. Your Way. Complete Solution Flexibility with ExtremeCloud IQ. 
Through value-based licensing/SaaS tiering, Extreme Networks is making it even easier for you to grow as you go. Extreme offers the most flexible, feature-rich, application tiers tailored to every business, budget and IT needs, that delivers the management, intelligence and assurance your business requires
ExtremeCloud IQ Data Sheet
ExtremeCloud IQ is an industry-leading and visionary approach to cloud-driven networking, built from the ground up to take full advantage of Extreme's end-to-end networking solutions. 
---
Extend Cloud Management to All Devices, All Deployments
ExtremeCloud IQ Site Engine extends cloud management to non-cloud native and multi-vendor devices to provide a one dashboard view of your entire network, that can be managed in the cloud or on-premise.
---
Cloud Security & Assurance
Extreme Networks employs industry-leading practices and technologies to secure our Cloud networking infrastructure.
---
Exceptional Wi-Fi 6
Get high efficiency, high capacity Wi-Fi that utilizes the latest technologies to optimize and protect bandwidth in all environments.
---
Cloud-Driven
Combine the leading Wi-Fi hardware with next-generation Extreme cloud management to simplify every aspect of IT operations from deployment to support.
---
Machine Learning
Make the network work for you instead of the other way around with self-driving Wi-Fi powered by millions of actionable insights to continually adapt and adjust performance.
Play Ball!
From the concourse to the dugouts and beyond — Extreme Networks is coming to a ballpark near you.
---
Wi-Fi 6: The Now of Networking
Extreme Networks offers Wi-Fi Infrastructure solutions  built on a foundation of products with unlimited scalability, reliability and security services, providing the industry's most extensive suite of access points and management solutions. 
---
2021 Gartner Peer Insights Customers' Choice Award
For the fourth consecutive year, Extreme was named as a 2021 Gartner Peer Insights Customers' Choice for Wired and Wireless LAN Access Infrastructure. 
Uncover the Power of Universal Switches
Designed for the digital enterprise, the Extreme 5520/5420 Series universal hardware offers a user-selectable choice of Extreme's flagship switch operating systems. Get a uniquely flexible platform that can be deployed across a range of use cases and edge, aggregation and wiring-closet environments.
---
Fabric Networking
Enterprises want their networks to do more faster, with improved security and resiliency and reduced complexity. Extreme's Fabric Networking solutions offer a new way to design, build and operate your network, one that delivers a more agile network
---
SUNY Canton — Delivering Incredible Esports Performance
SUNY Canton is known for their competitive esports team, making quick response times and non-lagging network performance essential. 
---

ExtremeRouting is a powerful WAN access platform that seamlessly and securely extends Fabric Connect services and micro-segments to remote locations
Extreme Networks Border Routing
Organizations are expanding from on premise, private and hybrid cloud to full multi-cloud architectures to address agility, scale, security, reliability and cost requirements as digital transformation reshapes their business environment.
To succeed in the digital era, organizations need network platforms with the adaptability to address these rapidly evolving demands and enable them to simplify and scale operations while driving out cost.
---
Agile Data Center Solutions for the Enterprise
Agile Data Center's automation, analytics and open adaptable platforms enables organizations to quickly respond to technology transitions and deliver services at the speed of business.


Top 10 Network Security Best Practices
Here are the Top 10 Network Security Best Practices, based on decades of experience implementing smart, cost-effective security capabilities for the world's leading enterprises.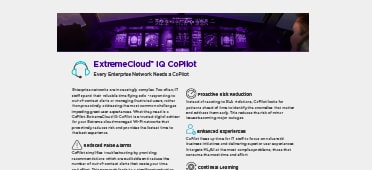 ExtremeCloud IQ CoPilot
Learn how ExtremeCloud IQ CoPilot proactively reduces risk and provides the fastest time to the best experience.

---

---