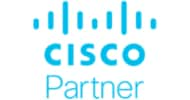 Contact a CDW Cisco Networking Expert
Deliver cutting-edge intelligence with an intuitive network.
Deliver continuous service, innovation and security with Cisco's intelligent network solutions. Gain insight into network users, applications and devices with the ability to learn and adapt quickly to network changes.
Interested in Cisco networking for your business? CDW can assess your organization's workflow and its goals, then orchestrate a solution with Cisco to meet your organization's needs.
Speak with a CDW expert at 800.800.4239 or fill out this form and a CDW Cisco Network Expert will be in touch soon.