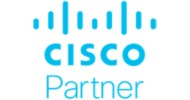 Contact a CDW Cisco Data Center Expert
Manage the ever-expanding data center.
Cisco data center solutions are built to support your infrastructure, go wherever your data goes and manage next-gen enterprise applications across your entire network.
Interested in Cisco data center solutions for your business? CDW can assess your organization's workflow and its goals, then orchestrate a solution with Cisco to meet your unique needs.
Speak with a CDW expert at 800.800.4239 or fill out this form and a CDW Cisco Data Center Expert will be in touch soon.