The DNA of Digital Transformation
Cisco's Digital Network Architecture solution helps IT staff leverage the cloud and the Internet of Things.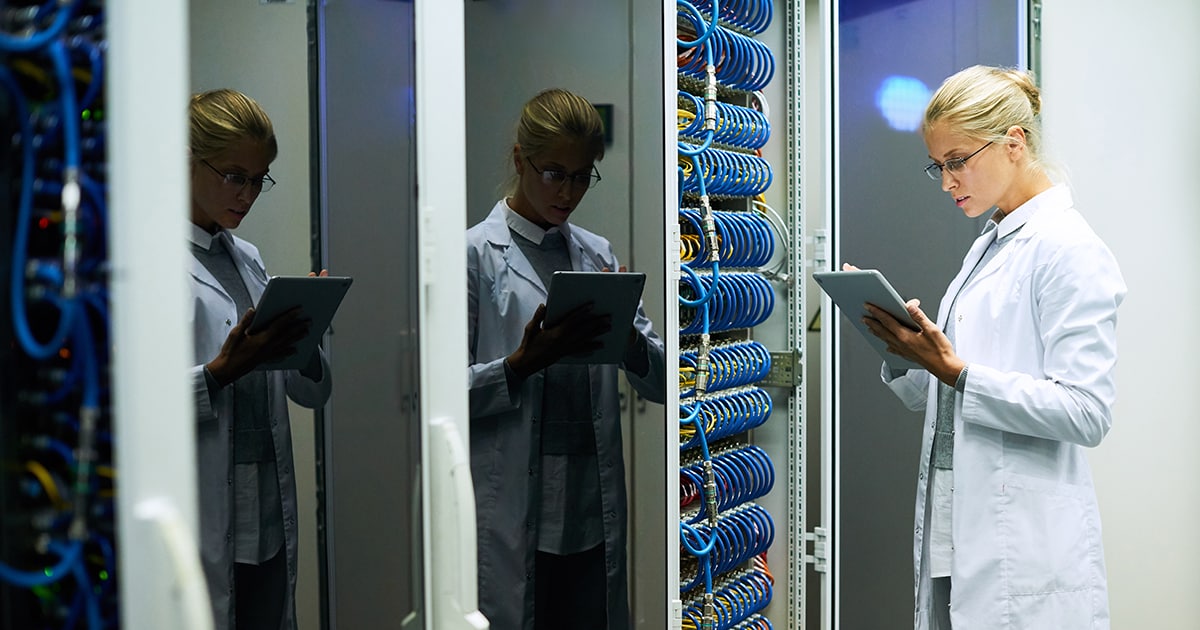 Digital transformation occurs when enterprises fundamentally change their business model, creating a shift in technology that affects IT culture and how value is being delivered to customers.
Scale, referring to additional connected devices increasing data growth, is one of those technological changes. The Internet of Things, for example, is often a key component of digital transformation strategies because it enables businesses to make more informed decisions, operate more efficiently and provide a better customer experience. IoT requires scale — as in thousands or tens of thousands of additional sensors and other devices in each business. That's why by 2020, at least 63 million devices will attach to networks every second. As the amount of IoT devices scales up, so do the security risks and the amount of time that IT staff will spend to provision and manage them.
Meanwhile, both IoT and non-IoT devices typically connect to multiple clouds, which is another key enabler for digital transformation. These connections also create a set of complexities and challenges for the IT team, which must implement a myriad of strategies and policies to ensure that application is security and quality of service.
Improve Security and Service While Reducing Manual Tasks
To help enterprises overcome these challenges and thus ensure a successful digital transformation, Cisco developed Digital Network Architecture (DNA). Cisco DNA Center is the intent-based networking platform that orchestrates and automates DNA infrastructure. DNA Center uses advanced technologies such as Cisco Software-Defined Access (software-defined networking), artificial intelligence and machine learning to:
Enable quality of service assurance: For example, DNA provides scorecards that IT staff can use to verify that wired and wireless networks are meeting performance targets. DNA also makes it easier to prioritize certain types of applications and traffic. This ensures that latency-intolerant applications, such as videoconferencing, always provide a great user experience because they get access to network resources ahead of applications that aren't as sensitive to latency, such as email.
Secure networks and devices: DNA makes it easier to segment networks to prevent certain types of traffic from mixing, eliminating the possibility that malware could jump from, say, email to IoT applications.
Automate provisioning and policy enforcement: Imagine trying to find the time and staff necessary to manually provision a few thousand additional IoT devices each month. Now imagine using DNA to automate that task, as well as apply and enforce security policies.
By minimizing the amount of human intervention required for these and other processes, DNA Center allows IT staff to focus on other aspects of digital transformation. Instead of provisioning IoT devices, for example, they can help lines of business develop IoT strategies. This also serves to elevate the IT department's role in the organization, from a back-office support and cost center to a strategic partner capable of increasing the bottom line and competitive position.
Digital Transformation Is a Journey
To further ensure a successful DNA-powered digital transformation, many IT departments are turning to CDW for help. One reason is that Cisco's DNA solution, along with the underlying technologies, are new for most enterprises, so it's critical to have a partner that can integrate this tool into existing systems.
CDW offers pre-sales and post-sales services to help enterprises determine if their environment is DNA-ready. These services include pre-sales CDW solutions architects providing customer support by presenting DNA capabilities and walking the customer through the four steps required to support Cisco SD-Access. Post-sales services include an interview-based workshop that involves Cisco SD-Access design deep dives and validating that the solution meets business and technical needs. Deliverables for these types of engagements include a readiness document outlining high-level architecture recommendations and design documents that include device procurement needs to meet the scope of the project.
Learn more about the impact of IoT devices on networks in this video interview with a Cisco expert.