Case Study
Kent State University Gets a Network Upgrade
With help from CDW•G and Aruba, the Ohio university stands up a network with the flexibility and agility to stand up to anything.
The world's best universities have always prioritized evolving to meet the changing needs of their students. Adapting, they've realized, isn't optional in higher ed — it's both expected and essential to long-term success.
New courses, new departments and entirely new degrees are all part of this well-established business model, but in recent years the biggest innovations have often had to do with campus IT infrastructure. With the Internet of Things growing exponentially on college campuses, and research showing the average student logs on to their university's Wi-Fi with two or more devices every day, schools are upgrading their IT networks to keep pace with evolving demand.
Take, for instance, Kent State University in Ohio, where John Rathje is vice president for IT and CIO. Network modernization, Rathje says, was already a top priority for his team in the months leading up to pandemic's onset. The years-old wired network the university had in place couldn't reliably provide the high-speed connections its community increasingly needed, and it lacked sufficient redundancy. Consequently, the school's IT team was concerned about the growing risk of a failure. Similarly, Kent State's aging wireless infrastructure was long overdue for an upgrade, and they needed better network management tools — solutions that would help them work more effectively and efficiently.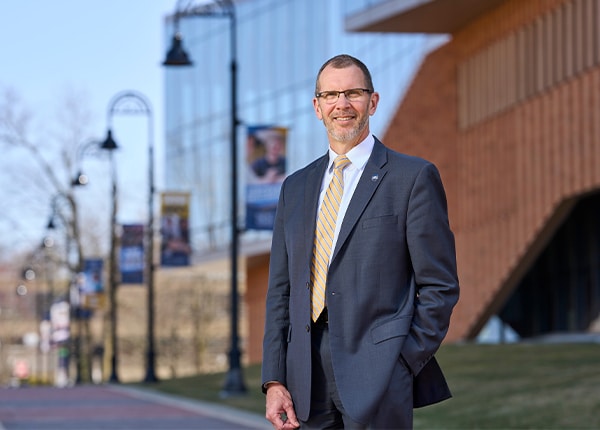 "The way we've designed and engineered our network, we're going from a two-lane road to a six-lane expressway that can handle any type of vehicle with ease."
John Rathje, Vice President for IT and CIO, Kent State University

The network Rathje's team envisioned, he recalls, "had to be able to scale to meet demand, and it had to have flexibility and agility, management and monitoring — all of that had to be built in." The arrival of COVID-19 in 2020, and the university's forced pivot to remote work and learning, simply made those requirements more important. "All of a sudden," Rathje says, "with everyone offsite, we were dealing with an even deeper dependency on network availability and performance."
Rethinking an Aging Network
Knowing that they needed to act fast — and with funding available through the federal CARES Act — Rathje and his team reached out to CDW•G to discuss available solutions and their options for implementation.
"Their immediate concerns focused on two areas," recalls Derek Lewis, a CDW•G network field solution architect. "The first thing was the need for next-generation switching to bring their core and distribution up to speed and to pave the way for next-gen wireless. But equally important was network administration and adding modern tools that would make that job easier."
"Our network was old," agrees Michael Geist, Kent State's manager of network and telecommunication services. "We had a throughput of about 10 gigabytes based on our physical line card, so that was really limiting connection speeds for people across our campuses, and a lot of our buildings were only connecting at 1 gig based on the switch." Likewise, when they had failures in their core, it was always a serious problem. "Inevitably it would result in a significant outage, and we'd be scrambling to get everything back up and running," he says.
When it came to their wireless, Geist continues, "we needed a lot of things to get it where we wanted it." Topping the list were new wireless LAN controllers that would improve campus Wi-Fi performance and security. Beyond that, they hoped to replace several hundred wireless access points (APs) while adding hundreds more to expand connectivity.
"We were looking at what we needed right away given the videoconferencing and everything else driven by the pandemic, but we also wanted to think about what we'd need moving forward," Geist says. While Kent State is highly respected for the undergraduate and graduate programs offered through its eight regional campuses, it's also well known as a research institution where faculty and students collaborate with leading innovators around the world. In partnering with CDW•G, Geist says, "we knew they could help us design a network that would support all of that work well into the future."
Ready for Anything with Next-Gen Everything
Geist, Rathje and their colleague James Raber, Kent State's Executive Director of Support, Infrastructure and Research Technology, all say that what happened next unfolded in what seemed like the blink of an eye. In September 2020, after they secured approval from the Kent State Board of Trustees, they jumped right into the first phase of the project with a concerted push to revamp their switching.
It went better than anyone expected. "I've been part of a number of core network upgrades, and this was about the smoothest that I've ever seen," Raber says. "I think our team overall had a really good plan, and they had really good guidance from CDW•G and others on the vendor side."
Geist agrees. "The last core upgrade we did, in 2012, took us almost 18 months," he says. "We finished this one in four, and we did it with fewer people and mostly remotely — all in the middle of a pandemic. It's a testament to my team and their hard work."
Working closely with CDW•G and Aruba, Geist's team of 11 in Network and Telecommunication Services began by installing 48-port Aruba CX 8325 switches with 100Gbps line-rate interfaces. "That increased our throughput exponentially," he says. "It also gave us the redundancy we wanted. If we had a failure in our distribution layer now, we could afford it. Everything would be OK."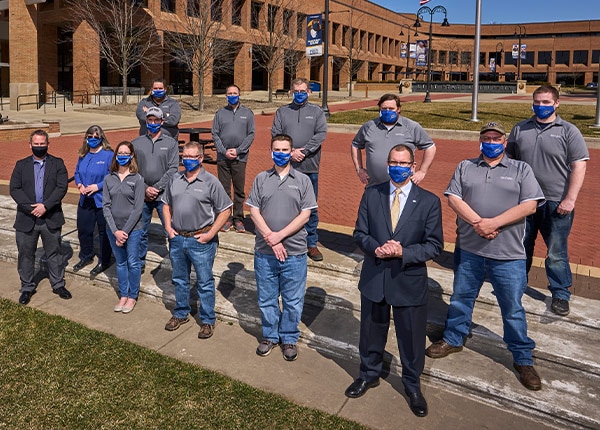 "All of sudden, with everyone offsite, we were dealing with an even deeper dependency on network availability and performance."
John Rathje, Vice President for IT and CIO, Kent State University, shown here with Michael Geist and other staff from the Department of Information Technology

Moving on to the wireless side of the project, the Kent State team installed Aruba 7000 Series controllers in conjunction with Aruba Mobility Master, a master controller capable of handling up to 10,000 APs at a time. They also began installing new access switches and APs, and they added two management solutions: Aruba NetEdit and Aruba AirWave.
Deployed as a physical server, Mobility Master offers features like seamless roaming and automatic user and AP load-balancing. AirWave, on the other hand, is for monitoring wired and wireless infrastructure, while NetEdit takes the guesswork out of switch configuration.
With its automated workflows and analytics capabilities, NetEdit's primary purpose is to "eliminate user error in the configuration process," Geist explains. The tool allows his team to easily configure multiple switches at once, and it lets them do so during the day, when network use is usually at its highest. "You can do the work quickly with no impact on anyone," he says. "No one is going to notice anything."
As for AirWave, Geist says, "it's an awesome solution for our wireless management." A multivendor monitoring tool offering real-time visibility into APs, switches and controllers, the system allows administrators to see clients as they move around a building. "That's information that can be especially useful to our help desk," he says. "It's always easier to find solutions to problems when you know exactly where your customers are."
Average daily campus VPN users at the University of Utah in April 2020, up from 600 two months earlier 
Source: The University of Utah University Information Technology, "Responding to COVID-19: CTO Highlights," April 29, 2020
Flexibility to Adapt to the Future
For the next phase of the university's network upgrade project, Geist says his team will continue replacing their current access switches and will replace and add new wireless APs. The goal, he says, is to create "modularity" in their buildings through the use of Aruba equipment that can be swapped in and out as necessary. "As it is now, we don't have any standardization," he explains. "Every switch has a different number of ports and gives you a different speed. The way we've designed it and planned it out, every building on every campus is going to get exactly the same thing. That's going to help us on the management side of things, but even bigger, it's going to help the end-user experience, which is what this upgrade is really all about."
When he looks back on what they've accomplished so far — and ahead to what they hope to accomplish in the future — Rathje agrees with Geist on all accounts. They'll measure success based on what they hear from the Kent State community, and if they find that there's room to improve, they'll take steps to implement the necessary changes, he says.
"Thinking about how this network is designed and engineered, I have no doubt that it's ready for anything our students and faculty might need it for today," Rathje says. "At the same time, and just as important, I'm absolutely confident it has the flexibility to adapt as those needs evolve."
"The way we've designed and engineered our network, we're going from a two-lane road to a six-lane expressway that can handle any type of vehicle with ease," Rathje explains. Should that traffic increase, or should it need to move faster, all they'll have to do is add more lanes. "Thanks to the hard work of my network team — and to the collaboration we've had with CDW•G and Aruba, and their leadership and network teams — no matter what happens in the future, we have a plan."
Photography by Roger Mastroianni
By the Numbers: The Kent State University Network Upgrade
Of the countless lessons learned by universities throughout 2020, the need for constant connectivity and flexible, robust network infrastructure ranks high. 
Fortunately for the students and faculty at Kent State University, the school's IT team had already started a large-scale network upgrade that eased the sudden and rapid shift to remote learning following the pandemic's onset. Ultimately, the school's network upgrade included:
400 replacement APs
596 additional APs
275 access switches 
30 Aruba CX 6300 Series 10G building switches
2 Aruba CX 8325 core switches

Aruba 7000 Series controllers
Find out how CDW can help your organization design and build a network that's ready for anything.