Article
Expert Review: Cisco Meraki Go GR60 and GR10 Wireless Access Points
Designed for organizations without dedicated technical staff, the new Meraki Go line provides simple managed wireless networking.
Wi-Fi technology is becoming ubiquitous, but providing wireless network access for the public or using it in a business setting can be a complicated process. Network administrators also face a challenge in managing wireless networks to ensure that they are optimized and secure. Meraki Go access points (APs) from Cisco Systems are designed to simplify these challenges.
Meraki was acquired by Cisco Systems a few years ago to address complex wireless management problems. The company sought to provide high-quality APs that boil down advanced functions into a simple interface and make installation and management easy. My tests with both a Meraki Go GR10 indoor access point and a GR60 designed for outdoor use make it clear that Cisco has succeeded in that goal.
Simple Out of the Box
Absolutely everything needed to set up the AP is included in the box, including the power cable, networking cable, mounting hardware and even screws to attach it to a wall or outlet. A very simple instruction booklet that includes both text descriptions and easy-to-understand pictures covers everything from plugging in the device to getting it activated.
Managing the AP is done though the Meraki Go app, which works with either Android or iOS smartphones. Once the app has been downloaded, scanning the QR code on the back of the AP integrates it with any other APs that are already part of the account. Paying the monthly subscription fee not only grants access to the management interface, but also to technical support for extended hours (7 a.m. to 7 p.m.) during a user's local time.
Users can configure up to four networks per account, regardless of the number of APs that are involved. For example, an administrator could create a private network for employees protected by encryption and have it run beside an open Wi-Fi network for guests, plus have two other setups for specialized use. Networks can be configured to operate independently from each other, but over the same hardware.
Meraki Go makes wireless simple. Even users without a lot of technical experience should be able to set up multiple Wi-Fi networks this way and successfully manage them with little to no training.
Specifications
Wi-Fi Type: 802.11ac Wave 2
Wi-Fi Bands: 2.4GHz, 5GHz
Number of Antennas: 2 Omnidirectional
Power Consumption: 11 Watts
Dimensions (GR60): 4.5x9.6x1.2 inches
Dimensions (GR10): 4.8x8x1 inches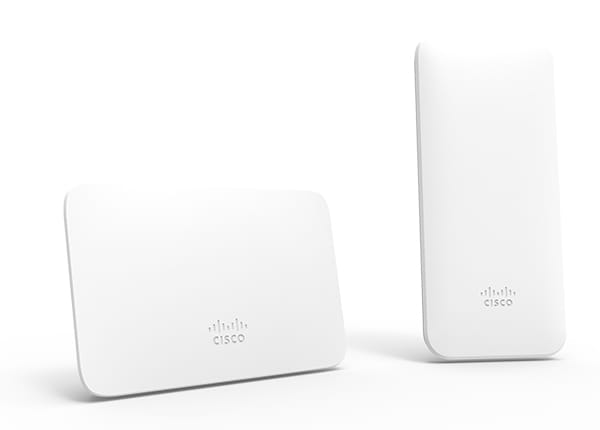 Easy Setup 
Setting up wireless networks through one or more Meraki Go access points can be done in just a few minutes, with little technical skill.
All Inclusive
Everything needed to configure and manage a new AP is included in the box, even required cables and mounting screws.
Simplify by Subscription
The subscription service for Meraki Go includes access to the management console and technical support.
Working with Wireless
The hardware that comes with a Meraki Go package is a top-of-the-line 802.11ac Wave 2 access point. However, it's the software that makes the offering truly special.
Registering a new AP onto an existing network of Meraki Go products enables a user to extend coverage across a business, facility or even a campus using either indoor or outdoor APs. 
From there, creating a new wireless network can be done with the push of a button. A user has to simply name the service set identifier that will be broadcast, and assign it as open Wi-Fi or an encrypted network with a password. That's all there is to spinning up a new wireless network. A set of best practice policies will be applied automatically.
The management console gives administrators deep insight into how users employ whatever networks the APs support. For example, an admin can see which users are connected at any given time, or historically which users take up the most bandwidth. The console can even show what applications and websites are most taxing to the networks.
With these insights, it's easy to block users or restrict application use. For example, an admin concerned about public users taking up valuable bandwidth by looking at YouTube videos can either block the service altogether, or simply cap public users at a lower bandwidth while allowing them access to the sites they want.
Notifications can also be configured to help admins stay on top of potential problems. For example, the app can send a warning if bandwidth usage gets too high, or if any AP on the network loses power for more than five minutes. These capabilities enable admins to address issues before angry customers or employees come knocking on their doors.

Easy Interface 
The Meraki Go application interface is highly graphical and easy to use. It enables simplified control of network resources with slide buttons and easy-to-understand choices. Knowing a bit about how wireless technology works might be helpful, but no formal training is required. And users who do get stuck have access to technical support personnel through the monthly subscription. 
Combining high-end Wi-Fi hardware with a simple management interface makes sense, especially for organizations that need wireless networking technology, or want to provide it for customers, but have little or no IT staff.



CDW can help you find the best Cisco Meraki Go wireless access points to simplify Wi-Fi networking.