Case Study
A Prescription for Network Management
CDW's Professional Services team helps Proliance Surgeons successfully deploy a new software-defined networking solution to gain better visibility, control and application performance.
When Curt Kwak, the CIO at Proliance Surgeons, a Seattle-based, physician-owned specialty surgery group, decided to upgrade the organization's outdated network to implement software-defined networking based on Cisco Systems' Application Centric Infrastructure, he knew the move would not be an easy one.
"I'd been warned by numerous people that ACI is not something where you click on a switch and it just magically works," he says. "It would require a lot of planning and a lot of foresight. We knew it would be complicated."
But he also felt that any difficulty his organization might experience in deploying the next-generation networking technology would be worth it.
SDN is an emerging network architecture that relies on virtualization to separate network management from the underlying network hardware of routers and switches, enabling greater automation, scalability and manageability.
For example, SDN enables network administrators to use one software-based, centralized dashboard to provision, prioritize and program the applications and data packets traveling across a network.
"The biggest single difference that we get with SDN is the level of control that we have in our network management," Kwak says. "We're able to actually monitor and redirect the traffic in a very efficient way that we never could with a traditional network."
The reduction in Proliance Surgeons' data center footprint after implementing the Cisco ACI SDN solution
Source: Proliance Surgeons
Proliance Surgeons, which operates more than 100 medical clinics and ambulatory surgery centers in western Washington, had experienced a major growth spurt, with the number of patients seen and procedures performed surging by more than 15 percent.
The organization's entire infrastructure — and its relatively small IT team — struggled to keep pace.
"The network, the data center, our storage — they were all straining to absorb and accommodate that level of growth," Kwak explains, noting that all of the organization's network components were nearing the end of their useful life. "So, two years ago, we proactively began planning an initiative to modernize."
That meant overhauling the organization's data center, including its network and storage infrastructure. Kwak and his team took their time and researched numerous options. They met with different networking vendors and even considered deploying a hyperconverged infrastructure, which combines server, networking and storage functions into a single solution, as a way to reduce complexity and increase scalability.
The sticking point, though, was the network. With a team of just 36 IT specialists supporting 2,400 users across the organization's far-flung sites, Kwak wanted to invest in a cutting-edge network that would provide more centralized control and manageability, increase the speed and security of applications, and free up his IT specialists to focus more on strategic initiatives.
Rather than deploying the next iteration of traditional network components, he felt an SDN solution would best achieve those objectives. Because the Proliance IT team already had experience with Cisco components and had decided to upgrade the existing Cisco data center equipment, Proliance chose Cisco's ACI as its new network solution.
"We don't typically dabble too much in groundbreaking technology," Kwak says, noting that he spent a lot of time educating his executive board on both the practicality and the business benefits of an SDN investment. "However, because we are physician-owned, we are a relatively flat organization, so we do need to take advantage of any efficiencies that we can gain from technology. We felt like ACI would give us the flexibility our small team needed to better and more quickly address any issues our clinical users might have when using critical applications."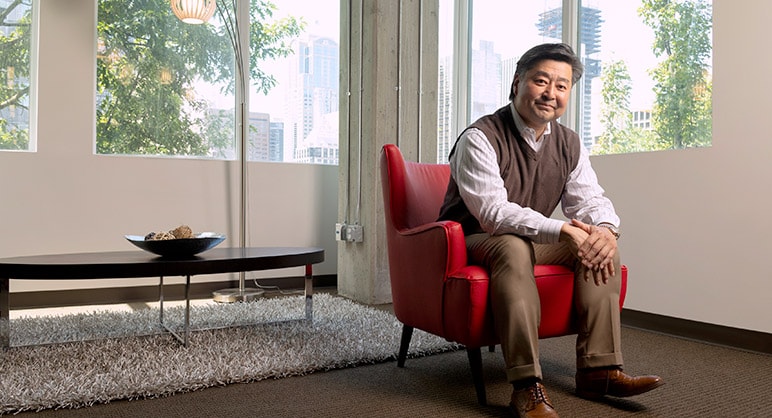 Proliance Surgeons CIO Curt Kwak turned to CDW for help implementing the Cisco ACI SDN solution.
The Right Help at the Right Time
Deciding what to buy turned out to be the easy part; implementing the solution was a challenge. Despite all their preparations, Kwak and his IT team missed one key variable: The reseller that had sold them the solution didn't have enough hands-on experience for a project as complicated as the ACI implementation Proliance was conducting. Cisco was helping educate the IT team on the basics of ACI capabilities, but Kwak decided more was needed, so he asked CDW Professional Services for help with the actual deployment.
With nearly 100 ACI implementations under its belt, CDW had the experience, knowledge and best practices to ensure a smooth transition.
"We were the first vendor outside of Cisco's Advanced Services to deploy an ACI, and so now, after three years, we have the benefit of pure volume," says Mike Mooney, a professional services manager for CDW in the Pacific Northwest. "What's more, we have an engineering culture that is collaborative, where everybody talks to everybody else. Our consultants working with ACI and SDN are aware of what configurations work, what's the best way to write scripts, what the best practices are and so forth, because they've been fully developed through numerous engagements."
The first step that CDW took was to conduct a health assessment of the existing network architecture to address and mitigate any foundational issues that might undermine the ACI overlay. CDW engineers then worked with the Proliance IT team to replace aging components, implementing Cisco 9300 switches and ASR 1000 routers, before configuring ACI for eventual migration of servers and applications.
"They were a huge, integral help in getting us where we are with ACI," says Kwak. "And it's critical to have that expertise to help you effectively plan and deploy it, because with ACI you have a network that's part of the fabric of application performance. Any mistake you make could actually impact the application at the operational level."
To ensure that the Proliance team could eventually take over migration duties and successfully operate ACI and maximize its capabilities, CDW made it a point to educate Proliance team members each step of the way.
"We do a lot of over-the-shoulder training, where we'll make a change or create a profile, for example, and then explain the concept to them. But then we step back and let them take over and drive, so to speak, so they get that hands-on experience while we're right behind them to assist if they run into any trouble," says Rick McGee, practice lead for SDN and network analytics at CDW. "Then, even after they're on their own, we continue to be available in support mode. We're always ready and able to help out and answer questions whenever they need us."
"We are seeing everything run faster, with zero latency or hiccups, and it has increased exponentially our efficiency at managing the network."
Curt Kwak, CIO, Proliance Surgeons

Prognosis: Hale and Hearty
It took nearly eight months to complete the basic implementation of ACI, says Kwak. Proliance, with CDW's support, is still migrating its servers and applications to the new fabric. Kwak expects to have everything completed by fall 2019.
Still, ACI is already paying off for Proliance. "We are seeing everything run faster, with zero latency or hiccups," Kwak says. "And it has increased exponentially our efficiency at managing the network. If a clinical user does call in with a problem, we can see bits and bytes happening in real time and understand exactly what is going on with the application at any given time. It gives us a level of visibility that we just couldn't even begin to have with a traditional network."
This type of performance will help reduce overall IT operating costs and, ultimately, improve care quality and patient outcomes, Kwak says. "Just a small decrease in the lag of a mission-critical application can make a huge difference to a surgeon performing an operation or a nurse who's pulling the chart and medication requirements of a patient they're caring for."
It's also given Kwak and his team peace of mind knowing that the IT infrastructure is now capable of fully and effectively supporting Proliance as it continues its growth.
"Bottom line: We don't have to worry about our infrastructure for the next five years, and in tech time, that is an incredibly long time," he states. "We're modernized, and we're exactly where we need to be. It's a good feeling."
CDW Professional Services engineers know the ins and outs of a successful ACI deployment. One critical step, though, has nothing to do with technical prowess. Instead, our experts make sure organizations can answer five key questions:
What is your business driver? Organizations have many reasons to move to SDN, such as increasing application speed; moving workloads between on-premises and cloud environments; increasing network manageability; and microsegmentation, which allows organizations to isolate and individually secure specific types of data and workloads. 
Is everyone on board? Rick McGee, CDW's practice lead for SDN and network analytics, says having buy-in and clear communication among networking, application and security teams is essential for ACI success. 
How healthy is your network? It's important to conduct a health assessment of the network and address any underlying issues before starting an ACI deployment.
Are your expectations realistic? Microsegmentation is the main business driver for many organizations, but they won't be able to achieve that immediately or easily, McGee says. IT teams must assess the baseline performance of their networks and map application dependencies before they can achieve sophisticated objectives such as microsegmentation.
Are you willing to ask for help? The payoff for an ACI investment is that it's extremely easy to manage on a day-to-day basis. The implementation, however, can be challenging. Many organizations need help. "When it comes to deploying ACI, experience is going to make all the difference," Mooney says.
Learn how CDW can help you deploy next-generation networking technologies such as SDN.