On-Premises or Cloud? Why Not Both, With Cisco's Converged Wireless
A common hardware platform increases management flexibility
As part of CDW's ongoing service development efforts, we often engage with our vendor partners to test and validate new products. In addition to providing valuable data to our partners, these efforts also allow CDW service delivery engineers to gain insight into the latest technology developments.
In this capacity, I recently tested Cisco's new CW9164 and CW9166 converged wireless access points (CW AP). These latest additions to Cisco's Wi-Fi 6E lineup bring new flexibility for wireless LAN management, with both on premise and cloud management available for the same hardware.
The new CW line of APs offers a set of high-performance hardware with variable OS options. So, whether you're running DNAC with Catalyst WLCs, or utilizing the Meraki cloud, a single AP fits the bill. Also, the hardware is as powerful and robust as you'd expect from Cisco, able to take full advantage of the latest Wi-Fi standards.
Both models offer three client serving radios, with operation in 2.4GHz, 5GHz, and 6GHz bands. They also feature dedicated scanning radios, Bluetooth, USB and multigigabit ethernet. 
The CW9166 is the slightly more powerful of the two, with 4x4:4 across all three client serving radios and 5 Gbps on the wire. The CW9164 features 2x2:2 on 2.4GHz, 4x4:4 on both 5GHz and 6GHz and 2.5 Gbps wired.    
The CW9166 also offers the flexibility of an XOR radio with 5GHz or 6GHz operation to make the transition to Wi-Fi 6E smoother, as well as embedded environmental sensors like the Catalyst 9136. 
The physical form factor is similar to Cisco's previous Catalyst models and uses the same mounting hardware. 
The new CW line of APs offers two modes of operation, or personas: DNA (IOS-XE) and Meraki. Each model has two order stock keeping units (SKU), one for each mode. Although the CW APs can be converted from one mode to the other, it is best to order according to your intended deployment. Save the conversion scenario for when truly necessary.
Despite the separate SKUs, CW APs have true dual-boot capability and they can run on either OS. Conversion from DNA to Meraki is straightforward with just a few clicks on the 9800 WLC:
Configurate
Wireless
Change to Meraki Management Mode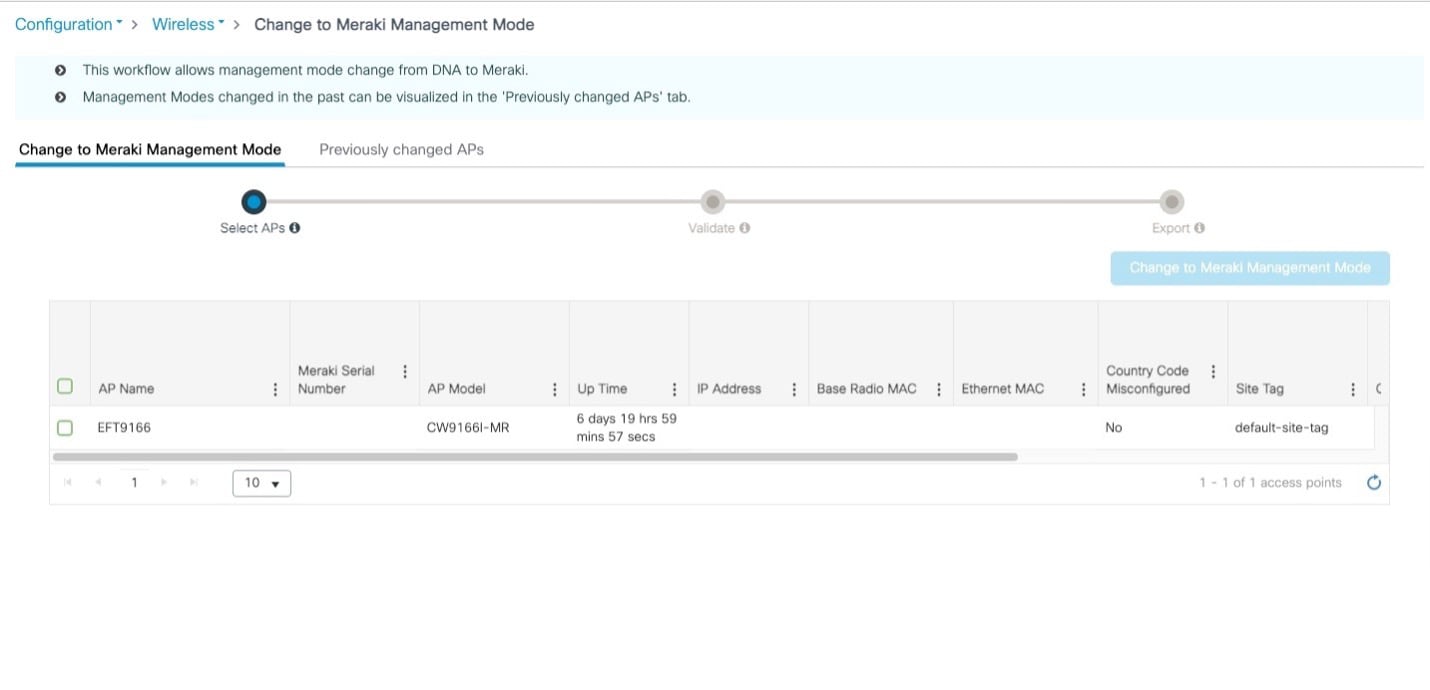 Conversion from Meraki to DNA requires TAC intervention, so it is less controllable by the end user. The process remains relatively simple, as support cases can be opened directly from the Meraki dashboard. 
The CW APs perform comparably to the other new Wi-Fi 6E APs from Cisco, the C9136 and the MR57. There is little performance difference between the two models, as one would expect with such similar radio hardware. Likewise, there was little difference within a model with different OS, with similar performance numbers for both modes. The graphs below show Internet Performance Working Group (iPerf) throughput testing for the CW9164 in both modes.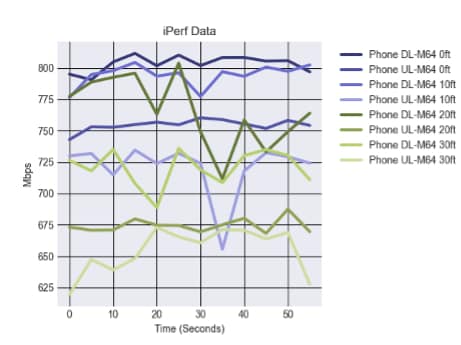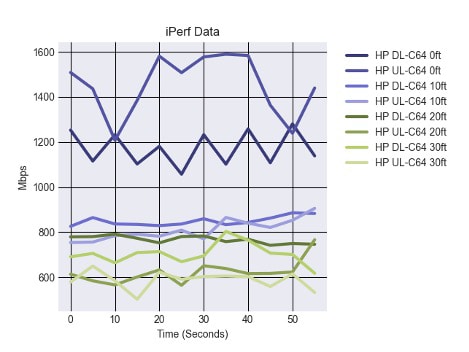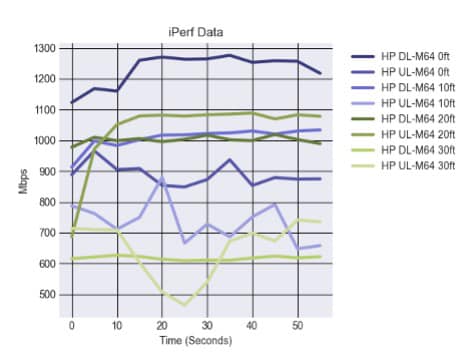 Moreover, all the common features tested, e.g., wireless security, roaming support, MU-MIMO etc., were comparable regardless of operating mode.
The Price of Power and Flexibility
There is no free lunch, of course. Additional radios require additional power, so it won't come as a surprise that legacy PoE (802.3af) is insufficient to power these new APs. If you're running with legacy PoE, now is definitely the time upgrade.
Both the CW9164 and CW9166 can operate with PoE+ (802.3at), but at the cost of reduced functionality, like shutting down the USB interface. Only with UPOE (802.3bt) can all of the hardware goodness come to life. 
Likewise, the improved performance over the air may require additional speed on the wire. Even average clients can now push gigabit ethernet to its limit, as shown by the graphs above. With ever more throughput hungry devices and applications such as VR, mutligigabit speed will soon be a requirement. If you're using gigabit links for APs, the move to Wi-Fi 6E is the perfect time to consider upgrading your switching.
While it is possible to move APs from one platform to another, there are caveats to the management flexibility in the CW line. Moving from Catalyst IOS to the Meraki dashboard requires available Meraki AP licenses, but is otherwise fairly simple. Moving from Meraki to Catalyst requires TAC intervention, and so it may have scale and control limitations. Cisco and CDW recommend customers order APs with the persona they intend to deploy. 
Even though it is the same physical AP, what it can do remains dependent on the OS it is running. Feature parity isn't complete between the two architectures, at least not yet. So, operating in Meraki mode will have the feature set of the Meraki Dashboard, while operating in Catalyst mode will have the feature set of IOS-XE. For customers running both OSs, this won't be much of a change. For customers new to one or the other, there may be some extra effort to ensure networks work as expected.
Common hardware among Cisco's two architectures will certainly simplify operations for many customers who are already using both platforms. Likewise, customers who may be transitioning from one architecture to the other will undoubtedly benefit from common hardware. The CW line of APs is a significant step in furthering the integration of Cisco and Meraki. 
Story by Joe Arnold. Joe Arnold is a senior technical architect for CDW with a focus on wireless enterprise networking. In his role, Joe helps guide network strategy and enablement for CDW's network engineers, as well as driving best practices and adoption of wireless networking. Joe has been at CDW for more than a decade, first as a delivery engineer and then as a technical lead before becoming a technical architect.