The Power of a Trusted Partner
During a challenging office move, an Atlanta accounting firm turned to CDW to keep its technology rollout on track.
AS OFFICIALS AT APRIO, an Atlanta-based accounting firm, prepared to move to a sleek new headquarters in spring 2022, they faced several unforeseen challenges. 
The COVID-19 pandemic was past its peak, but new outbreaks and lingering public health concerns were still shaping the business landscape, and Aprio was still grappling with the shift to remote and hybrid work models. Supply chain challenges threatened the availability of technology equipment, and the move coincided with a flurry of merger and acquisition activity for Aprio, putting pressure on the company to rapidly roll out standardized technology on an ongoing basis. 
"During COVID, we merged in several new firms," says Dan Mallory, vice president of technology for Aprio. "Our approach is to rapidly revitalize and/or replace everything, from infrastructure to laptops."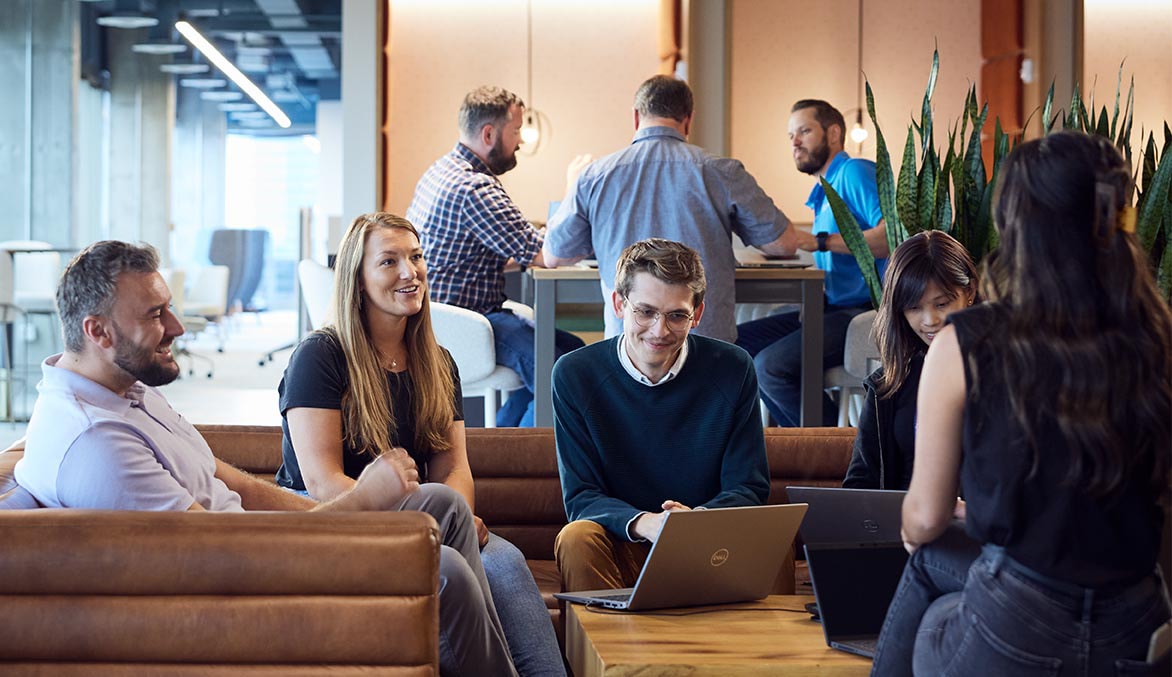 Aprio employees work at the company's new office in Atlanta.
Several times, these challenges nearly hit a boiling point. "We had three or four instances where we were about to tell our executive leadership that we were nervous about making a delivery to a new office," Mallory says. 

By working with CDW and its partners to procure, configure and deploy new technology, Aprio was able to smooth the transition to its new headquarters and keep its employees productive. "A lot of equipment we've ordered has come through CDW, including laptops and monitors and end-user peripherals," Mallory says. "They've been off-the-charts helpful. If we're heading down one path and it dries up, we know that CDW will find a creative way to help us track down and procure some equipment."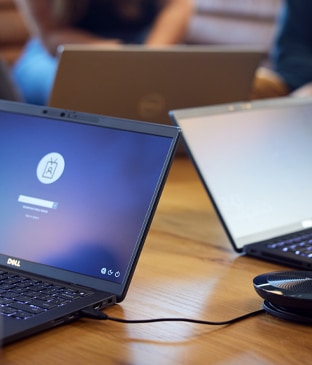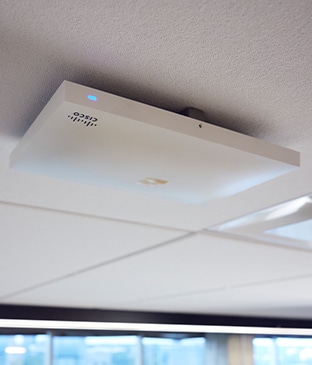 An Extra Set of Eyes to Focus on Technology
Mallory compares Aprio's previous office space to the dreary, monotone cubicle farm that Neo escapes in the classic action film The Matrix. "We knew we needed to re-energize and revitalize the space," he says. "We didn't want to make it look like any old office. We wanted it to look like the offices of the innovative clients that we interact with, modeled after tech and startup companies."
Aprio leaders wanted the new headquarters to feature a variety of spaces for employees to work and collaborate. The company moved to a "free address," or hoteling, model for employee workstations. Aprio also incorporated meeting rooms of different sizes, treadmill desks and open collaboration spaces for impromptu meetings. Designers considered details down to the shape of conference tables, which were tapered toward the back of the room to allow everyone a good view of the video screen. 
At the heart of everything was the technology. To support its new free address model, Aprio needed to provide robust wireless networking, equip users with modern devices and outfit collaboration spaces with appropriate video collaboration gear. Mallory says Aprio leaned on CDW from the very beginning of its planning process.
"We used CDW for oversight and as another set of eyes when we were evaluating what vendors were providing," Mallory says. "CDW actually came with us to one vendor's client experience center. We were looking at some things that were fairly new to our team, and it was comforting to know that we had someone sitting sidecar who lives in this world."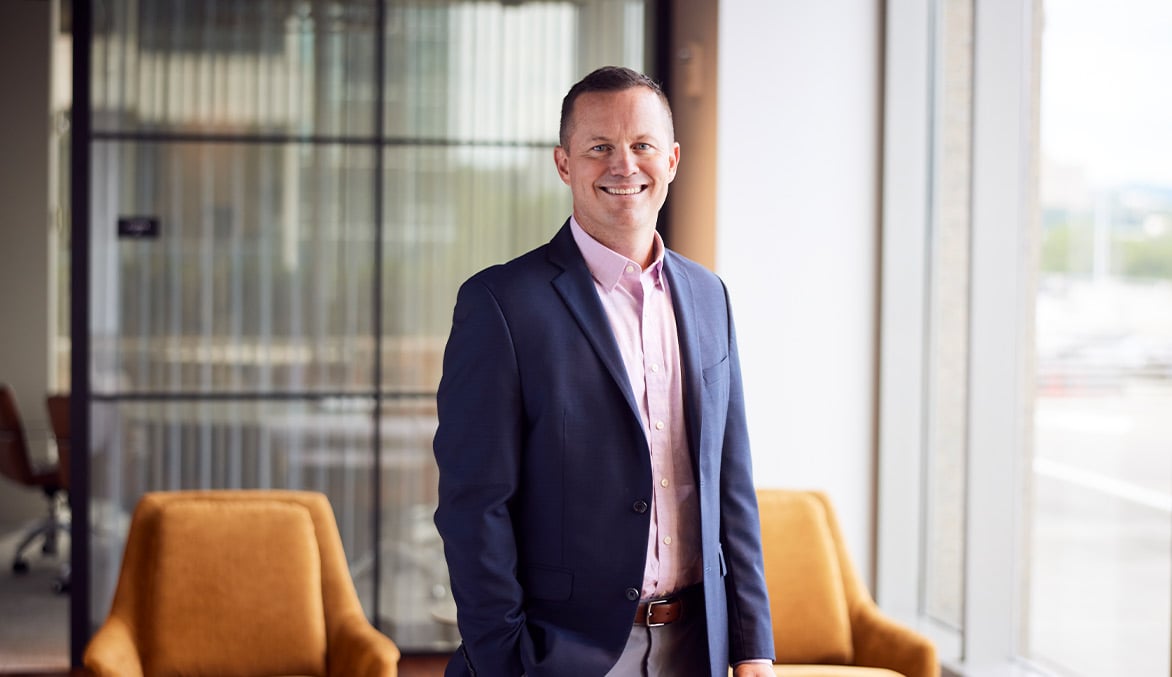 "CDW actually came with us to one vendor's client experience center. We were looking at some things that were fairly new to our team, and it was comforting to know that we had someone sitting sidecar who lives in this world." — Dan Mallory, CIO, Aprio
Scaling Up to Meet Workforce Needs
Aprio worked with CDW partner eBryIT — headquartered in Kennesaw, Ga., less than an hour from Aprio's Atlanta offices — to configure devices at scale using Microsoft Intune. EBryIT also stored the devices until Aprio needed them and ultimately delivered them to users. "That really helped remove some painful manual processes on our side and scale something that had been a sore area for us," Mallory says. "They offered a white-glove, no-touch deployment, which really modernized our ability to deliver laptops to a remote workforce." 
Working with a configuration partner was especially helpful in preventing problems as Aprio added new employees through mergers and acquisitions. "Before we expanded, it didn't bother us to kind of throw in random technology, because we only had one office," Mallory says. "When you start supporting multiple offices, that consistent experience becomes more important. Every two weeks, we have a group of new users, and if anything goes wrong, we're going to hear about it." 
Jason Bay, a national deployment support manager for eBryIT who oversaw Aprio's device rollout, says partners are especially important during large IT deployments, office moves or other events that would normally burden an organization's internal IT staffers. "We don't do things customers can't do on their own, but we do things at a scale and at a volume that they typically can't handle," Bay says. "Companies aren't staffed to cope with the extreme demands of large refresh projects." 
"When you're moving offices, you can't really have devices delivered to you, because the facility doesn't exist yet," Bay adds. "At the same time, you can't wait until the office exists to place your order. You may not even know who your users are going to be, but as you hire those employees, you can submit those requests to us, and we can release that hardware."
The State of Enterprise IT
According to a 2022 report from Spiceworks Ziff Davis, businesses are making up for lost time and adopting emerging technologies at a higher rate than they did during the pandemic. However, business and IT leaders see supply chain issues as an ongoing challenge.
The percentage of business and IT leaders who said they plan to use IT automation technology within the next two years, up 10 points from the year before
The percentage of these leaders who plan to use containerization technology, 5G networking (44 percent), artificial intelligence (39 percent) and edge computing (39 percent), all up five points or more over the year before
The percentage of these leaders who said they expect to contend with continued limited availability of products, as well as shipping delays and logistical disruptions
The percentage of these leaders who also cited price increases and chip shortages (41 percent) among their top supply chain challenges
The percentage of these leaders who cited provisioning hardware among their top challenges; 19 percent cited tracking inventory and licenses for remote workers, suggesting that most businesses have adapted to effectively support remote and hybrid workflows
Expanding Capacity to Meet Users' Needs
EBryIT handled configuration and deployment, but when it came to tracking down hard-to-find tech resources, CDW saved the day, Mallory says. "I've personally been shocked at how fast CDW has been able to find machines and deploy them in the middle of a pretty hectic pandemic and supply chain crisis," he says. 
Mallory says Aprio officials adopted a "minimum viable" mindset to make the move a success, getting technology deployed that would at least meet users' needs in the moment, then filling in gaps later on. For instance, the company moved its old Cisco Meraki networking gear to its new headquarters until newer equipment became available from the vendor. 
Chase Ierna, who was Aprio's CDW account manager at the time of the move, says it's important for business and IT leaders to ask their technology partners for help solving problems during complex deployments. "Internal IT professionals can't know everything, but we have people who are subject matter experts in every specific silo," he says.  
Laura Sikora, an advanced technology account executive with CDW, notes that partners can help increase the size of an organization's IT staff during flurries of increased IT activity. "No one in IT has enough internal staff resources to get these sorts of deployments done," she says. "Partners provide additional resources without adding headcount to the organization." 
Mallory says Aprio simply wouldn't have been able to track down and deploy the technology employees needed without help from CDW and eBryIT. "We probably could have scratched and clawed and found something to check a box, but there's no way we could have maintained that consistent user experience," he says. "There have been a handful of times where I was ready to hit the panic button, and CDW has been able to track down the resources we needed in the time frame we needed them."
Story by Calvin Henick
Photography by Gregory Miller