How Design and Technology Play a Vital Role in Top-Tier K–12 Esports Rooms
Schools looking to take their esports programs to the next level need the right design, furniture and gaming technology.
K–12 school districts are increasingly embracing esports to engage students and prepare them for potential STEM-related careers in the burgeoning esports industry. 
They're doing it because esports provides educational value, from fostering teamwork and good digital citizenship to critical thinking skills. However, it's more than just an after-school activity. More than 200 colleges and universities offer over $16 million annually in esports scholarships. 
In fact, cutting-edge schools such as Richardson Independent School District's Apollo Junior High School in Texas have launched esports courses. In Apollo Junior High's class, students develop technical skills and learn more about potential esports-related careers, such as broadcasting and marketing.
For schools that see professional opportunities in esports, it's essential that they create a dedicated campus space — with gaming furniture and state-of-the-art gaming technology — for students to ramp up their skills.
Why Creating a Dedicated Esports Space Is Critical
Schools cannot simply take an existing computer lab, rename it an "esports arena" and expect to create a successful esports program. They must build an alluring space with the latest technology, and it has to be better than what students have at home. Otherwise, they have no incentive to join a school club or team. 
For example, a school can dedicate a PC and large monitor for game review. Just like in traditional sports, esports coaches or teachers can review recorded gaming sessions with students and break down how to improve their gameplay. That's something that's not easily done at home, and that attention to detail can separate good gamers from those in the middle of the pack.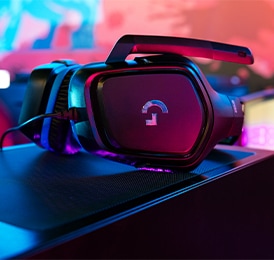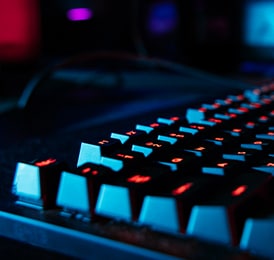 How to Design a Top-Tier Esports Room
A good room design and ergonomic gaming furniture are key. Some schools start off small and install three gaming desks in a tiny space. Apollo Junior High went all out, transforming a classroom into an esports room with 20 gaming PCs. To increase the wow factor, the school painted the walls black and illuminated the room in neon colors.
CDW•G's team of esports experts worked with the school district to design and equip the esports space to fit its size and budget. This was a collaborative effort. First, we talked to school leaders to find out their goals and requirements for the space, and we used those details to inform the design. 
Then, a team from CDW Blueprint to Design, a classroom design service, collaborated with CDW•G furniture partner Spectrum Industries to create a design with 2D and 3D renderings. 
Today, Apollo Junior High's esports enthusiasts have gaming desks and comfortable ergonomic gaming chairs that feature the school's logo and colors.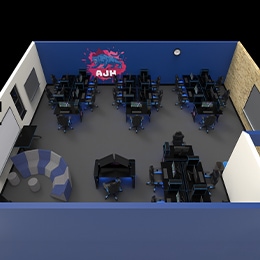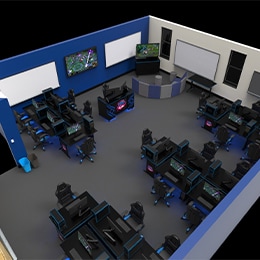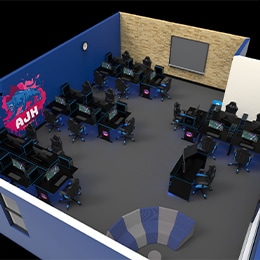 Why Choosing the Right Esports Technology Matters
In gaming, every millisecond can be the difference between winning and losing. Existing PCs on campus may have old graphics cards that don't process fast enough. That is why Richardson Independent School District invested in new gaming PCs and peripherals, giving Apollo Junior High a competitive advantage.
The school's other key esports technologies include 24- to 27-inch monitors with a 144-hertz refresh rate at a minimum, mechanical keyboards, mice with 4,500 DPI, gaming pads that fit both keyboards and mice, and headsets for communication. 
Because the school streams games via Twitch and YouTube, it purchased a webcam and capture card so students can livestream directly from the PCs. A stream deck with buttons for broadcasting enables students to make sound effects or have an animation pop up on the screen when they score. 
As technology continues to transform education, more and more innovative school leaders are seeing that nurturing a love of competitive gaming can help students stand out and get a jump-start on future careers. For Apollo Junior High's avid gamers and the dedicated staff behind its esports program, the future is looking exceptionally bright.
Story by Josh Whetherholt, who is an education learning environment adviser for CDW•G's esports initiative. Josh's background in education and gaming, as well as his experience coaching and competing in sports, allow him to understand the complexity and nuance of competitive esports programs at the K–12 and collegiate levels.
Photography by Trevor Paulhus