Article
Expert Review: Intelligence and Mobility Set the HP OfficeJet Pro 9020 Apart
Designed to save time and money, this all-in-one printer leverages automation for both printing tasks and supply management.
It used to be that only offices with big budgets could afford to install a color multifunction printer. Today, however, almost anyone can afford one of these jack-of-all-trades printing devices.
The new HP OfficeJet Pro 9020 All-in-One is designed to be among the best in its class, striking an ideal balance of features, price, print speed and quality. It even has some features not widely available elsewhere, such as the ability to automate commonly repeated tasks, manage printing from a smartphone and even automatically reorder ink, which is offered at a discount for 9020 owners.
At its core, the OfficeJet Pro 9020 is a fast workhorse, able to print at high speeds in either color or black and white. It averaged 19.5 pages per minute for color printing in numerous real-world tests, and it was faster still in black and white, averaging 23 ppm. The quality of the output was excellent, with very fine lines and details represented accurately in everything from engineering specs to fine art photography.
The unit fits almost anywhere, with a 17-inch footprint at its widest point and weighing only 26 pounds, so one person can set it up without help. Getting it working is easy too. Because it uses wireless networking, users need only to find a place for the power cord; no networking cable is required.
High Capacity for Big Print Jobs
Normally, a printer of this size would be appropriate for only a small workgroup, but HP has added features that help it punch above its weight. The most notable feature is the inclusion of both a 250-sheet input tray and a 250-sheet multipurpose tray. Between the two, the printer can hold an entire ream of paper. The 9020's high capacity and fast speed should prevent lines from forming in front of the unit as users wait for their print jobs, even for midsize workgroups that share the printer.
As a final touch, closely linking the 9020 to the HP Smart app enables even more features, such as the ability to manage the unit from anywhere, design shortcuts for commonly repeated tasks and set up automatic ordering of ink and other consumables. (For organizations that want to avoid these management chores altogether, HP Managed Print Services can provide these capabilities and more.) Armed with such a complete package, the HP OfficeJet Pro 9020 is ready to get to work in both personal and professional environments.
Specifications
Print Technology: HP thermal inkjet
Best Black Print Resolution: 1205x1200 dpi
Best Color Print Resolution: 4800x1200 optimized dpi
Recommended Monthly Page Volume: 2,000 pages
Dimensions: 15.6x17.2x12.53 inches
Weight: 26.4 pounds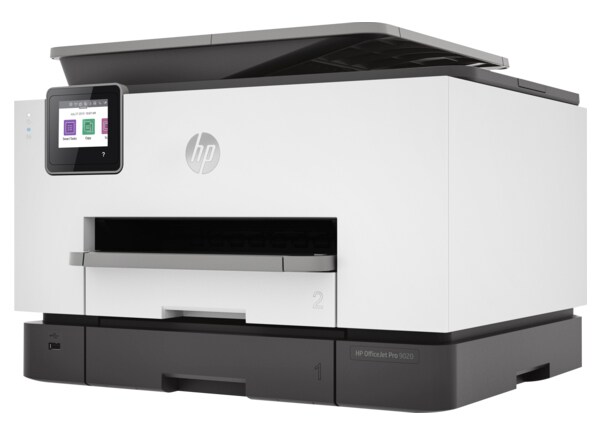 Intelligent Inking
Linking up with the HP Smart app allows easy remote OfficeJet management, as well as printing from anywhere.
Prompt Pages
The 9020 consistently prints in full color at almost 20 pages per minute.
 
Rare Refills
With two 250-sheet trays, users can concentrate on printing tasks, and not waste time constantly refilling the paper.


Become a Multifunction Maestro with the HP Smart App
If the HP OfficeJet Pro 9020 offered only the functions and features that come with the base multifunction device, it would still be a very good deal. But HP went beyond that by pairing the printer with the HP Smart app, which lives up to its name.
I tested the HP Smart app using the Android version, though it's also available for iOS and Windows PCs. Because the 9020 is designed to work seamlessly with the app, it delivers intelligence and features directly to a user's phone — all for free.
Once paired with the 9020, the app can monitor all of the printer's tasks, so users can see exactly what's happening with the device. One of the best features is the ability to keep an eye on ink levels, especially for workgroups that share the unit and thus drain consumables at a faster rate than a single user would. The app looks at usage patterns and sends alerts whenever there is a danger of running low on ink. The goal is to help users order new ink (the unit functions only with genuine HP ink cartridges) early enough so that it can be delivered before the tank hits empty. 
Users can even set up automatic ordering, so the app and the printer can keep things moving by themselves, with humans needed only to load the new cartridge (also a simple click-and-go process). The app also provides users with a discount on ink ordered through it. HP says these savings are approximately 50 percent off of regular prices.
The app also allows printing from anywhere. Even though most print jobs will probably be local to an office, it's possible to send documents from remote locations to the printer through the app. When coupled with HP's useful scanning feature, this would allow, for example, using a smartphone at a remote location to scan a contract, which could then be instantly printed back at an office.
Automation to Simplify Complex Tasks 
The HP Smart app also offers several task-level automation capabilities. Users can create Smart Tasks, which perform multiple functions at the touch of a single button. The app was able to set up one-touch Smart Tasks for things such as printing a document and emailing a copy to specific accounts, or saving print jobs to a cloud backup service. 
Printing and managing documents from a phone that might be miles away from the printer itself takes some getting used to. But the HP OfficeJet Pro 9020's results are impressive. Saving a few minutes every day really adds up over time, thanks to the innovative union of mobility and management.



Want to learn more about how HP OfficeJet Pro printers are designed for outstanding office productivity?