Why Clinical Collaboration Has Become Essential to Healthcare
Solutions that keep doctors, patients and nurses connected deliver the results that everyone wants: better outcomes.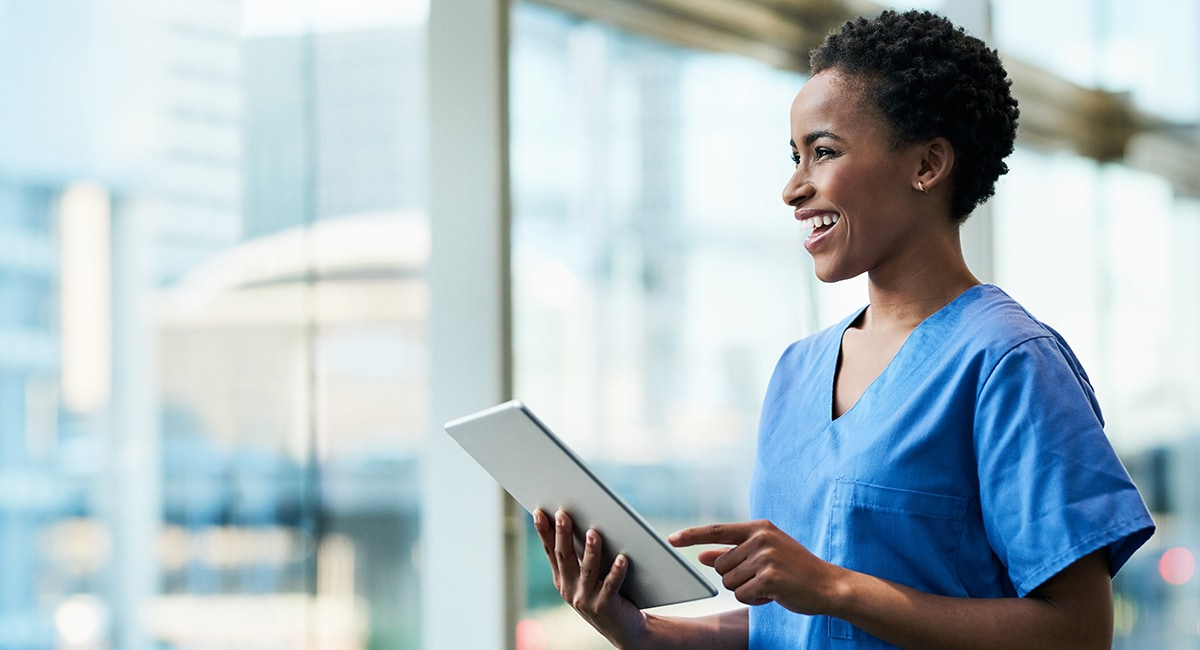 Every industry can benefit when workers collaborate more effectively. Working together can improve efficiency and productivity while boosting employee satisfaction and morale. But in the healthcare industry, effective collaboration can literally mean the difference between life and death.
Because collaboration is so important in healthcare, technology advancements that make it easier for caregivers, providers and patients to communicate and collaborate have become essential. We see this trend in almost every area of the healthcare industry. Doctors use voice-to-text software to log prescription information; nurses share patient updates via secure text messaging apps; and patients use hospital tablets to order meals, watch videos and communicate with family members.
These valuable use cases are driving increased adoption of technology solutions to support clinical collaboration. Nine out of 10 healthcare IT decision-makers say their organizations have implemented, or are planning to implement, mobile device initiatives to improve patient care or to improve the efficiency of care teams.
"There are no two ways about it: Technological developments in healthcare have saved countless patients and are continuously improving our quality of life," the American Institute of Medical Sciences & Education said in 2019. Technology is pushing healthcare forward in numerous ways.
Mobility
Mobility is more important than ever in clinical settings. Hospital systems are actively looking to replace single-purpose devices such as pagers with modern communication methods like secure messaging that provides patient context. Workers in healthcare rely on smartphones and tablets to exchange information and complete work tasks on the go — an especially important consideration for workers who operate throughout an entire floor, building or even campus.
Mobile solutions can also break down barriers between providers and patients. For instance, some physicians use tablets to show patients their scans and test results, improving communication.
Telehealth
Telehealth solutions connect clinicians with patients through video collaboration technology. This enables providers to treat patients from anywhere, helps patients to obtain care and treatment outside of normal business hours and helps hospitals to keep their emergency rooms clear for patients who truly need urgent care.
Telehealth platforms also support collaboration between providers, as they allow physicians and other clinicians to engage in consults, training and observation without requiring expensive and time-consuming travel.
Patient Engagement
Patient-centered mobility initiatives are used by numerous hospitals to improve the experience of hospital stays. In many cases, patients receive mobile devices and applications that allow them to order meals, call for assistance or simply pass the time by playing games or watching movies. By enabling better communication with care teams and giving patients access to educational information about upcoming procedures, patient-facing mobile devices and applications help to increase patients' involvement in their own care.
Digitization of Healthcare
Removing paper from healthcare processes such as admissions makes them quicker, more efficient and less expensive. Digitization can also help to minimize miscommunication and reduce medical errors.
Automation
Automation solutions help many healthcare organizations to simplify IT processes and reduce the burden on IT staffs. While automation and artificial intelligence solutions are largely still emerging, use cases range from automating management tasks in the data center to streamlining billing and other administrative processes and simplifying workflows for clinicians.
Want to learn more about how technology can improve health outcomes? Read the white paper "Better Healthcare Through Clinical Collaboration" from CDW.
This blog post brought to you by: