Case Study
Tournament Tech Puts Esports Program in a New League
By investing in gaming-specific solutions, Fresno Unified School District leveled up its esports program.
High school esports athletes in Fresno, Calif., focus intently on their gaming monitors while decked out in their school colors and headsets. They sit side by side, five teammates to a table, in a school gymnasium. They face the crowd in the bleachers, who cheer and follow the gameplay on projector screens set up behind the athletes. 
The athletes race to make their keyboard strokes and mouse clicks faster and better timed than those of their opponents, and the game hums along without even a hint of a glitch. There are many sophisticated technologies at play, but they're all working so well that they've faded into the background, and the esports tournament takes on the air of a high-stakes varsity football or basketball game. 
Many of these athletes have never played an organized sport before. Now, though, they're doing their best to earn a chance to hoist the tournament trophy at the end of the day. 
All of this would have been impossible only a few years ago. Back then, Fresno Unified School District esports athletes competed on whatever laptops happened to be in their classrooms, never even getting the chance to meet their opponents face to face. Then the district invested in gaming-specific gear and machines — not only to power better performance, but also to send a signal to kids that their hard work, success and connection with their schools were worth celebrating. 
"Part of holding a big tournament at the end of each season is to help students and parents feel like this is a real sport," says Kurt Madden, CTO for Fresno Unified. "Students in other sports play in a big gym or a football stadium or a tennis court with bleachers. Having the tournament in a large computer lab really didn't seem to communicate that this is a sport, and this is a way to get to college and a career." 
"We made our investment to communicate to these students that what they're doing is a big deal," Madden adds. "When they sit down in those gaming chairs at their gaming computers, along with gaming keyboards and mice and a big display and all the rest, they feel like they are in a professional competition."
The attendance rate for esports athletes at one of Fresno Unified School District's alternative education high schools — up from 25 percent before the introduction of esports
Source: Fresno Unified School District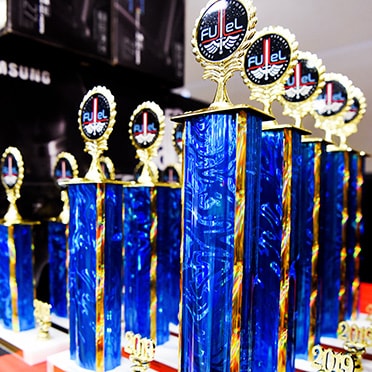 "We made our investment to communicate to these students that what they're doing is a big deal."
Kurt Madden, CTO, Fresno Unified School District

An Early Embrace of a Now-Mainstream Hit
Fresno Unified is just one of the hundreds of K–12 school districts across the U.S. that have recently embraced esports. It was also one of the first to establish a districtwide esports program, Madden says.
A fringe activity just a few years ago, esports has now hit the mainstream. The High School Esports League has a map of participating schools that resembles a cellular provider's boastful coverage map, with most of the country covered in red pins. And the National Association of Collegiate Esports (NACE) now has more than 170 member schools, representing more than 5,000 student-athletes and doling out more than $16 million in esports scholarships and aid. Many educators see esports as a path not only to college, but also to career opportunities. Global annual esports revenue is projected to approach $1.8 billion by 2022, up from less than $500 million in 2016. Along with this growth will come new jobs — not only for esports athletes, but also for prospective marketers, social media managers, broadcast journalists, tournament organizers, graphic designers, coaches and more.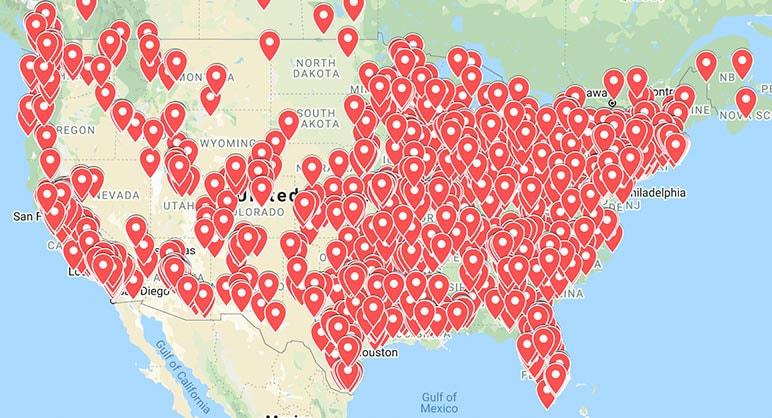 Pinpoints of schools participating in the High School Esports League cover a map on the league's website.
Esports programs have also proved to be a critical student engagement tool, and educators often report that the activity promotes the skills they strive to teach in the classroom.

"Students who used to go home and play video games on the computer by themselves, now they have to work as a team," Madden notes. "They're watching film, saying, 'There's this situation, is there something we could do better?' That's something those students have never experienced before. And they're using the four C's — critical thinking, creativity, collaboration and communication — that we want them to graduate with." 
But creating an esports program from the ground up can present challenges for school districts, which may lack internal expertise on gaming technology and sometimes find it difficult to secure funding for an activity that still raises eyebrows among some administrators and school board members. Fresno Unified started with students playing on Wi-Fi-connected laptops from their classrooms. But as they set out to organize an in-person, citywide tournament, officials wanted to get competition-level equipment into students' hands. 
"One of the things coaches wanted was more powerful gaming machines," recalls Don Soyinthisane, Fresno Unified's IT director. "We were planning this huge tournament, and we wanted to come out with a big bang."
Academic Courses Cement Esports' Place in the Classroom
Some educators are taking video games beyond the realm of extracurricular activities and offering for-credit courses centered on video gaming during the regular school day. 
Both the High School Esports League and the North America Scholastic Esports Federation offer free gaming-focused curricula. Here are some highlights from HSEL's course, "Gaming Concepts" (PDF).
Health: The class covers concepts related to health promotion and preventive care for gamers, including nutrition, injury prevention, substance abuse and mental health. 
Toxic Play: Students reflect on the toxic situations that sometimes pop up during online gameplay, brainstorming how to handle such incidents and prevent them from happening in the first place. 
Career Paths: In addition to researching potential careers in esports, students seek out speakers and participate in job shadowing. 
Collaboration: Students practice thinking quickly and communicating with their teammates in a noncompetitive classroom environment as a way to build the understanding and skills necessary to work together as a team during competitions. 
Technology: The course guides students on how to troubleshoot, care for and maintain their computers and even build their own gaming PCs.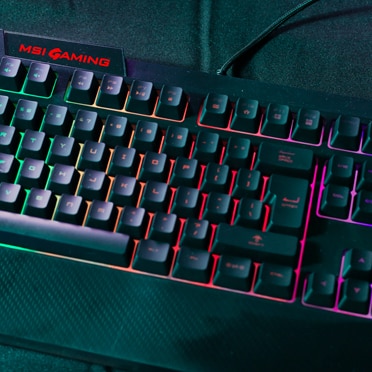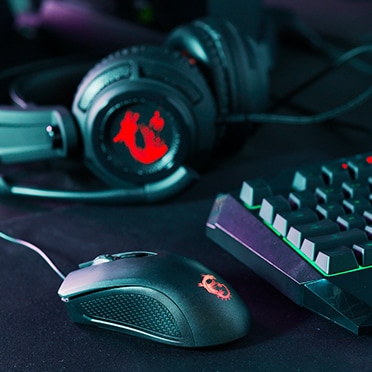 Leveling Up Tech for Gameplay
Nongamers might not realize the importance of having machines, peripherals and other equipment tailored for esports. While even the most basic laptop today is generally powerful enough to support most academic needs (word processing, surfing the web and streaming video content, for example), esports games typically have much higher performance needs. For example, Dot Esports recommends the following minimum specifications and components for the battle royale esports game "Apex Legends": Intel Core i3-6300 3.8-gigahertz or AMD FX-4350 4.2GHz Quad-Core Processor; 6 gigabytes of RAM; NVIDIA GeForce GT 640 or Radeon HD 7700 graphical processing unit; and a minimum of 30GB of free hard-drive space. 
Much of the technical needs depend on the specific games being played. Fresno Unified esports athletes now primarily compete in "League of Legends," which Madden jokes could "run on a toaster." But previously, they competed in "Rocket League," a soccer game played with rocket-powered cars. That game has much higher performance and graphics requirements, and students would have had a significant disadvantage against their competitors if they were using less powerful machines or monitors with a lower refresh rate. 
Esports athletes also typically need gaming-specific keyboards (which are mechanical and respond more quickly than rubber membrane keyboards), as well as specialized headsets and mice. 
Joseph McAllister, a learning environment adviser for CDW, compares gaming-specific technology to the cleats athletes in other sports wear.
"There's a big difference between just being able to run the game and actually competing in the game," McAllister says. "You can technically play football with flip-flops on, but you're not going to be very competitive." 
To support its esports program, Fresno Unified invested in MSI Trident 3 series gaming machines and ViewSonic XG 24-inch gaming monitors along with gaming-specific chairs, headsets and keyboards. The district purchased more than 600 of the Trident machines to support classroom use cases such as 3D rendering and virtual reality, in addition to esports. 
The Trident machine met the district's three core criteria, Soyinthisane says: It's a serious gaming computer, it adds academic value and it doesn't have a large physical footprint. 
"This was a device we needed anyway in our classrooms, particularly in career and technical classrooms that run programs like Adobe and AutoCAD," he says. "We didn't want a huge tower taking up desk space. Our vision was for something small that would still provide the power that we needed."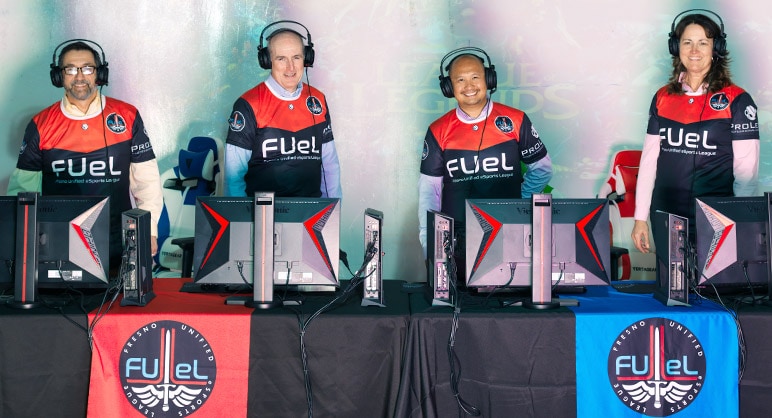 Fresno Unified School District invested in technology that helps its esports tournaments take on the air of a high-quality varsity sports game. Fresno officials (from left) are Vice Principal Joe Di Filippo, CTO Kurt Madden, IT Director Don Soyinthisane and Tami Lundberg, Executive Director of Data Science and Software Systems.
Celebrating Victories On — and Off — the Playing Field
Across Fresno Unified, more than 200 high school students participate in esports programs, with about 150 of those competing in tournament play. In recent years, the number of schools participating has grown to 14 and includes career and technical high schools as well as alternative education high schools, some of which don't field teams for traditional sports. 
"Those competitive juices kicked in when they saw their peers competing," says Joe Di Filippo, a vice principal for the district who works closely with the athletics department. "It's that 'Friday Night Lights' mentality." 
In addition to giving students a competitive outlet, Fresno's esports program is helping to engage students academically and, in some cases, boosting attendance. 
"Our esports student athletes, just like student athletes in other sports, are required to meet eligibility requirements," says Tami Lundberg, the district's executive director of data science and software systems. "We make sure students are following guidelines and are eligible from a grade standpoint, and we've seen that students competing in esports are improving in these areas." 
Esports athletes also are forging the sorts of friendships and mentoring relationships that traditional athletes have had for decades on game buses and practice fields, and in weight rooms. 
"Now they have a chance to interact with other students on campus and build relationships with their coaches and their peers," Di Filippo says. "Many of these students might not otherwise have that opportunity. This is a fantastic way to engage a large number of students."
Tournament images courtesy of Fresno Unified School District. Photography by Cody Pickens
Build a custom solution that meets your esports needs.