Article
Expert Review: VARIDESK ProDesk 60 Electric Offers a Roomy, Active Workspace
The 34-inch-deep adjustable desk lets users move between sitting and standing with maximum comfort.
Most office workers spend a lot of time sitting at their desks, working on their computers, and generally not moving around very much. This has become a fact of modern life, despite many recent studies showing the dangers of a completely sedentary environment. Conversely, there are times when users need the option to stand. The ProDesk 60 Electric from VARIDESK lets an office workforce shift between these two extremes, creating balance and introducing flexibility to the workday.
The main objective of the ProDesk 60 Electric is functionality. It's a solidly constructed piece of furniture that offers a roomy 60 inches of workspace from end to end, with a 34-inch depth. With a full 5 feet of space to spread out, users can install a dual- or even triple-monitor setup, with room to spare.
The ProDesk 60 Electric features the ability to adjust its height to accommodate a user working while sitting or standing. At its lowest point, the work surface is 25.5 inches off the ground, perfect for someone sitting in a standard office chair. At its highest point, it's 50.5 inches, allowing someone standing to use it just as easily.
Many adjustable desks require users to lift them into the standing position or push them back down for sitting. Most have hydraulics or gears to reduce the burden, but even so, not everyone has the strength to do that easily. By contrast, the ProDesk 60 Electric converts automatically from one position to another using an electric motor. 
The desk has a simple two-way switch, and the user only needs to press it to raise or lower the desk into any position desired. It's like controlling a car's power windows. 
The electric motor is extremely quiet and won't disturb other workers sitting – or possibly standing – nearby. And it's powerful too, able to support as much as 250 pounds of equipment sitting on the large surface without hindering its movement.
Users who need to work for long hours in an office will find that the VARIDESK ProDesk 60 Electric can give them healthy options when it comes to sitting or standing.
Specifications
Total Surface Area: 60x34 inches
Maximum Supported Weight: 250 pounds
Height Adjustment Range: 25.5 to 50.5 inches high
Lift Power Type: 1 electric motor
CDW Price: $995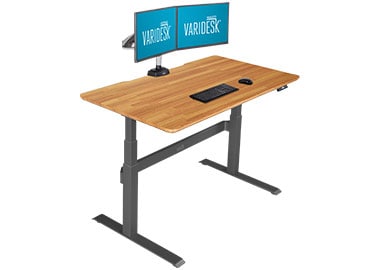 Bigger Is Better
The ProDesk 60 Electric features a large work surface that can support two or even three computer monitors.
 
Heavyweight Champ
The durable metal and wood construction of the ProDesk 60 can support everything needed in an office desk, plus a lot more.
 
Beautiful Blending
The ProDesk 60 features a modern design in black, white or any of three different wood finishes, making it a fashionable fit for any high-tech or executive office.

Some (Quick, Simple) Assembly Required
The VARIDESK ProDesk 60 Electric adjustable desk can provide workers with the ability to sit or stand as they desire. The first step is to assemble the product. 
For shipping, the desk is broken down into two boxes. A larger container, which holds the work surface, the core desk components and the electric motor, came in at 60 pounds. A smaller box with the support legs was even heavier, weighing 75.8 pounds. If weight is going to be a problem, you might consider some type of white glove assembly team on installation day.
Thankfully, unboxing the product may have been the most difficult part of the assembly process. Each component is designed to fit together seamlessly without the need for tools. The desk ships with step-by-step instructions that are easy to follow, unlike many other furniture assembly help sheets I have followed.
Broken down, each component is easy to assemble, and all the intersections where they fit together worked flawlessly. There were no mis-drills or bad fittings. The VARIDESK was designed to quality specifications.
The total assembly time was less than 10 minutes, and that included a careful reading of the instructions while comparing it to included parts. Once you build your first one, others would be even simpler.
Once assembled, the desk was extremely sturdy. Adding power was as easy as plugging it in, just like any other appliance or piece of electronic office equipment. So, while there is some assembly required with the VARIDESK ProDesk 60 Electric, it's not very much. The company has simplified the assembly process so workers can get to work — whether standing or sitting — quickly and easily.
 

Explore the entire VARIDESK line to learn more about standing desks and ergonomic workspace solutions.