Simplify Your Transition to Microsoft Teams — Part 2
Understanding how coexistence modes interact is key to a smooth migration to Teams.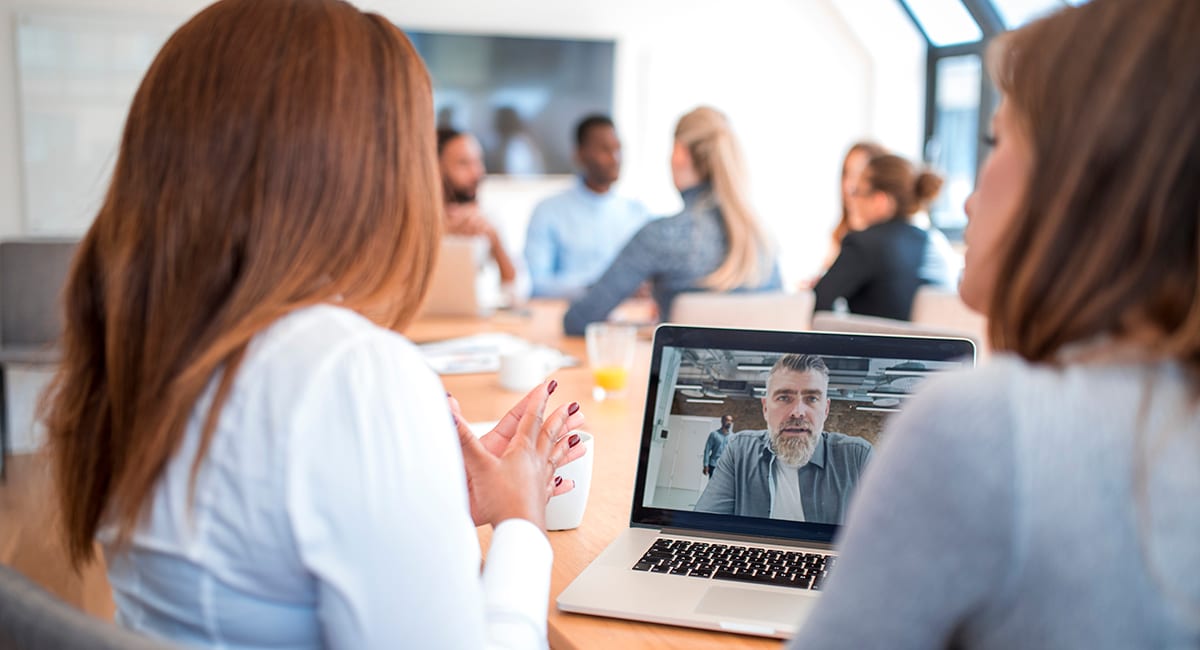 In my earlier blog post about migrating to Microsoft Teams, I covered the variety of coexistence modes available to organizations as they consider their migration to this communication and collaborations platform. With many organizations needing to maintain both Skype for Business and Microsoft Teams for a period of time, it's important to have some insight into how these different coexistence modes interact with each other.
The term "interoperability," or "interop" for short, refers to how the Skype for Business and Microsoft Teams platforms interact, and more specifically, which capabilities will work when a Teams user and a Skype for Business user choose to communicate with one another. The following are some key items to be aware of with interop when your organization is using both Microsoft Teams and Skype for Business.
1:1 Chat and Calling Won't Support Every Feature
These capabilities use what Microsoft refers to as a "native" interop experience. This means that when a user in one platform attempts to use 1:1 chat or calling with someone using the other platform, they will receive a notification that the conversation is an interop conversation and that some features may be limited. It's important to note that in these chat and calling scenarios, the supported experience includes text and audio only; many of the additional features, such as emoticons, are not supported. (See No. 5 below for additional information on limitations.) Outside of these limitations, the experience should be seamless to the user.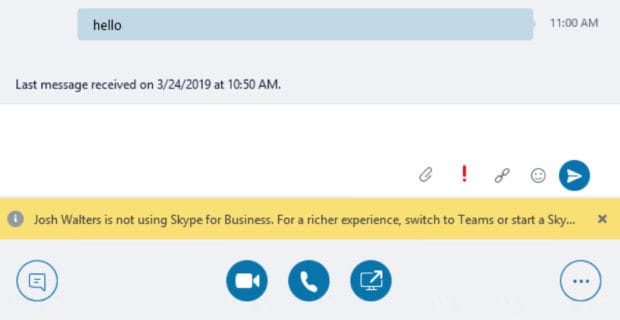 Enabling Desktop Sharing Requires an Extra Step
Desktop sharing is part of what Microsoft refers to as an interop "escalation" scenario. Desktop sharing requires that the same client is used by both parties in order to share content through a screen-sharing session. If a desktop-sharing session is initiated from an existing 1:1 chat or call, the user who started sharing content owns the desktop-sharing session. Whichever client that user is using (Skype for Business or Teams) will generate a meeting invite that both users must join to provide access to the shared content.

Organizations with Skype for Business On-Premises Should Deploy Hybrid
When considering a migration to Microsoft Teams, Skype for Business hybrid is an extremely important step in that process. Interop capabilities between Microsoft Teams and Skype for Business on-premises users require a hybrid Skype for Business deployment for full functionality, this includes (and requires) a properly configured Skype for Business Edge deployment. If hybrid is not properly deployed, users that are enabled for Microsoft Teams will not be able to communicate with Skype for Business on-premises users and vice versa. The reason for this dependency is that interop scenarios use a cloud interop gateway that is only available for Skype for Business Online–enabled users. When users are migrated to Microsoft Teams from Skype for Business on-premises, the associated Skype for Business account must also be moved to Skype for Business Online. For additional information on configuring Skype for Business hybrid, check out this walk through from Microsoft.
Understanding Federation Capabilities Can Be Complicated
Federation might be the most misunderstood (and confusing) part of the interop conversation. Federation is what allows users in different organizations to communicate with Skype for Business or Microsoft Teams. This topic tends to be the top question I am asked about when it comes to interop scenarios and how Microsoft Teams works. The truth of the matter is that federation does work today with Microsoft Teams but there are a few caveats to be aware of:
Federation in Microsoft Teams (today) uses Skype for Business/Skype for Business Online for all federation capabilities. This means that every conversation between Microsoft Teams users in different organizations use the interop scenarios previously discussed. This also means that federation requires Microsoft Teams users to be enabled for Skype for Business Online as well as Microsoft Teams. Keep in mind that the coexistence mode does not impact federation.
If a Microsoft Teams user is using Islands mode, and the associated Skype for Business account for that user exists on-premises, interop capabilities are not available for this user in Microsoft Teams. Because federation currently requires interop, federation is not available for this user via the Microsoft Teams client. In this scenario, all federated communications should be made through the user's Skype for Business client.
A user in Microsoft Teams can communicate via federation with another organization that is using Skype for Business on-premises only, and vice versa. Again, the requirement here is that the Microsoft Teams user is enabled for Skype for Business Online in order to use the interop gateway. All federated communication happens through Skype for Business/Skype for Business Online. As long as federated communications are allowed between the organizations, interop communications should be available to these users.
The requirement for interop-based federation is temporary. Microsoft is currently working on a new version of federation that will allow Microsoft Teams organizations to federate without the Skype for Business Online requirement/dependency. A date for availability of this new federation service is still to be determined. For more information about federation between organizations with Microsoft Teams, see this Microsoft article.
Interoperability Limitations Can Impact Workflows
Outside of what has already been listed, there are some additional limitations that must be considered when using both Skype for Business and Microsoft Teams in your organization. The following features are not supported during an interop conversation:
Group chat (multiparty IM)
Multiparty audio and video conversations
File transfer capabilities
Persistent chat
Federation in Teams (for Skype for Business on-premises users in Islands mode)
If these are important features and are part of existing organizational workflows, these must be carefully considered when migrating users to Microsoft Teams.
While there are many important things to think about as an organization looks to transition from Skype for Business to Microsoft Teams, coexistence and interoperability are likely to be two of the most impactful components to the long-term design and implementation of the platforms. Microsoft continues to release new features and capabilities in these areas, including additional coexistence modes, and new federation capabilities. As new features are released, these conversations will continue to be important and organizations will need to evaluate how they can use them to improve their migration. As always, CDW is here to help navigate that transition.
Learn more about CDW's services for Microsoft Teams deployments.