Microsoft Migrates and Merges the Modern Viewing Experience
Updates to Microsoft Stream invites users to integrate their videos across Microsoft 365.
For more than a year, Microsoft has been reimaging the video viewing experience for Microsoft 365 users. Rather than keeping the current Microsoft Stream as a separate application with its own storage, the app is being transitioned to SharePoint to streamline the user experience around compliance, sharing and permissions.
As we wait for the final end-of-life/transition announcement, I want to see what the experience looks like today.
The New Video Viewing Experience
We can test out the new stream experience in most tenants.
When you launch this experience, you'll come to the new Stream launcher. Notice that you see a list of video files you have permissions to view, including a recommended banner.

Using this page, you have a way to quickly view video files and meeting recordings that have been shared with you and retain the ability to review recommendations from Microsoft on meetings you might find interesting.

The new Stream viewing experience has changed in a few notable ways. In my limited testing, it's an improvement over the Stream Classic experience, in which you needed jump into Stream to do anything other than simply watch a video.

For the files that you own, you have the ability to adjust recordings by:

Editing the thumbnail
Modifying and/or hiding the video description
Enabling or disabling comments
Enabling or disabling transcript and captions
Setting up recording chapters to help viewers jump around
Setting noise suppression defaults
Almost everyone should have access to the updated stream experience. When you open an MP4 file, the video player takes up a much larger percentage of the screen by default.  Also, you should see video settings on the top right-hand corner where you can view the current settings and make changes to the recording if you are the owner of the video.


Doing some quick tests, I've found the following to be true about the new Stream experience:
Opening an MP4 file through SharePoint should get you the new stream experience
Open a recording in the Microsoft Teams client, and you will get a standard MP4 viewing experience
Downloading an MP4 file doesn't retain the video settings, captions, comments, etc.
Moving and copying the MP4 file through the web portal appears to keep the video settings, captions, comments, etc.
Uploading MP4 files to the new personal stream portal will drop the files in the root of your OneDrive
As for the replacement of the organizational MS Stream portal, Microsoft hasn't made any formal announcement about what will replace the legacy Stream landing page where you can follow certain channels, see trending videos, etc.
Some of these features appear in a limited capacity in the new Stream launcher, but it appears to have quite a way to go to match the look and feel of the old portal. In the meantime, Microsoft has recommended adding "highlighted content" web parts to SharePoint sites, which can be easily filtered to locate just video files. With filtering options, this could somewhat replicate the ability to easily find videos similar to a legacy stream channel.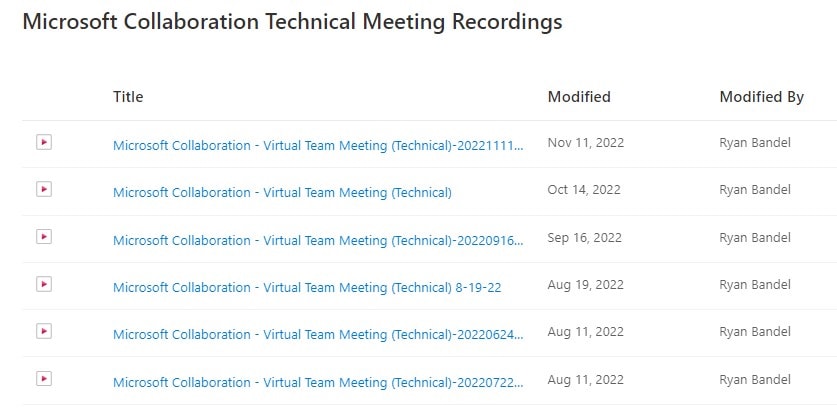 This does shift responsibility to owners of individual SharePoint sites to make content easily consumable. They will need to make sure the content is discoverable by the web part, pull just the desired content and find the right audience. This may seem seem like a lot to ask of a typical end user compared to the old Stream experience, though it certainly had some quirks when it came to setting up and managing permissions to "Stream Channels."
Hopefully there's more to this story, whether that's an updated Stream landing page or a series of SharePoint Look Books that make it easy to deploy and customize a video portal. That said, it's nice to see some progress and get a peek into what the final product might look like.
Reach out to your CDW account manager to learn more.
Story by Ryan Bandel, a Technical Architect focused on Microsoft Collaboration on the Services R&D team at CDW.