How Virtual Rounding Remains a Valuable Post-COVID Alternative
Telesitting and "hospital at home" care extend the efficiencies and savings of virtual care solutions.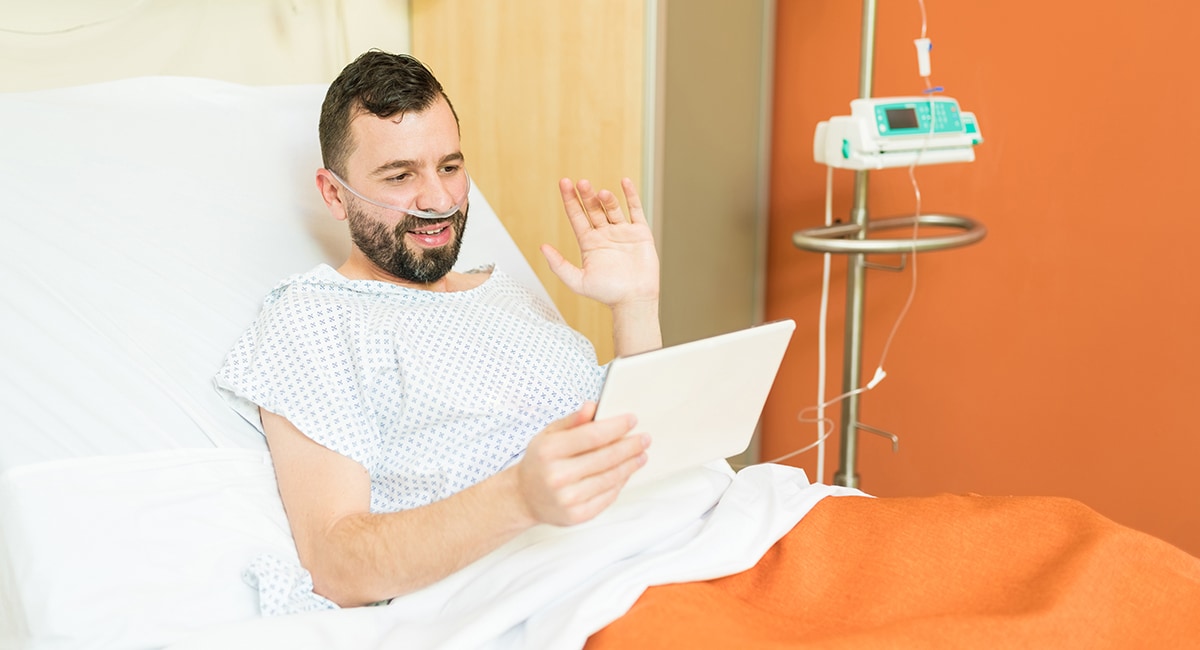 Before the pandemic, if I had approached a healthcare clinician and said, "Three months from now, you're going to sit in front of a computer at a nursing station and have a conversation with a patient who's 40 feet away from you in a room," he or she might have laughed. But when COVID-19 and a shortage of personal protective equipment forced healthcare professionals to improvise, they did — and virtual rounding was one of the results.
Read CDW's white paper "Realizing the Value of Virtual Care" to see how telehealth changes the patient experience.
Virtual rounding, in which a physician visits a patient via videoconferencing, solved one of the big problems of the pandemic: the PPE shortage. PPE was not only scarce, but also time-consuming to use. When caregivers have multiple patients to attend to, those minutes add up.
Even as the pandemic wanes, hospitals have good reason to expect both a continuation of virtual rounding and an expansion to other forms of virtual care, including telesitting and the Acute Hospital Care at Home program from the Centers for Medicare and Medicaid Services (CMS).
Virtual Rounding Adds Flexibility for Care Teams
Isolation rooms are one case where virtual rounding continues to save time and reduce the need for PPE. Physician preference also may create a permanent place for virtual rounding. Although some physicians prefer face-to-face visits, others appreciate the convenience of virtual rounding, especially when it reduces travel time or facilitates collaboration.
If consulting physicians are in a far-off wing or out of the hospital, for instance, virtual rounding makes it much easier to meet with each other and with patients. Rather than walk across campus or drive to the hospital, a physician can simply pick up the phone or reach for a laptop or tablet to connect with colleagues.
In addition to connecting a team whose members are geographically distant, virtual rounding also delivers efficiency and responsiveness to the patient — a valuable outcome for the patient experience.
Alternatively, some providers are repurposing virtual rounding equipment for telesitting. Hospitals have used a variety of solutions to implement virtual care, so these tools may include tablets, laptops, in-room cameras, smartphones and videoconferencing software. Telesitting gives hospitals a direct savings by allowing one sitter to monitor several patients, rather than maintaining a one-to-one sitter-to-patient ratio.
New Tools and Programs Expand At-Home Care
The next extension of virtual care may be CMS' Acute Hospital Care at Home program, which lets participating hospitals care for patients with chronic conditions at home. I expect to see significant growth in this initiative, in part because it creates so much value. At-home care, supported by remote patient monitoring, increases hospital capacity and gives patients the desired experience of recovering in their homes.
The pandemic accelerated digital adoption by giving caregivers an opportunity to see the value of new solutions in response to new needs. Virtual rounding is a perfect example of a practice that had been fairly limited, until COVID-19 suddenly created a mass need to expand it.
Time is critical to physicians. Any solution that maintains the level of care while increasing efficiency is poised to grow. There will always be a place for in-person rounding, but virtual rounding adds a useful option to the mix — giving caregivers greater choice and flexibility in how they communicate with patients.