Case Study
How Unified Communications as a Service Powers High-Touch Customer Service
By deploying RingCentral, LifeStore Bank and Insurance in North Carolina simplified management, improved user experience and brought employees and customers together.
As a small bank and insurance provider, LifeStore Bank and Insurance in North Carolina relies on customer service to set it apart from larger financial institutions. When customers call the bank, they're almost always immediately connected to a real person, rather than being routed through an interactive voice response (IVR) system. 
"When you call into the bank, most of the time, you're going to get a human first," says Josh Rountree, senior vice president and CTO. "It's a big deal for our customers — something they expect, and something they are used to." 
So, when the time came to replace the bank's aging on-premises phone system, business and IT leaders wanted a proven, reliable solution. They had heard about Unified Communications as a Service but weren't sure that UCaaS offerings were a good fit. "I just didn't know if the technology was ready for prime time," Rountree says. 
Still, the prospect of delivering voice, video, instant messaging and other capabilities from the cloud was intriguing. The more Rountree learned, the more convinced he became that UCaaS could support the bank's 120 employees and provide the high-touch customer service the company is known for. He also recognized that a cloud-hosted solution would dramatically reduce the management burden associated with the system — a significant consideration for an organization whose entire IT staff is composed of just Rountree and one other person. 
Ultimately, LifeStore Bank and Insurance deployed RingCentral across the organization, giving employees new ways to connect with colleagues and customers, while also moving IT resources to the public cloud. "It creates such a huge efficiency boost in the way users communicate," Rountree says.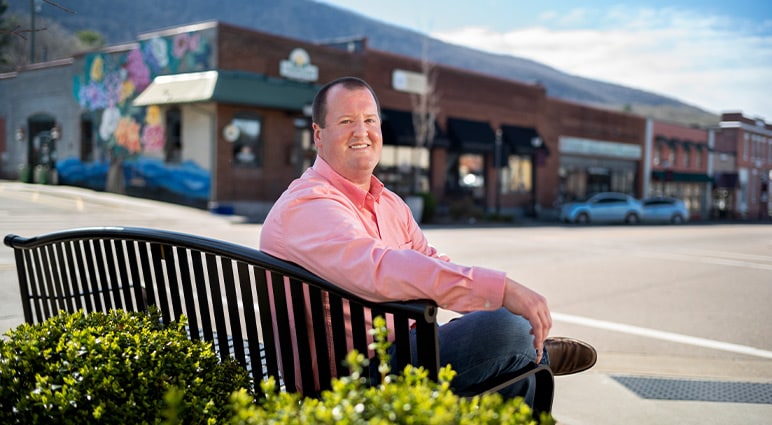 "Across the board, everything has been good or better than good with CDW. They're rock-solid. They far exceeded my expectations with their level of knowledge, their professionalism and their responsiveness."
Josh Rountree, Senior Vice President and CTO, LifeStore Bank and Insurance

Simplified Management Is a Major Benefit of UCaaS
Reducing complexity was a top driver of LifeStore Bank's move to RingCentral. For years, the organization has been switching to cloud offerings for other critical applications in an attempt to limit the amount of on-premises infrastructure that internal employees need to support and manage. 
"Something that resonates for me is, do I want to manage this platform, or do I want to have to manage the infrastructure the platform runs on and also have to manage the platform?" Rountree says. "The question was whether we were going to hire the staff to support these applications, or if we were going to move to an as-a-service model, where we pay a monthly cost." 
The bank's existing on-premises voice system sometimes required unanticipated maintenance, forcing Rountree and his lone IT colleague to drop everything to ensure that employees could access the tools they needed to do their jobs. Once, the system's servers were hit by a firmware bug that caused fan sensors to stop reporting; as a result, the fans would run at maximum speed. 
"If you've ever heard a server fan going at max speed, it's like an airplane taking off," Rountree says. "The fix was to take the host down, unplug the power and reboot it. That would take half a day to a day. Unless you know exactly what's going on, you have to start troubleshooting. You come in at 8 a.m., and the server room sounds like it's about to take flight, and you have to assess the situation." 
RingCentral UCaaS Is Packed with Key Features
Another draw of RingCentral, Rountree says, is a feature that allows users to call, text and participate in video meetings from one unified platform. "With RingCentral, we have one tool," he says. "It gives every user in our company the ability to start up a web conference or audioconference. Every user in our system has access to fax and instant messaging, and it's all in one platform. With our old on-premises systems, we might have needed two or three different tools to get that same functionality." 
The RingCentral mobile app also allows employees to use a single phone number for voice, text and even fax. "Texting is huge right now," Rountree says. "In the past, people may have texted an employee's personal cellphone number. Now, they can text that one number, and the message comes into the same app that people use for instant messaging and videoconferencing."
"I can answer my office number anywhere. Employees don't know if I'm at home, on the road or at my desk. They just know I've answered my phone."
Corey Buskirk, a principal consulting engineer for CDW, notes that UCaaS platforms like RingCentral have proved especially helpful during the COVID-19 crisis, when most employees at many organizations have been working from home. 
"Everybody has had to shift because of the pandemic," Buskirk says. "Videoconferencing has taken off immensely. Having that ability to use a web camera like you're in the same room, that goes a long way to connecting with your coworkers. But a lot of on-premises platforms have no way to allow users to use them remotely, outside of a virtual private network connection. Companies are turning to UCaaS platforms that give them more flexibility."
Multistep Implementation Made Simple with CDW
LifeStore Bank and Insurance turned to CDW for services around the design, build and adoption of the RingCentral system. Rountree says he "just can't say enough good things" about CDW's engineers. "Across the board, everything has been good or better than good with CDW," he says. "They're rock-solid. They far exceeded my expectations with their level of knowledge, their professionalism and their responsiveness. They knew our previous system really well, and they also knew the RingCentral system that we were going to really well." 
Buskirk began by walking through the organization's users and call flows with Rountree. "I always make sure in that first step to really figure out today how the business is handling those calls, and then come up with recommendations on how they can handle those calls more efficiently," says Buskirk. "We really want to make sure we're enhancing business processes as part of implementing a communications platform."
A RingCentral network readiness assessment revealed bottlenecks in the bank's network, and so CDW engineers reconfigured switches and firewalls to improve performance. "I can't preach enough how important a stable network is for UCaaS," Buskirk says. "If you don't have a solid foundation for your house, the whole house will crumble." 
It was important to Rountree to conduct a pilot at one of the bank's locations before pushing RingCentral out to the rest of the organization's dozen facilities. "You can train and test and do all this stuff you want ahead of time, but until something goes into production, and somebody is forced to use it, you're not going to get real-world production use," he says. "When that first pilot went live, it became real for the other branches."
The branch's main number initially failed to port to RingCentral during the pilot; after CDW remedied the hiccup, the bank cut over to RingCentral across all of its locations in December 2020. 
Along with design and implementation, CDW led an employee adoption effort, including both internal marketing and training. "That goes a long way, trying to build excitement and letting the user base know that a change is coming," Buskirk says. "Training is a component of adoption, but training alone is not adoption. Adoption is that total package of making sure users actually use the product."
Different users across the company are using RingCentral in different ways, Rountree says. "You may have some people who only use their desk phone. Then you have power users who spend more time on instant messaging. A customer service representative can have five different IM conversations going on, and just get so much more done." 
For LifeStore, having a trusted, expert partner lead the adoption and training process ensured that it got the most benefit from the solution without its two-person IT team being consumed by the deployment.
"Partnering with CDW, I didn't have to manage the project," Rountree says. "I didn't have to send out email updates. I didn't have to chase down issues. I got to focus on getting the people implementing this project the information they needed so they could do their job." 
Photography by Charles L. Harris
Unified Communications as a Service delivers value for organizations of all types and sizes, according to researchers:
75 percent of senior executives say that video meetings enhance the engagement and effectiveness of remote participants.1
74 percent of senior executives say that video meetings improve work-life balance for employees.1
83 percent of business and IT decision-makers say that persistent chat has made it easier to understand conversation context.2
Information workers can save an average of 4 hours each week through improved collaboration due to features such as coauthoring and version control.2
Companies average cost savings of  $650,000 over three years of using a unified communications platform through the elimination or reduction of other tools such as stand-alone video or voice solutions.2
Sources: 1Forbes Insights, "The Visual Advantage: Harnessing Video-led Unified Communications To Drive a More Agile, Connected And Effective Culture," February 2020; 2Forrester, "The Total Economic Impact Of Microsoft Teams" (PDF), April 2019
Explore the solutions that empower organizations to support modern collaboration in the new era of work.