4 Unique Use Cases for Microsoft Teams
This constantly evolving Microsoft product offers opportunities for many industries including healthcare, manufacturing, education and food service.
2020 has been an incredible year for Microsoft and especially for Microsoft Teams. With many organizations quickly adopting new ways for employees to work from anywhere, Microsoft Teams has seen a meteoric rise in usage for meetings and collaboration. In fact, Microsoft recently announced that by the end of April 2020, usage of Microsoft Teams had surpassed 75 million active users, a massive increase from the 44 million users reported the previous month.
Learn how CDW and Microsoft can help you meet your Teams needs.
With massive new adoption of the platform, many organizations are just starting to utilize the standard features available such as chat, meetings and document sharing. While this functionality is a great entry point into the Microsoft Teams ecosystem, these same organizations will soon be in the position of figuring out what's next for them on the Teams journey.
One of the greatest assets of Microsoft Teams is that the platform is growing and adding new capabilities on a seemingly weekly basis. As organizations look for new ways to use the platform and further integrate Teams into their business processes, they will soon discover solutions for customized workflows, business process automation, direct integrations with Microsoft and third-party applications that provide a single pane of glass experience, and even industry vertical-specific functionality for supported tenants.
To help organizations discover some of these capabilities, I compiled a list of four unique use cases that organizations might consider for the next stage in their Microsoft Teams journey. These use cases are by no means an exhaustive list, but a great place to get started if you're considering adding additional capabilities to this already robust platform.
First-Line Workers with Microsoft Teams and Shifts
Organizations that rely on shift-based work such as healthcare, manufacturing and restaurants can take advantage of a native application available called Microsoft Shifts. Unlike its predecessor StaffHub (which retires officially in June 2020), Shifts is fully integrated and operated via Microsoft Teams. First-line workers can utilize Microsoft Teams and Shifts to quickly chat, access relevant training and collateral, and review team updates and news through the convenience of the traditional Microsoft Teams desktop, web or mobile clients.
Shifts' most powerful feature ― as the name suggests ― is the ability for administrators to create a shared calendar in Teams that maintains employee schedules, manages time-off requests, allows employees to swap shifts and even enables employees to punch in and out via a time clock function. To prevent employees from punching in and out when they are not physically at work, administrators can also enable location detection. Location detection utilizes the GPS of the employee's mobile device to validate their location before allowing the time clock feature to be utilized.
Teams and Shifts can also integrate with existing workforce management platforms, such as Kronos, via the Shifts Graph APIs. In these scenarios, Teams can act as a front end for users and administrators while maintaining the back-end platforms and processes required to operate the business.
Microsoft Teams for Education
Remote learning has been another hot topic recently; Microsoft Teams can help by providing educators the tools needed to create and continue traditional learning programs outside of the classroom. While the core capabilities of Microsoft Teams provide the ability to maintain communication and collaboration, educational institutions operating an EDU-based tenant are also privy to a library of features that are only available to organizations in this category.
For example, Teams for EDU provides four unique types of Teams templates that can be created based on the Team purpose.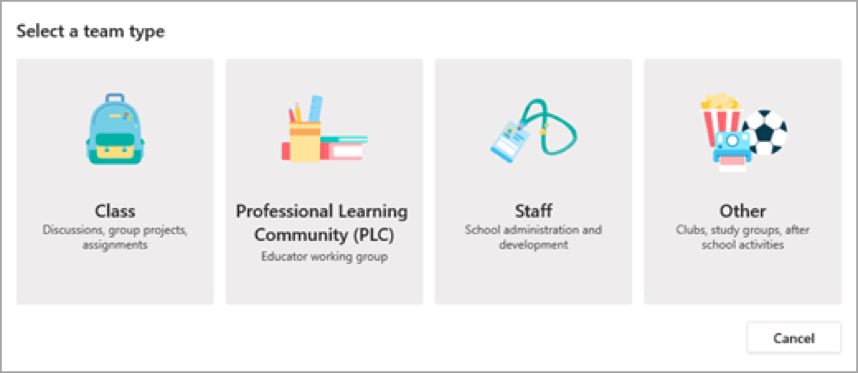 Class Teams: This provides a collaboration platform for teachers and students to share content with a familiar look and feel to a traditional classroom. Teachers can utilize a unique OneNote feature called Class Notebook that provides each student a private notebook that is only visible to themselves and the teacher. Students can also collaborate on OneNote pages together as they work on projects or group assignments. Additionally, the Assignments feature allows teachers to both assign and grade student homework, set due dates and then students can digitally turn in these assignments and view their grades.
PLC (Professional Learning Community) Teams: This would be used for educators to collaborate on joint projects or other activities where permissions are set equally for all members.
Staff Teams: These are intended to be used for administration and department leaders to collaborate with educators and other staff members. These teams provide primary administrative and posting permissions to leadership, while staff members have limited write access within the team. These types of teams may be used in situations where school leadership needs to communicate important information to staff or collaborate on joint initiatives.
Other Teams: These are more like "traditional" teams that organizations utilize in a commercial/enterprise Teams environment. Permissions for these teams are typically equal for all members but can be modified by the team owners if necessary. Teams in this category might be created for student/teacher collaboration such as sports teams, clubs, groups or other relevant school-based activities.
Additionally, educational institutions can also implement School Data Sync, which can automate Class team creation based on specific information in a school's existing information management platform. The major benefit here is that class information including teacher and student enrollment is synchronized and updated continuously. SDS supports over 70 different School Information System (SIS) vendors — and the list continues to grow.
Notifications and Alerts with Singlewire InformaCast
Effectively notifying employees and guests of incoming weather, emergencies, intruders or even simple announcements can be a complex endeavor, especially when there are multiple different mediums that need to be involved to deliver that message. Singlewire's InformaCast Fusion product tackles these mass-notification needs by enabling an organization to quickly trigger an alert or notification from one device, and then simultaneously send these notifications to mobile devices, desk phones, paging systems, strobe lights, digital signage and many more.
In 2019, Singlewire announced the ability to integrate Microsoft Teams into this workflow by utilizing the Singlewire Bot (available in the Teams App store). With Singlewire Bot enabled, designated Microsoft Teams users can trigger an alert through a combination bot and adaptive card. These notifications can then be broadcast to a multitude of devices and platforms using the power of InformaCast Fusion. Alerts can also be presented directly to Microsoft Teams users who are members of the notification team.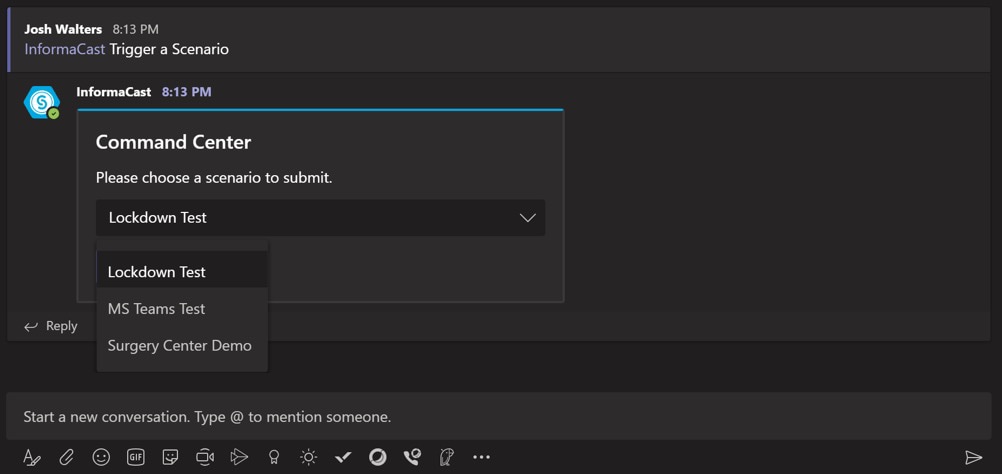 Additionally, the ability to automatically generate a Microsoft Teams meeting or conference to support live communication during an event will be added in the future. These enhancements will be available when the new calling and meetings APIs reach general availability from Microsoft. Integrating notification triggers and alerts into Microsoft Teams is yet another way to utilize the platform as a single unified interface for businesses.
Microsoft Teams Meetings for Telehealth
Telehealth has become one of the fastest growing areas of need for many healthcare organizations. Telehealth platforms can provide tremendous value by offering a way to streamline scheduling, eliminate barriers to treatment — such as risk of transmitting illness to others — and reduce cancellations and no-shows for reasons like childcare, time off work or transportation. For organizations looking for an easy-to-use platform that can support these needs, Microsoft Teams can pair with the Microsoft Bookings application to provide a simple to implement and customizable solution for telehealth.
When paired with the Microsoft Bookings application, Microsoft Teams becomes a full-fledged telehealth platform by providing convenient calendar management, external scheduling capabilities, custom appointment notifications and reminders for virtual visits.
Bookings can also be customized with custom appointment types based on organizational need. When an appointment is scheduled, both the patient and the provider receive a confirmation that the appointment was scheduled and then reminders are sent at customized intervals. With Teams Meetings policies set appropriately, patients can join the appointment remotely via mobile devices (with the Microsoft Teams app) or via traditional PC or Mac clients. All of these capabilities are secured and protected by Microsoft and meet compliance and regulatory requirements.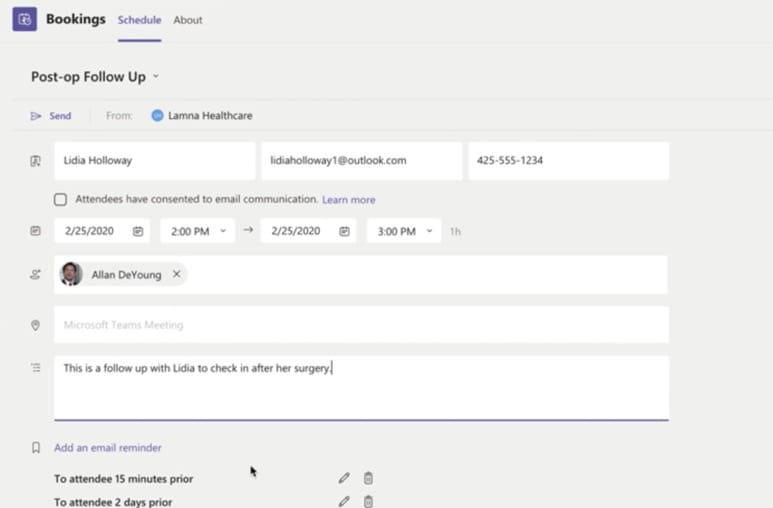 As Microsoft Teams adoption continues to grow, so does the platform itself. New features, capabilities and integration opportunities are consistently and constantly being developed. The answer to the question "What's next?" is likely different for each industry vertical and organization, but chances are high that there are a multitude of ways to take Microsoft Teams to the next level. CDW is here to help navigate those opportunities and as always, help our customers make informed decisions.