Article
Expert Review: Samsung Flip Brings Portability to an Interactive Whiteboard
This collaboration tool's flexibility and features can boost creativity and productivity.
When it comes to collaboration tools, offices and schools have come a long way since the classic blackboard. Whiteboards, with their colored pens, added more flair, but they remained noninteractive, with few creative options.
Whiteboards that make use of computers to add interactivity provide more options, but they mostly use things such as short-throw projectors and complex electric eyes to record and display pen strokes. Typically, that restricts them to mounted, fixed installations. 
With its Flip whiteboard, Samsung gives users unprecedented interactivity without requiring that the collaboration tool be bolted to a load-bearing wall. The core of the system consists of two parts. The display is a special Samsung WM55H 55-inch television with touch-screen capabilities, while portability is provided by a sturdy metal Samsung Flip Moving Stand.
The display is basically a large HD television. By default, it will display a white background, which helps to make the various colors drawn onto it pop. However, you can have it go dark instead, giving the appearance of a classic blackboard.
Choose Your Implement
Users interact with the display using either the included pencil or their hands. The writing tool has a thin point for fine work and a thick side that is more like a marker. Fingers also work. And if users don't like something, a quick brush with the flat side of their hand, which functions as an eraser, will rub it out. Colors can be changed by holding either end of the pen against the screen, which brings up a selection menu. Tapping the red circle, for example, turns all writing that color until changed again.
Because the Flip can accept input from a smartphone, USB drive, tablet or connected network location, it can also function as a presentation tool, displaying PowerPoint slides or even movies on the big screen. 
Mounting the whiteboard on the special stand enables the heavy screen to be moved around easily on four wheels. The base of the stand is wide enough that the display is always fully supported and never in danger of tipping over, yet it easily fits through standard doorways, down hallways or even into elevators.
The Samsung Flip adds portability and interactivity to whiteboarding, greatly increasing the functionality of most presentations. It would be at home rolling into any office or educational setting, or anywhere that could benefit from a boost in presentation excitement levels.
Specifications
Display Type: LED 
Display Size: 55 inches
Native Resolution: 3840x2160
Viewing Angle: 178 degrees
Rolling Stand Dimensions: 40.3x39x63.4 inches
Total Weight (Stand and Display): 133.6 pounds
CDW Display Price: $2,624
CDW Stand Price: $749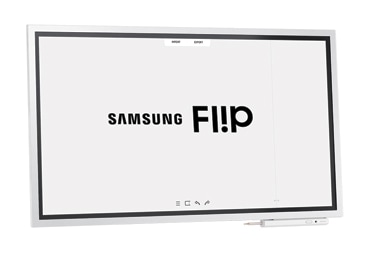 Big or Tall
The portable stand for the Samsung Flip mounts the display so that it can be rotated for either horizontal or vertical presentations
Covering the Field
With a 55-inch touch-screen display, the Flip provides more than enough surface area for any project
Creative Connectivity
The Flip works fine on its own, or it can import drawings or plans from a smartphone, computer, USB drive or network
Saving Your Work with the Samsung Flip
Gathering around a drawing surface may be the best way to collaborate with a group of people. That's why blackboards were so popular for more than a century. But even in very large rooms, you are restricted in the number of people who can participate. And after the session ends, the information may not stick around very long. If someone fails to quickly take a photo of the work, it might be gone forever.
The Samsung Flip aims to solve this presentation problem. At the conclusion of the presentation or collaborative session, users have the option of emailing or printing their work, or saving everything to a USB drive. In our test, the Samsung WM55H display had enough internal memory to save about 20 pages of work before the data needed to be sent elsewhere. Connecting the Samsung Flip to a network drive would provide nearly limitless storage capacity for completed presentations.
Similarly, loading presentations back onto the Flip is a simple process, as is sharing them with other devices (assuming relatively modest file sizes are involved). Given this capability, collaborators could work on a project over a long period of time, or in different locations, by simply loading up their works in progress and continuing where they left off. Alternatively, work from one group can be saved and later examined or audited by another.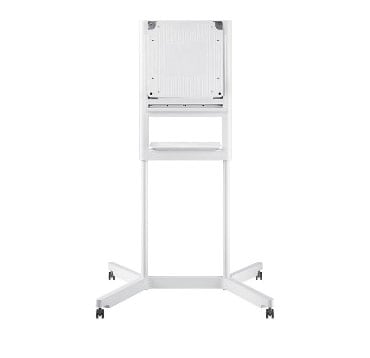 Family Connections
The Flip is part of Samsung's family of devices, so it networks easily with other Samsung products. I used a Samsung Galaxy Android phone, and it detected the Flip within range and shared everything on its screen wirelessly. Users can also attach non-Samsung devices using the HDMI port, so there is little that can't be shared with the Flip. Most devices also should be able to accept completed presentations from the interactive whiteboard.
Adding interactivity and portability to whiteboards already makes the Samsung Flip a brilliant presentation and collaboration tool. The ability to save work and connect to a network further expands this functionality, making the device an attractive and innovative tool that would be useful for any organization that wants to improve its collaboration efforts.

Explore Samsung displays to find a video solution that will drive productive collaboration within your organization.