Article
Expert Review: Jabra PanaCast MS Helps Videoconference Users See the Big Picture
The tiny, plug-and-play Jabra PanaCast camera marries conference room meetings with movie magic.
Compared with other videoconferencing tools on the market, the Jabra PanaCast MS panoramic camera is easily among the smallest, at just 4 inches wide and less than 1 inch tall. But it's packed with valuable videoconferencing features that also make it one of the most impressive devices in its class.
Setup of the PanaCast can be done in seconds. You simply plug it into the USB port on a laptop or desktop computer, and it's ready to work as an ideal portable conference device. It can also be mounted on a wall in a more permanent meeting area. And it can be attached to an optional table stand to give it greater stability without losing its portability.
The front of the device has three 13-megapixel cameras mounted in a semicircle, which together provide full visibility in a 180-degree arc in front of the unit. Once it's in place, everything the PanaCast does is automatic and completely hands-free.
The PanaCast scans the room and looks for people, identifying them easily against other objects in the background. Once subjects are found, the device automatically activates its three cameras as needed to ensure that every meeting participant is included. 
For example, when I tested the unit with a single person, only the center camera was active, and the focus of the entire presentation stayed on him. The other cameras were dark. When another person entered the room, the PanaCast detected them and activated the camera on the side of the table where they sat down. In a room with multiple people, all three cameras were active, and everyone was in focus as long as they were in front of the device, regardless of their angle to it.
Instead of using a wide-angle lens that might produce weird-looking effects in a panoramic view, the PanaCast stitches the normal-sized images from all three of its cameras together into a full-room shot without distortion. There was never any problem with the stitching, even if someone sat on the border between two cameras. The device always produced a continuous image.
The PanaCast has other intelligent features as well. For example, it does a good job of compensating for low- or bright-light situations. All of the videos captured during our testing, including brilliant 4K recordings, were practically flawless.
It's almost magical how such a tiny device can capture images that rival those produced in massive, dedicated conference rooms. Those Goliaths better watch out, because this little camera is ready to take on the world.
Camera type: Three 13-megapixel cameras 
Maximum recording resolution: 3840x2160 pixels
Video modes: 720p, 1080p, 4K
Maximum frame rate: 30 fps
Dimensions: 2.6x4x0.8 inches 
Weight: 3.5 ounces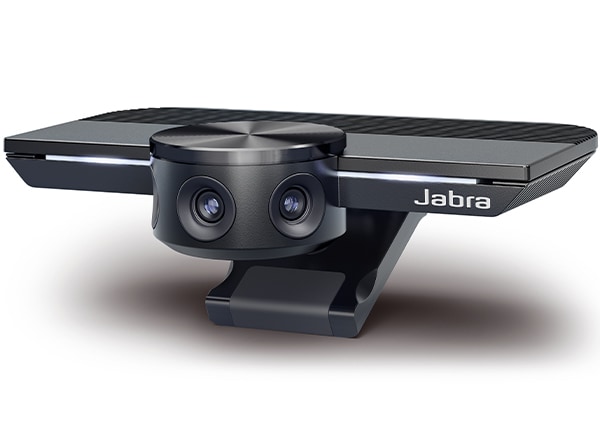 The device has three fixed HD cameras, which it can activate as needed to see everyone in the room.
 
Unlike many conference room cameras, the PanaCast can clearly focus on anyone within a full 180-degree arc.
The device's artificial intelligence automatically focuses on faces, even tracking new participants as they arrive for meetings already in progress.
Keeping Meetings Focused with the Jabra PanaCast
In addition to its superfast setup, the Jabra PanaCast panoramic camera is designed to drop into almost any conferencing system. And while it's certified to work with Microsoft Teams, it also works well with any of the most popular videoconferencing software offerings.
Users should note that the PanaCast doesn't provide sound, only brilliant video. While it can work with almost any audio input or microphone, users might want to consider one of the many Jabra Speak devices to add intelligent audio to the PanaCast camera.
I started my test of the PanaCast with Microsoft's Skype, and I was able to host a meeting using that platform in just a few seconds. It automatically recognized the input stream offered by the PanaCast and allowed me to select that to begin the meeting. All of the features offered by the PanaCast worked well with Skype, which prompted meeting participants on the other end of the conference to ask if we were using an advanced version of the video collaboration program. But it wasn't Skype that made our end look so professional; it was the PanaCast camera.
Conducting a videoconference with Cisco Systems' Webex software required a little more setup, though it only involved a few extra clicks to introduce the PanaCast to the platform. I had similarly good results with Zoom, BlueJeans and GoToMeeting.
Compared with using a single camera, the PanaCast provided a much better experience. With the device tracking new conference arrivals and activating new cameras as needed, it seemed to some of the meeting testers on the other end of our meeting that we were sitting in a professional conferencing center with a human turning on and focusing new cameras as needed.
Some generic, free conferencing platforms provide little in the way of special features, but with the PanaCast, we didn't need them. Essentially, we were able to produce high-quality, three-camera video images with only a single device and a generic conferencing platform.
Regardless of the conferencing platform you use, if you are looking for automatic, high-quality video capture for your meetings, without the need for IT support, then the Jabra PanaCast MS panoramic camera is one of the best devices I have seen. It may be tiny, but it stands tall above the rest of the pack.
CDW can help you find the best Jabra solutions to take your communication and collaboration efforts to the next level.