Article
Expert Review: Google Pixel Slate Marks an Evolution in Chrome-Based Computers
With a huge screen and fast processor, the Google Pixel Slate puts the Chrome OS in a powerful package.
Portable Chrome-based computers have come a long way since the early days of their existence, when they presented a low-cost yet often underpowered alternative to notebooks running other operating systems. Today, most Chromebook systems pack the latest Intel processors, plenty of memory and high-quality displays — all while retaining the simplicity and security that makes the platform so attractive to so many people.
It makes sense that Google, which created Chrome, would take the lead in advancing Chrome-based computing even further. The new Google Pixel Slate is one of the most powerful and functional Chrome computers yet, and a great example for manufacturers to follow.
The Pixel Slate's most obvious feature is its 12.3-inch screen, which Google has branded a Molecular Display. Beyond its impressive size, it has an astounding 3000 by 2000 maximum resolution, which equates to 293 pixels per inch. The screen makes photos look highly realistic, while graphics of all kinds pop off the page. In addition to working as a highly responsive touch screen, it's also optimized to perform remarkably well when users are writing with an optional Pixelbook Pen.
Powerful Processor Makes Pixel Slate a Smooth Operator
Adding apps to the Pixel Slate is extremely easy, either using Google Play or an organization's authorized app store. The tablet offers plenty of storage space thanks to the lightning-fast 128-gigabyte solid-state drive.
The Pixel Slate performed exceptionally, with no stuttering or other problems. Even graphically intensive programs and creativity apps ran smoothly, thanks to the Intel Core i5 processor. A Pixel Slate model with an i7 processor is available if you need even more power.
The tablet also boasts a powerful battery that offers up to 12 hours of life and charges quickly. The Pixel Slate can run for up to two hours after just 15 minutes of charging. It also comes with powerful collaboration software such as Google Docs, Sheets and Slides preinstalled. The tablet sports two USB-C ports, one on either side of the screen. Having two enables the user to charge the Slate while also using an external device.
Security is a hallmark of the Pixel Slate. The device comes with a Titan C security chip, which stores and protects the user's information, passwords and operating system. Another useful security feature is Pixel Imprint, which enables the user to unlock the device with a fingerprint.
Specifications
Display: 12.3-inch touch screen
Processor: Intel Core i5
RAM: 8GB
Operating System: 64-bit Google Chrome OS
Storage: 128GB solid-state drive
Dimensions: 8x11.5x0.3 inches
Weight: 1.58 pounds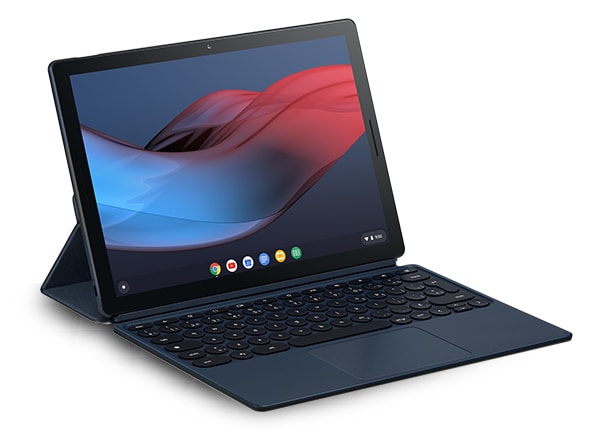 Bigger and Better
The 12.3-inch screen is one of the biggest ever made for a Chrome-based system.
 
Power to the People
With an Intel Core i5, Core i7 or Celeron processor, the Pixel Slate is ready to tackle almost anything.
 
Dynamic Devices
The slate tablet is complimented by optional keyboard and pen peripherals that add useful functionality.

Peripherals Extend the Pixel Slate's Usability
The Pixel Slate is an impressive device on its own. But when you add the optional keyboard and pen, its capabilities extend even further. These extras are optional, because not everyone will need or want them, but they are reasonably priced for those who do.
The Google keyboard is a full-size, backlit unit with a felt backboard that can act as a protective cover for the Google Pixel Slate when not in use. The keys are almost completely silent when pressed. And it comes with a large trackpad — about double the size that normally comes standard on a notebook — that adds mouselike functionality.
The keyboard also features a hard stand that acts as a backdrop and support. This attachment enables a user to operate the Slate like a regular notebook, as a stand-up display or as a tablet with the keyboard folded back. This functionality and the ability to act like a protective cover make this peripheral a useful addition, even for users who don't often need a keyboard.
Another great option is the Google Pixelbook Pen. For users who perform tasks such as taking notes, drawing or other creative endeavors, this peripheral delivers a huge advantage. The screen is optimized to work with it, so that drawing or writing with the Pixelbook Pen mirrors a real pen-and-paper experience — except that with the Pixelbook Pen, fixing mistakes doesn't require a messy rubber eraser. A button on the pen activates Google Assistant, so that it can also function as an alternative control device for all tablet functions.
The Google Pixel Slate is an extremely advanced device. But when you add the optional keyboard or pen, the tablet becomes even more useful for just about anyone's work or play.



CDW can help you find the best Google Chrome devices that deliver simplicity, powerful performance and robust security.