Deliver Videoconferencing the Way Users Want It
The Logitech Group bundle offers high-definition video and a setup process that's so easy, a child could do it.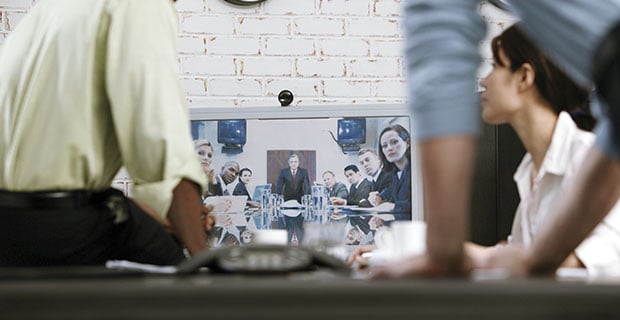 When videoconferencing first ran over IP, it could only speak one language. Videoconferencing systems would, for the most part, only transport traffic over H.323. H.323 quickly became the recommended standard in the videoconferencing market for all audio and visual communications. Today, with the introduction of Bring Your Own Device (BYOD) into the workplace, the problem we face in videoconferencing is that our top customers are doing video on Google Hangouts, WebEx, Skype and other platforms – environments where we are unable to use our H.323 room-based video. On top of that, many of the H.323 video room-based systems can cost anywhere from $5,000 to $50,000.
As videoconferencing is constantly evolving, customers want to be able to have this experience on the application of their choosing. With the introduction of the Logitech Group, we are able to use popular applications like WebEx, Google Hangout and Skype in order to support high-definition videoconferencing at an affordable price. If you are looking to do video with a legacy H.323/SIP-based system, you can purchase the Polycom RealPresence Desktop client for your PC or Mac (list price is $89), run it as an application on your notebook and still utilize the Logitech Group or another Logitech camera.
A Simple Videoconferencing Setup
When I opened the Logitech Group bundle, it included the PTZ (pan-tilt-zoom) camera, a speaker with four beamforming microphones with noise cancellation, two expansion microphones (optional), a remote control and a connector hub. You also get a mounting bracket and all the required cables.
I decided to put this product to the test by having my 10-year-old son set it up. The first question he asked, of course was, "Dad, where is the setup guide?" He quickly noticed there is no setup guide; there is a basic diagram inside the box, and he simply plugged the unit into the USB 2.0 on my notebook. He then wiggled a cable into the HDMI port on my notebook and connected the other end to our TV. The setup literally took under 10 minutes. And soon enough, we were doing video calls!
Overall, the Logitech Group offers beautiful HD voice and video across the board and is an excellent value for the $995 MSRP.
Learn more about CDW's videoconferencing and collaboration offerings.