Collaboration Advisory Service Can Sherpa Cloud Migration
Cisco UC platform's assessment can help sidestep the pitfalls of budget busting delays.
If you are unsure whether your current on-prem collaboration environment is operating properly or are considering a move to the cloud, a collaboration architecture advisory service can help you achieve operational efficiency, reliability and risk reduction.
The collaboration architecture advisory service uses automation tools to capture potential issues with the current on-prem solution and identifies areas that need attention. The tool also collects information to help determine cloud migration readiness. Let's look more closely at the core service features.
When running the tool, we collect information such as product versions to look for deprecated software or hardware, configuration items to check against our best practices and an overall data capture so that we can identify issues such as unreachable devices. 
As a part of this service, we review the current licenses to ensure everything is licensed properly. We also look at the VMware operating system to identify any issues there, and we make sure the virtual machines are running with the correct settings as specified by Cisco.
While the tool collects the information, our engineers evaluate the results and use their knowledge to identify critical areas that need attention. In addition to taking a deep dive into the current architecture we also perform a cloud readiness assessment.
Migrating your Unified Communications infrastructure to the cloud – such as Cisco's Webex Calling – can be a daunting task. Evaluating what you have and attempting to avoid mistakes is key. As this chart shows, organizations who do not perform their due diligence have the least amount of success migrating to the cloud.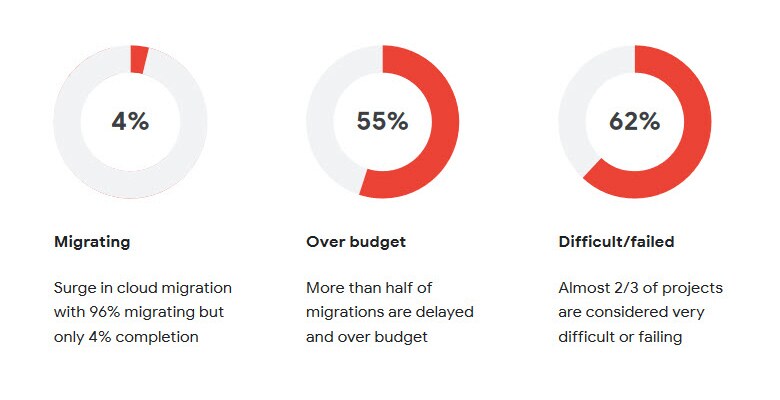 With the collaboration architecture advisory service, we can help alleviate reservations and attempt to identify potential problems before the migration begins. Depending on which technologies you utilize, the roadmap that the collaboration architecture advisory service provides will:
Identify existing analog, third-party and Cisco devices that are not supported in Webex Calling

Examine features that do not map easily to the cloud

Discuss bandwidth


Address emergency responder and paging needs



By using automation, we save time for the engineer to focus on the captured data to evaluate potential issues and to discuss a cloud migration roadmap. The collaboration architecture advisory service will:
Provide a review of the generated documentation of your system

Identify remediation items

Document device endpoints and discuss cloud migration compatibility

Generate a collaboration architecture roadmap
Whether you prefer to continue using on-prem architecture or choose to begin the journey of migrating to the cloud, CDW can assist you every step of the way using our tools and engineer expertise.
Are you interested in learning more about how you can leverage an automated health check?  Do you wish to evaluate the potential for a Unified Communications migration to the cloud?  Please contact your CDW account manager to learn more.
Story by Mike Robinson. Mike has more than 20 years of IT experience in the collaboration space with a focus on automation. Creating software for engineers and customers to streamline workflows are examples of his most recent endeavors.