How Cisco Webex Edge Connect & Audio Can Transform Your Meetings
New features in Cisco Webex allow better connectivity for meetings.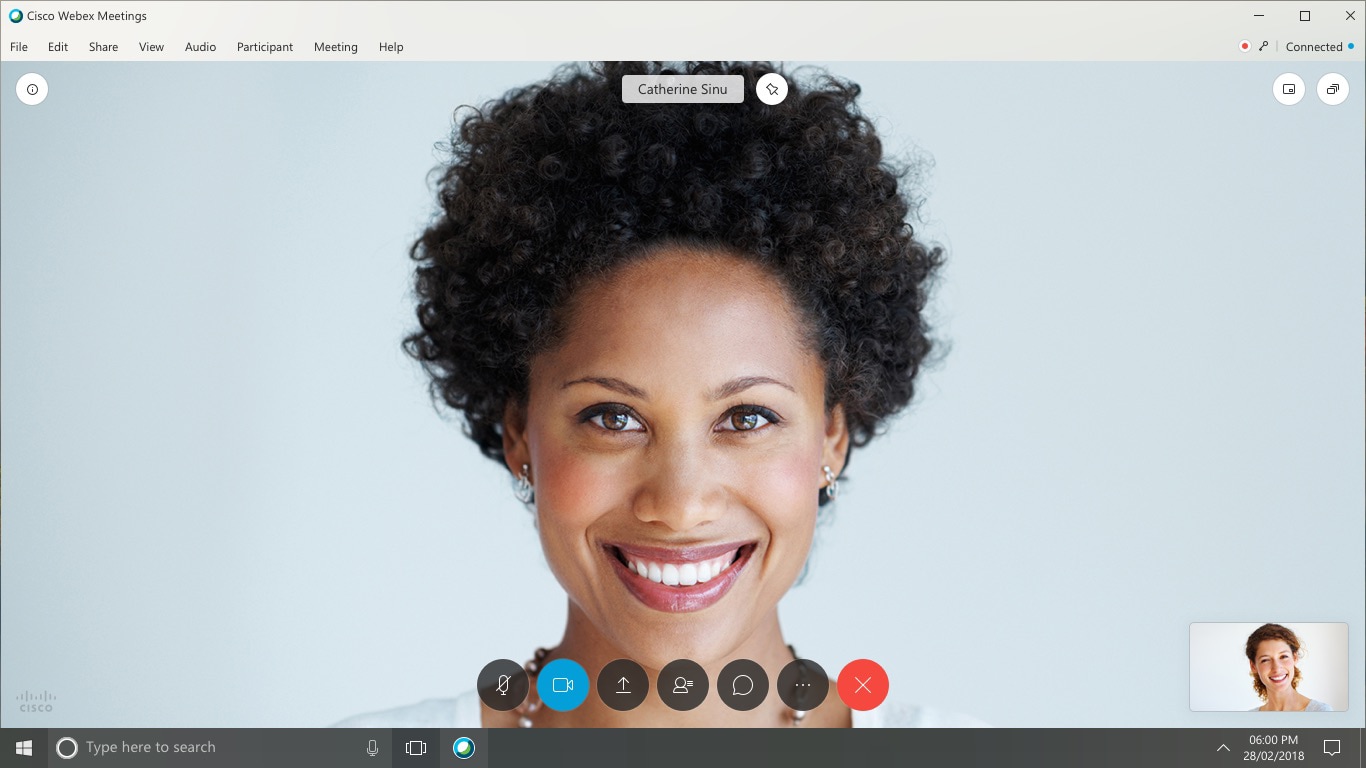 The split between on-premises and cloud technologies isn't new. Ask anyone who's been in the world of computing for a while, and you'll hear the topics of today as echoes from the past – think back to client-server or mainframe-and-dumb-terminal in the world of computing, or centrex and off-premises extension in the world of voice (before it became collaboration). Certainly, things are different, but the broad themes were there then and here now – as enterprises adopt cloud technologies, those same enterprises then seek to enhance their connectivity to those (now off-premises) services to ensure users can continue to use them efficiently.
Many of the largest cloud players even offer some form of direct connection service, such as:
These services are often intermediated by a carrier/access partner. Cisco now joins this club, including some collaboration "special sauce," by introducing two new features for Cisco Webex customers:
Cisco Webex Edge Connect
Cisco Webex Edge Audio
Let's talk through each of these in turn.
Enter Cisco Webex Edge Connect
Cisco Webex Edge Connect is essentially the same sort of direct peering service one might be familiar with from other major cloud providers. Cisco has partnered with Equinix, offering connection to Webex through Equinix Cloud Exchange (ECX). With Edge Connect, all Webex meeting traffic, including audio, video, presentation and meeting data (for example, roster lists, client functions such as mute control, etc.) flows over a private connection, no longer subject to the vagaries of the public internet.
The first step is to achieve connectivity to Equinix and ECX at one of their point-of-presence locations worldwide. Given that many enterprises either directly use Equinix for data center or colocation services, or are located in properties that may have an Equinix presence elsewhere in the facility, this may be an easy lift. Enterprises that are not colocated may need to purchase transport from a carrier of choice to reach Equinix (preferably at a location colocated with Webex).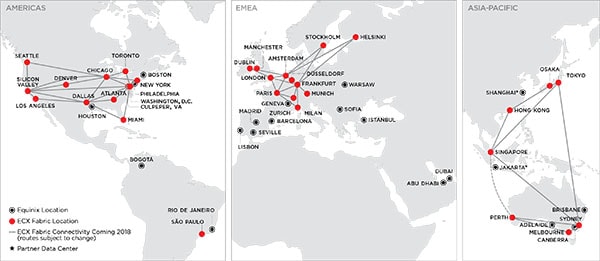 Global locations for Equinix Cloud Exchange (ECX). Note: Cisco Webex service is not available at all ECX points of presence. Image courtesy of Equinix, Inc., unauthorized use not permitted.
Once connectivity is established to an Equinix point of presence offering ECX, enterprises can spin up a virtual circuit to Webex, providing a Layer 2 Ethernet connection to Webex (Equinix does not participate in Layer 3 – they only provide a Layer 2 service).
Equinix provides a Layer 2 Ethernet path between the Enterprise and Webex. Image copyright CDW, unauthorized use not permitted.
Next, the enterprise establishes Layer 3 connectivity using enterprise-supplied public IP address space and performs Border Gateway Protocol (BGP) peering with Webex using its public Autonomous System (AS) number to exchange routing information, making use of Bidirectional Forwarding (BFD) protocol to allow for fast failover. Webex supports all the usual traffic engineering tools, such as per-theater IPv4 subnet lists, BGP communities and AS path prepending, to give the enterprise fine-grained control of route advertisement, propagation and resulting traffic flows.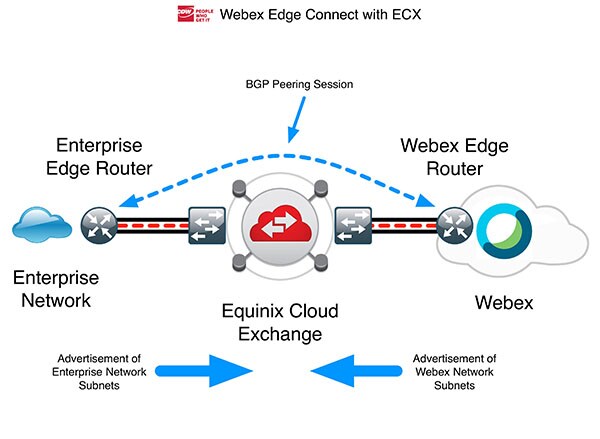 The enterprise establishes Layer 3 connectivity to Webex and uses BGP to exchange IP routes. Image copyright CDW, unauthorized use not permitted.
At this point, the Enterprise's Webex traffic is flowing across Edge Connect, yielding highly predictable performance and a level of service assurance that one simply cannot achieve over the public internet.
But Wait, There's More: Webex Edge Audio
Webex Edge Audio, a separate new feature, allows what would normally be phone calls to Webex over the Public Switched Telephone Network (PSTN) to be transported over the Internet (or Webex Edge Connect) in a manner similar to Webex Video Platform (formerly Webex Collaboration Meeting Room Cloud). Instead of configuring Cisco Unified Communications Manager (CUCM) to transport user calls to Webex toll and toll-free numbers via a voice gateway to the PSTN, CUCM instead sends these calls to Cisco Expressway Core (Expressway-C), which, in turn, routes them to Expressway Edge (Expressway-E) and onto Webex over the Internet.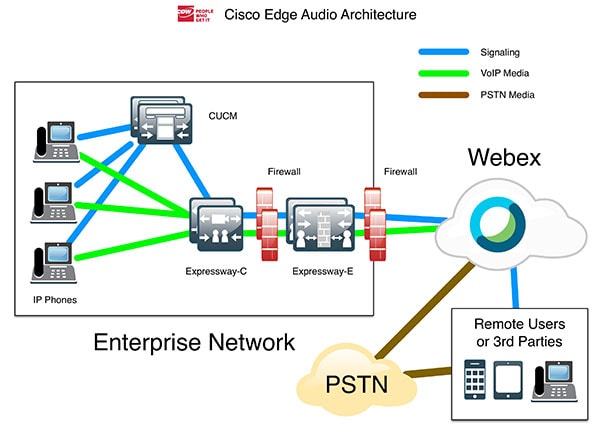 Webex Edge Audio calls transported from the Enterprise to Webex via Expressway and the internet. Image copyright CDW, unauthorized use not permitted.
Similarly, the Enterprise's Webex site can optionally be configured to send meeting attendee PSTN callback to the enterprise's Expressway-E, which funnels the calls to Expressway-C and CUCM, which will then route the calls to either a user's IP phone, or, for external third parties, to a voice gateway and onto the PSTN. Webex provides the ability to configure callback via the enterprise on an International Telecommunication Union (ITU) country code level (such as +1 for North America Numbering Plan, +33 for France, +44 for UK, etc.).
Webex Edge Audio yields several potential benefits:
Higher audio fidelity, using the G.722 wideband audio codec
Reduced enterprise PSTN requirements and attendant costs
Reduced Webex audio minute consumption and attendant costs
Starting from the top, Webex Edge Audio permits higher audio fidelity: as an entirely Voice-over-IP infrastructure, Webex Edge Audio allows for the negotiation of higher quality audio codecs, should both parties to the call (the IP phone on one side, Webex's audio bridge on the other) support them. At release, Webex Edge Audio will support the G.711u and G.711a audio codecs, which provide the same quality level as PSTN calls, as well as the G.722 wideband audio codec.
Relative to G.711u/a, G.722 provides a much higher level of audio and speech quality. This means, among other things, meeting participants will experience much higher-quality "hold music" when someone inadvertently puts the entire meeting on hold (just kidding!). G.722 is conveniently supported out of the box by all Cisco IP phones, as well as many third-party IP PBXs and phones.
With Webex Edge Audio in place, calls from enterprise meeting attendees can entirely bypass the PSTN. This, in turn, means that the enterprise can plan to reduce PSTN expenses such as Primary Rate ISDN (PRI) or Session Initiation Protocol (SIP) trunk channels and related per-minute trunk charges, as call volumes will be lowered. For some enterprises, this could be hundreds or thousands of trunk channels, and thousands or millions of minutes of audio, leading to significant savings.
Last thing to keep in mind, Webex counts calls arriving over Edge Audio as free VoIP minutes, rather than toll or toll-free PSTN minutes. This, in turn, means that, depending on the Webex audio plan in place, enterprises can reduce their Webex audio charges as well. Again, given that most enterprise meeting attendance is weighted/biased towards "internal" participants, this can mean significant cost savings.
Wrapping Up
Overall, today sees two big, very exciting announcements from Webex: Webex Edge Connect and Webex Edge Audio. These two technologies, whether used separately or together, give enterprises new options for achieving an exceptional, high-quality conferencing experience, with some impressive cost-saving possibilities to boot. Webex Edge Audio, in particular, offers significant benefits to customers and should see wide adoption, similar to Webex Video Platform (CMR Cloud) – so get your users ready for a new, better Webex experience!
Learn more about Webex conferencing and video solutions, including Cisco Webex Edge Connect, Webex Edge Audio, and Adoption Services for both, by requesting a CDW Collaboration Workshop.