7 Huddle Space Trends in 2021
As employees return to the office, companies are likely to continue their embrace of video collaboration workflows.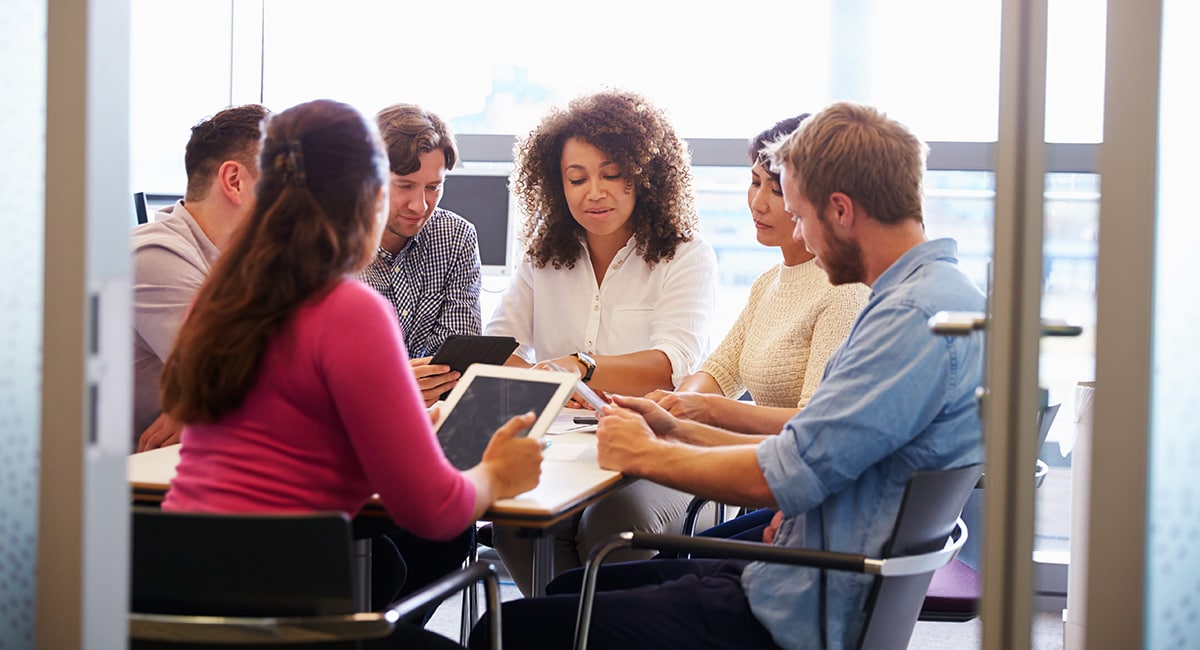 Collaboration huddle spaces were growing in popularity before the coronavirus pandemic hit, and they're likely to see continued adoption as employees return to work throughout the current year. But huddle spaces in 2021 are likely to look a bit different than they did in 2019.
Learn how CDW can optimize your video collaboration environment.
The video collaboration landscape has changed dramatically over the past year — due to the pandemic and because of new products and features from vendors. Here are seven huddle space trends to watch out for this year:
1. Laptops Aren't Enough
Although many employees have used their laptop cameras and microphones during their time working from home, these devices aren't enough to power true enterprise collaboration. Huddle spaces with dedicated video technology enable more than one employee to sit in on a video meeting, provide better audio and video quality, allow participants to use their laptop screens during the meeting, and offer better overall performance.
2. Endpoints Become More Flexible
Not long ago, it was difficult to get video endpoints from one vendor to work well with software from another, but not anymore. Over the past 18 months, technology vendors have responded to customer demand and made huge strides in getting their hardware to accommodate a wide range of collaboration platforms. This allows companies to improve the customer experience, rather than simply deploying solutions that will support their existing collaboration platforms.
3. Spaces Get Even Smaller
First, organizations recognized the wisdom of replacing their rarely used 20-person conference rooms with smaller huddle spaces designed for four or five employees. Now, some companies are looking to go even smaller, creating "jump spaces" for one or two people to use at a time. As video endpoint prices continue to drop, look for companies to keep carving up their spaces into smaller and smaller slices.
4. Users Are Savvy (if a Bit Weary)
Before the COVID-19 crisis, many users were unfamiliar with video collaboration tools. Then 2020 happened, and video collaboration platforms saw a massive increase in daily active users. Employees won't want to return to the early days of the pandemic, when many workers reported fatigue and headaches after spending six hours or more on video. But overall, users are much more comfortable with the technology today than they were a year ago.
5. Companies Start Investing Again
Many businesses took a pause from investing in anything but the most necessary new technologies during 2020 as they waited for the economic impacts of the crisis to unfold. As the economy returns to firmer footing, many organizations will pick up their huddle space investments where they left off.
6. Organizations Embrace Flex Work
Now that employees have tasted the freedom of working from home (and now that their managers have seen that remote work hasn't torpedoed productivity), many enterprises are expected to keep more liberal flex work policies in place over the long term. Flexible workspaces such as huddle rooms will be key to supporting these strategies.
7. Huddle Spaces Hit Home
Watch for more companies to begin pushing inexpensive video endpoints out to the homes of some users, especially senior managers. While most businesses are keeping their physical offices, users throughout most organizations are likely to spend much more time working from home than they did before the pandemic. By equipping senior-level users with dedicated video endpoints in their homes, companies can create a more standardized, professional collaboration experience.