5 Ways Organizations Are Innovating with the Samsung Flip
This new device is helping organizations to reinvent how they collaborate and share information.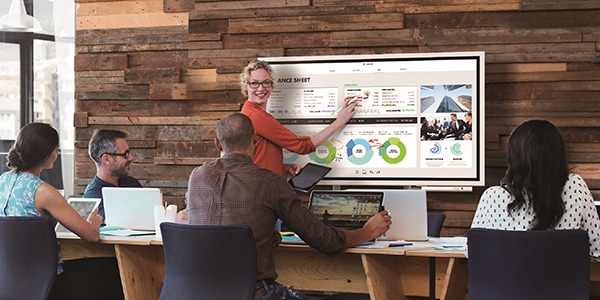 The Samsung Flip, a 55-inch portable interactive whiteboard that can be rotated horizontally and vertically, was named a top new technology when it debuted at the Consumer Electronics Show this winter. And yet, most of the organizations we work with are deploying only one or two of the devices — for now.
The reason businesses are starting off slow with the Flip is because they want to discover how the tool will fit into their environments and add new value before they make large investments. Often, they're finding that the Flip meets needs they didn't even realize they had. The device provides the functionality of a traditional, wall-anchored interactive whiteboard, along with the flexibility and user-friendly experience of a mobile device. As a result, the device is intuitive for most employees, who are already finding new ways to use it.
Here are five ways organizations are adopting the Samsung Flip.
1. Education
Both K–12 schools and higher education institutions are big users of presentation technologies, and the Flip is helping these organizations to streamline their IT fleets. A single Flip can replace several stationary whiteboards in a classroom, helping to make spaces more flexible. Some colleges are even placing Flips in common spaces such as libraries to facilitate student collaboration.
2. Enhancing In-Person Meetings
Even as enterprises invest heavily in remote collaboration solutions such as videoconferencing, most in-person meetings still rely on paper flip charts and colored markers. When people want to share digital content, they often promise to email it later or try to huddle around someone's four-inch smartphone screen. With the Flip, presenters can write on and broadcast content over the 55-inch HD display, helping to make meetings more focused and efficient.
3. Research and Development
A global car manufacturer recently ordered more than two dozen Flips for its research and development department. As small teams work to improve the form and functionality of various parts, they can bring up images of existing designs, "draw" over them using a stylus or finger, and then save and share the results of their brainstorming sessions.
4. Project Management
The same workflows that empower automobile research and development also apply to organizations in other industries. As teams work to keep projects on track, they can bring a Flip to a conference room (or an individual's office), brainstorm, mark up slides and then export their work to a shareable PDF file.
5. Strategic Planning
Management teams working to devise quarterly product or customer engagement plans traditionally have not had a great way to capture and share their ideas. Typically, they've written quick ideas on flip charts, dry-erase boards or even notebook paper — in which case their work often gets lost or thrown away. Or, they've typed their ideas into sharable documents — in which case their eyes are on their laptop screens instead of each other. The Flip allows these teams to engage in an authentic exchange of ideas and keep a record of those ideas to guide their planning later on.
Learn more about how CDW can help you find the best Samsung video solution to drive productive collaboration.
This blog brought to you by: