Article
Expert Review: Solid Performance from Micron's Crucial MX500 Solid-State Drive
Easy-to-install internal SSD can extend life and improve performance for older laptops or provide a massive capacity boost for cutting-edge equipment.
Solid-state drives have undergone a transformation over the past few years. The capacity, reliability and speed of SSDs have increased, while prices have dropped to the point where they can compete with traditional spinning-disk drives, which don't have nearly as many advantages.
But SSDs have one barrier remaining: installation, en masse, inside laptop and desktop computers. The vast majority of SSDs still exist as external components, either as key drives or backup and storage extenders that connect using USB ports.
The new Crucial MX500 SSD line from Micron could change all that. Designed for easy installation by someone without any experience, Crucial drives can replace sluggish or failing spinning drives and greatly extend component life and usefulness. Free software from Micron even allows for cloning existing operating system drives for an easy swap-out process.
For this review, I installed a new 1-terabyte Crucial MX500 as a replacement drive in an aging laptop. With the old drive, it took 22 seconds to boot the system, six seconds to fully open Microsoft Word, and eight seconds to load a large Adobe Photoshop file.
Swapping out and cloning the drive took less than an hour, with most of that time spent watching the Acronis True Image software wait for the old drive to send duplicate files. Once complete, the laptop ran like a new — and fast — machine. Boot time was reduced to six seconds. Word opened nearly instantaneously, and the Photoshop file now loaded in less than two seconds. 
Specifications
Drive Type: 2.5-inch internal SSD
Capacity: 250GB to 2TB
Average IOPS: 95,000 IOPS reading; 90,000 writing
Weight: 0.313 pounds
CDW Price: $285.99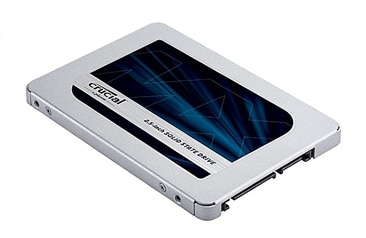 Additional Benefits of Solid-State Drives
Because SSDs are far more energy-efficient than spinning disks, battery life increased by 100 minutes after the installation, and the laptop ran much cooler and more quietly than before. The Crucial drive even features hardware-based AES 256-bit encryption that will protect data should the laptop ever be lost or stolen.
Obtaining a high-performance, high-capacity, internal SSD for less than $300 would have been impossible just a few years ago. Now, the Crucial line is ready to improve performance across the board for both new and aging hardware.
Starts in Seconds
 
The Crucial MX500 drive has no moving parts, so if used as the main internal drive for a laptop, the system should start in just a few seconds when powered up.

Customized Capacity
 
With drive capacities ranging from 250 gigabytes to 2 terabytes, a Crucial drive exists for every project or system.

 
No Experience Necessary
Crucial drives have been designed to be extremely easy to install, even in laptops, with a support app showing the whole process step by step.
 

Loss of Power Doesn't Mean Loss of Data
Most computer users have at some point lost data because of a power failure or other odd error that prevented their work from being saved. The result can range from a minor annoyance, such as having to rewrite a few sentences, to disaster, in the form of permanent data errors, corrupted drives and the loss of important information or even entire programs.
Micron has devised a solution to minimize or eliminate these losses. Every Crucial MX500 solid-state drive comes with a feature called Integrated Power Loss Immunity, which is designed to protect data from sudden power loss. I tested this numerous times to see how well IPLI worked.
Crucial SSDs are enhanced with Micron 3D NAND technology, which provides dynamic write acceleration for faster saves and file transfers and is the main reason why IPLI works. Basically, the processes are so quick that they can outrun a power failure. Also, because the drive has no moving parts, it's impossible for the drive head to "scratch" the disk during a power failure — SSDs don't work that way.
In assessing how valuable this feature is to users, IT leaders should consider two factors: First, this data loss prevention feature is less useful in a laptop, given that most have backup batteries and instant power rollover if the main power fails or a plug gets pulled (For our testing, we removed the laptop battery to prevent this failover.).
Second, IPLI won't be able to save every file in every circumstance. If you are saving or transferring a huge file when the power goes out, the drive won't be able to complete that transfer — it doesn't have its own reserve power supply. But it will ensure that whatever data has been written is uncorrupted, and that the process is ready to continue unabated once the power returns.
For my test, I used a Word file and triggered a power failure. I did this 20 times. No data was lost at any point, as long as the autosave feature was set to a short interval. More important, the file itself was never corrupted.
Integrated Power Loss Immunity won't solve every problem related to a power outage, but it will go a long way to ensuring that such problems are far less common and less severe.


Explore Micron's complete portfolio of SSDs and memory solutions.