White Paper
Kick-start Your Smart Community Initiatives
Technology Has the Power to Transform the Quality of Daily Life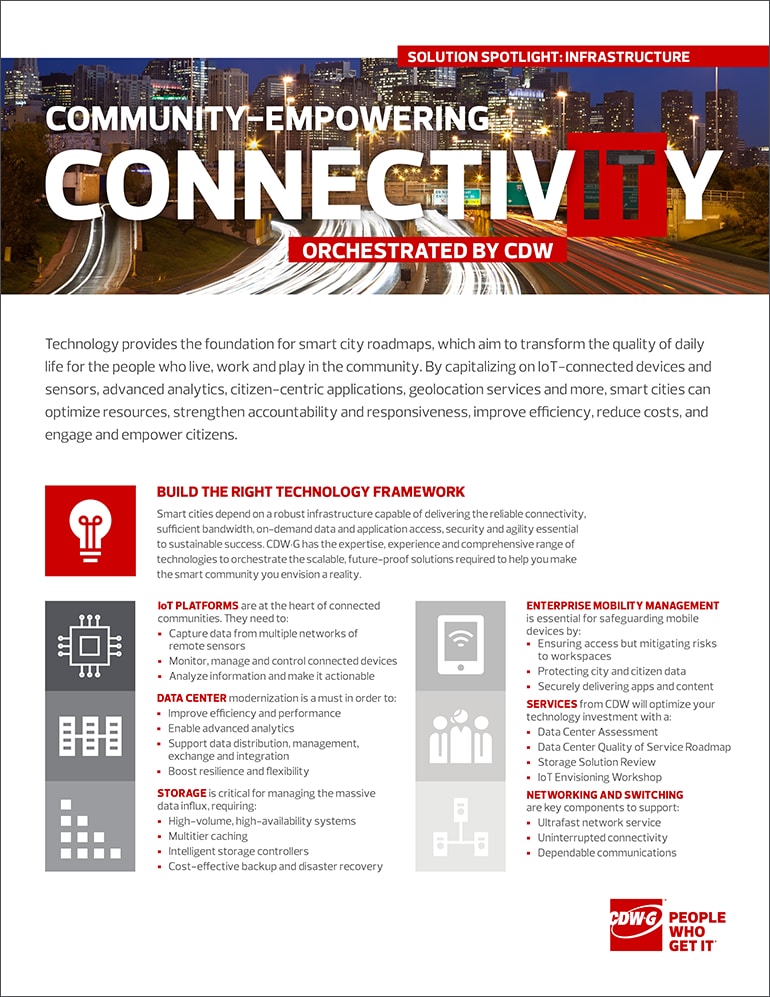 Get ready for tomorrow by building the infrastructure and connectivity your community needs to collect, analyze and act on vital data — whether it's real-time bus tracking, managing snow removal or delivering public safety alerts.
Governments with the ability to securely take advantage of IoT-connected devices, advanced analytics and other emerging technologies can improve responsiveness, inspire innovation, reduce costs, and engage and empower citizens.
Sustainable success depends on scalable, future-proof solutions that integrate IoT platforms, highly efficient data centers, high-volume storage, ultrafast networks and enterprise mobility management.
Check out our infrastructure "Solution Spotlight" for a close-up look at how the right technology framework can provide the foundation for building a smarter, more connected community.
Learn more about how CDW can help your community capitalize on technology to improve the quality of life for those who live, work and play there.
A hybrid cloud solution can increase storage capacity while maintaining flexibility to meet the demands of future workloads.
Salt Lake Community College relies on APC's power and cooling technology to keep its Center for Arts and Media data center humming.
Citizens demand a responsive government that meets their needs. Updated solutions can help agencies meet this challenge.