The 3 Simple Layers of Hyperconverged Infrastructure
Dell EMC's new VxRail appliance, commodity hardware and vSAN make digital transformation a reality.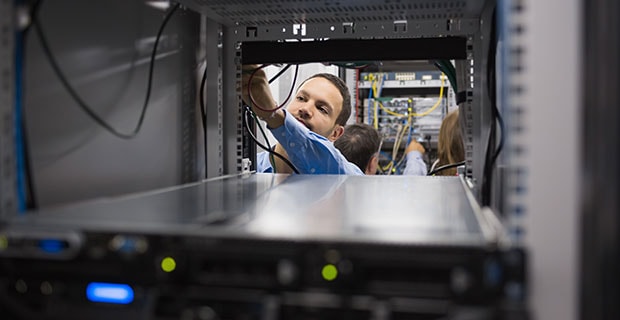 There are more than a few manufacturers of hyperconverged infrastructure (HCI) appliances. And I meet with customers every week and try to explain to them why they should care about it. To me, HCI really should be boiled down to three components.
The first is the hardware – what you can see and touch in the racks. The second is the scale-out file system layer. This is the layer that not only protects your data but also binds the nodes together (scale-out) into something your business can actually use. The third layer is the management software where the user makes changes to the environment.
With HCI, we are reducing complexity in the data center and trying to provide a cloud-like experience. If we can't do that, we'd be better off selling cars for a living. With this technology, you no longer need to be the smartest guy or gal in the room to keep your data center humming. HCI does the work for you.
Commodity Hardware Means Freedom
A lot of the time, the customer sees what they are looking to buy as a thing, not the sum of its parts. Well, HCI is just that – the sum of its parts. When we evaluate an HCI manufacturer, we need to take those three layers into very careful consideration.
Hardware? Yes, we live in a commodity world. Often enough, a customer will ask, "This VxRail stuff we are discussing, what servers are we talking about? We just bought a ton of UCS." My response — the make is "I don't know," and the model is "I don't care." We are talking commodity gear hardware. VxRail is built on a Dell compute platform, state of the art.
Let's move on. Remember, we are really selling a cloud-like experience here.
vSAN Is Key
The scale-out file system layer is the most important layer. This is where your data is protected and where scale happens as your environment grows. You had better be well-informed about where your data is sitting and how scale happens before the trigger is pulled. vSAN is at the core of VxRail. Developed and supported by VMware, this is the only vSphere kernel-level software-defined storage we have available today. Make no mistake about it, other scale-out file systems in other HCI environments look, act and are managed like another storage array. They will forever be an outside entity to vSphere.
Do your customers know they are purchasing another storage array if they aren't buying VxRail? Remember, we are reducing complexity here. When we look at other manufacturers, does the customer know they are trusting their data to yet another storage array and manufacturer that may not have had the shelf life and support vSAN has? We need to look at VxRail as a vSAN appliance. For the other manufacturers out there, what's protecting the data?
The Management View
Finally, there's the management layer. Remember, we are selling a cloud-like experience here. At some point, we need to grow the environment. If you are an Amazon customer, the assumption is compute and storage can be added or removed non-disruptively. This feature is very important. With VxRail, everything is managed from within vCenter. Since vSAN is built into the core of vSphere, all layers of VxRail management take place inside vCenter. There is no need for other pieces of software or management.
The cloud is real and your customers are using it. They want the cloud experience inside the data center. We need to protect that environment, allow safe scalability and reduce complexity. VxRail as a vSAN appliance on cutting-edge Dell compute is a choice your customers will thank you for.
Learn more about CDW's partnership with Dell EMC and how it can benefit your data center.
This blog post brought to you by: