HPE's New ProLiant Gen10 Servers Balance Performance and Security with Affordability
Key features, such as virtualization, can stay affordable with CDW's help.
Benjamin Franklin said, "In this world, nothing can be said to be certain, except death and taxes." If he were alive today, he'd add cybersecurity breaches to that list.
In fact, the average number of records lost or stolen in a data breach grew another 1.8 percent over the past year, according to the Ponemon Institute's "2017 Cost of Data Breach Study." At an average cost of $141 per record, a typical organization spends about $3.62 million when it's hacked.
Franklin also said, "An ounce of prevention is worth a pound of cure." Case in point: The latest generation of Hewlett Packard Enterprise's ProLiant servers, which pack a host of security features but — thanks to a unique CDW customer-assessment process — are surprisingly affordable for even small organizations.
For example, every time an HPE ProLiant Gen10 server boots up, its processor checks whether its firmware has been altered, a sign that malware or ransomware was added. If the flag goes up, the server jumps to recovery mode and back to a previous, authenticated firmware version. Businesses take an average of 99 days before detecting malicious code, according to Ponemon Institute, so this feature closes a big window of opportunity for hackers.
Performance is another major reason why organizations would upgrade. HPE ProLiant Gen10 processor is up to 71 percent faster than previous generations. It's also designed to support multiple workloads, making it ideal for virtualization.
Those and other key features don't have to break budgets, either. CDW offers an assessment to help businesses understand the technological and financial aspects of upgrading from legacy ProLiant products to Gen10.
The following table compares the total cost of ownership for a Gen10 upgrade with the TCO for keeping a Gen8 system for another three years. For this customer, a Gen10 upgrade delivered a 59 percent TCO savings through lower operating expenses and other benefits.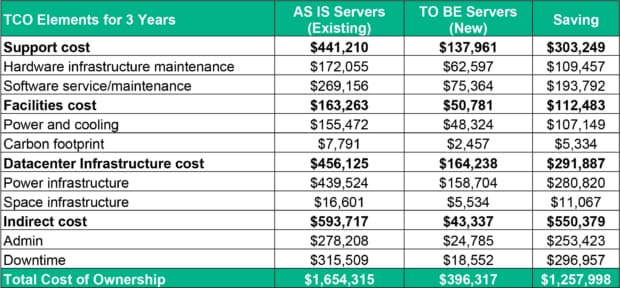 Click the table to enlarge the TCO/ROI cost elements comparison between Gen8 to Gen10 ProLiant servers.
Warranties are another example. An extended/renewed warranty for a Gen8 or Gen9 server is about 30 percent more than the cost of the original three- or five-year warranty when those boxes were new. The assessment typically shows organizations that it's more cost-effective to sell their old servers to CDW, with payment in the form of a check. That money can be spent on anything, from new projects to additional staff.
HPE also lowers the TCO with Flexible Capacity, which lets Gen10 customers pay only for the resources they need, when they need them. That eliminates the cost of buying a lot of extra storage to support, say, a new product and then have it lie fallow after the launch rush tapers off. Customers can use Flexible Capacity to minimize the risk of a new service that they aren't sure will be a hit. Think of Flexible Capacity as the on-premises version of one of the public cloud's biggest benefits.
Learn how CDW and HPE use technology that fosters business transformation.
This blog post brought to you by: