Case Study
Data Analytics Takes the Field at Oregon State University
Microsoft Power BI and SharePoint, supported by Dell EMC storage, deliver customized, data-driven insights that help coaches and players improve training and performance.
At many universities, the idea that the IT professionals on staff could have a dramatic impact on the school's athletics program is novel, to say the least. Install a new printer for the athletics department or troubleshoot the network? That's where IT makes a difference — not in fine-tuning athletes' development or helping coaches perfect training regimens.
Until early 2017, that was the thinking at Oregon State University. Then the new athletics director, Scott Barnes, unveiled an early draft of his five-year strategic plan. The OSU IT team, he suggested, could be far more valuable than many people realized.
In professional sports, Barnes noted, teams employed IT staff to collect and manage data. In fact, data analytics was rapidly emerging as a must-have tool to optimize player performance. OSU would follow their lead, Barnes said, searching for opportunities to incorporate data into intercollegiate athletics.
Oregon State Athletics Rethinks Traditional IT
Not long before Barnes came to campus, Oregon State University Athletics hired Tim De Quilettes as the IT director on the Data and Media Infrastructure Team.
"When I got here," he recalls, "we were mostly just seen as the 'fitters and turners.' We had a very traditional IT support role and it didn't include data analytics."
Barnes' vision changed everything, says De Quilettes, and he began asking coaches how his department might be able to help.
"We quickly evolved into a kind of R&D think tank where our primary role, at least in that initial stage, involved getting the coaches and their support staff to dream about what might be possible," he says. "We'd say, 'If you were able to garner this data or if you had these technologies at your fingertips, what are some of the things you'd want to see provided to you that would help you to enhance your program?'"
Their responses were as varied as the teams themselves. The baseball team's pitching staff wanted data that could help determine which pitcher to start and when. Rowing coaches were curious about the power their athletes generated with each stroke and how that fluctuated based on water currents. And many coaches wanted a way to view the data they already had — on nutrition plans or workout results, for example — in ways that made the information more usable.
De Quilettes remembers thinking that his team would need to develop customized solutions for each coach's goals. "We had our work cut out for us," he says.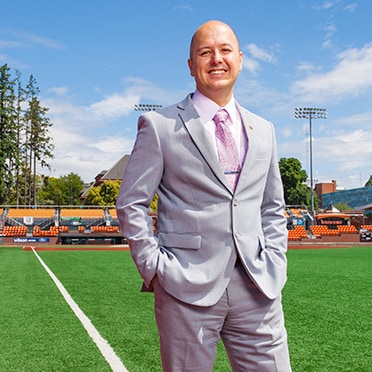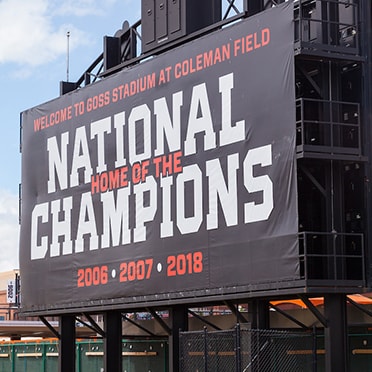 "It was clear we were kind of breaking new ground with the scope and scale of this initiative — that we were trying to do something that had never been done before."
Tim De Quilettes, IT Director, Data and Media Infrastructure Team
Dell and Microsoft Solutions Power Up New Data Initiative
Earlier in his career, De Quilettes had collaborated with CDW in the medical arena, so he decided to reach out to the company again. 
He launched the project with help from CDW Field Account Executive Benton VanWormer and Executive Account Manager Lance McMillan. OSU student Ana Nolan joined the project through a CDW internship. 
"Lance and I focused on making all of this a reality within the constraints of their very low budget, while Ana did a lot of the outreach around campus, raising awareness about the initiative and drumming up support," says VanWormer.  
One major challenge was finding a way to pull data from disparate environments, whether the baseball field, the football team's weight room or student dining halls and dormitories. In addition, any data collection solution would need to work seamlessly with the software products of various third-party vendors — the radar gun that records athletes' pitch speed, for example, and the GPS units that soccer players wear in training. 
The solution would also need a powerful analytics component to provide coaches with insights they couldn't get otherwise. And finally, given the sheer size of the analytics projects the team had in mind, they would need their own onsite data center. 
"None of this was going to be possible without a place to host the data coming in," De Quilettes says.
Working closely with CDW, the OSU team solved its hosting dilemma by adding a Dell EMC Unity 300 hybrid flash storage system to its existing Isilon infrastructure. 
On the data aggregation and analytics front, the team chose two solutions from Microsoft. SharePoint, Microsoft's online collaborative platform, would support much of the data collection, and Power BI, the cloud-based business analytics tool, would filter and process that data — and help to build dashboards for reports and visualization. 
All along the way, CDW facilitated conversations and solutions that helped OSU move its innovative project forward.
Like most universities, OSU had an existing licensing agreement with Microsoft, but it initially wasn't clear whether Power BI and SharePoint were included. CDW arranged meetings with Microsoft to clarify the details and ensure that only minor changes were needed to deploy the licenses universitywide. 
"CDW's expertise and liaison experience was critical," De Quilettes says. "It came into play again and again every time we had a question about how to move forward."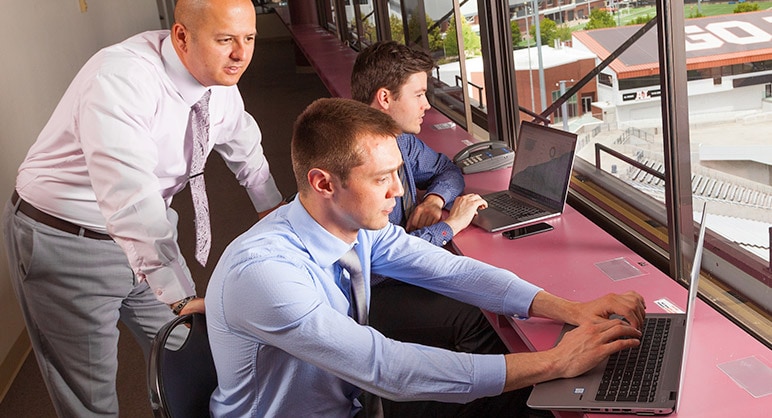 Oregon State University staffers (from left to right) Tim De Quillettes, Rocco Malo-Resta and Charles Siebert use data as a creative problem-solving tool.
Data-Driven Insights Help Athletes Achieve Peak Performance
Today, SharePoint's enterprise-level flexibility allows it to serve as the team's infrastructural hub, and Power BI has become the go-to tool for analytics-related heavy lifting. 
"Once we know what a team or coach wants, all we have to do is pull the data and send it to them," says Senior Systems Engineer Rocco Malo-Resta. "We're using these systems for almost everything now. We wouldn't be able to do this work without them."
The insights empower coaches and players to take a holistic view of performance, understanding which factors are likely to help athletes hit their peak and which may make them more prone to injury. OSU baseball coaches, for example, can harvest data from multiple sources to determine how a batter might improve his swing or predict when a pitcher is likely to throw his best. 
"It might be that when a kid gets less than six hours of sleep the night before a game, there's a dramatic drop-off in the number of strikes he throws, or an uptick in balls thrown wildly to the left or right," says Malo-Resta. 
The swim team uses Power BI to study athletes' strokes frame by frame, and the women's soccer team recently used the system to identify the culprit behind a spate of twisted ankles.
"We're using these systems for almost everything now. We wouldn't be able to do this work without them."
Rocco Malo-Resta, Senior Systems Engineer, Oregon State University Athletics
"It turned out it was the cleats they were wearing when they played on certain surfaces," Malo-Resta says. "The answer was there in the data. We just had to look to see the correlation."
The SharePoint interface makes it easy to capture certain data points directly. Athletes can sign in to a private account to provide information to OSU's sports medicine department about daily nutrition, for example. A trainer, as she's taping a player's wrist, can enter details about that athlete's condition, which can then be used to create a so-called readiness score. 
"That trainer may only have a few minutes with the athlete, but that's still enough time to send us what we need," says Malo-Resta. "For them it's just five or six clicks on an iPad device. The rest is done by Power BI."
Ultimately, De Quilettes believes that what OSU is doing with CDW and data analytics "is absolutely revolutionary in the context of intercollegiate athletics." 
Coaches are using data-driven insights to make strategic decisions on the field, and their athletes are doing the same to optimize how they compete and train. While incorporating analytics into collegiate competition may be a nascent endeavor for now, De Quilettes says, he is confident that these strategies will eventually be part of the standard playbook. 
"Considering what we're learning is possible, I think it's just a matter of time," he says.
Photography by Robbie McClaran
Bringing All the Pieces Together
Another reason the Oregon State University team needed a flexible software solution was to accommodate for the fact that data inputs come from a variety of sources. While having athletes enter information directly into Microsoft SharePoint is one avenue, IT staff also had to account for others, says Senior Systems Engineer Rocco Malo-Resta.
In some cases, data collection is manual — for example, when medical staff provides details about soccer players' injuries or when baseball staff records player stats inning by inning over the course of an individual game. 
In other cases, data gathering is automated, facilitated through integrations with sports-specific software. OSU's gymnastics team uses a camera system it borrowed from the College of Engineering to monitor athletes' spins and jumps, while the baseball staff uses specialized software to track ball velocity, hit distance and other variables. 
Data also comes from sources outside the university. The NCAA, for example, has catalogs of data on Division I sports, says Malo-Resta. 
"If that information is online, all we have to do is point Power BI at the webpage and we can pull any statistics that we want," he says.
Learn how the right IT solutions can help your team design and deliver high-value initiatives.