To Design the Optimal Meeting Experience, Focus First on Goals and Then on Videoconferencing Equipment
Organizations must consider more than just hardware when building out video solutions that enhance collaboration and productivity.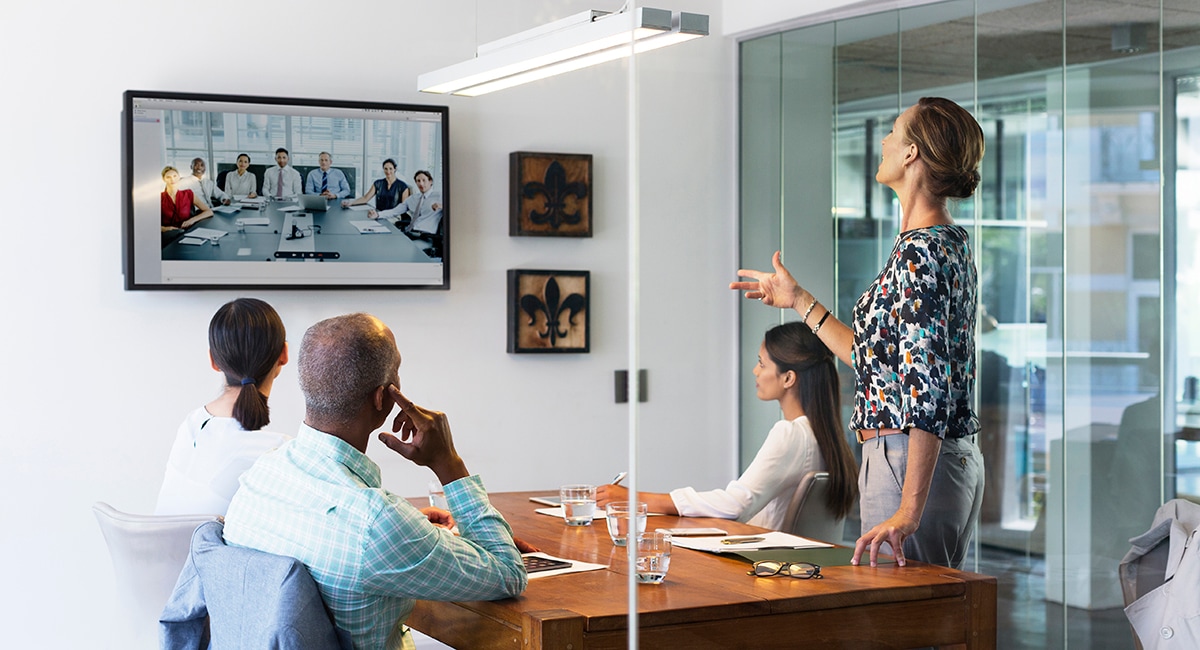 Sometimes, when I'm speaking with IT managers about how to build out video collaboration systems for their organizations, they want to start the conversation by talking about a particular high-end Logitech camera, or a specific, slick Samsung video panel. Often, these technology pros have a mandate from on high: A leader within the company has seen a partner or competitor with a flashy new video system, and the executive wants to replicate it within his or her own organization.
It seems almost silly to say, but the reality is that many organizations start their thinking about these systems from a place of trend-following (or a corporate version of "keeping up with the Joneses").
The good news is, nearly any organization can benefit from state-of-the-art video collaboration systems, which enable remote work, cut down on travel costs and dramatically increase engagement during meetings. But rather than starting with the technology and then designing a build around desirable cameras and displays, organizations should first think through their business objectives and select specific technologies only at the end of the planning process.
Here's a simple, three-step process that I work through with clients to help them design optimal video collaboration systems for their organizations.
Step 1: Think Through the Applications
This is the "big why." What does an organization hope to achieve with video collaboration? How do leaders hope to improve their corporate meeting experience? Why are they pursuing video in the first place? Even if the surface answer to this last question is, "Because other companies are doing it," a bit of probing and brainstorming will usually uncover areas where an organization can create real value through video collaboration.
Establishing clear and measurable goals early on will help inform the build-out and ensure that expensive new technologies don't sit unused. Once specific use cases are identified, IT and business leaders can make decisions about what types of meeting spaces they need to build out to support those applications. A large conference room will typically require more sophisticated technologies than a smaller huddle space, and a boardroom may have even greater requirements. Some careful thinking early in the process can help organizations to optimize their investments.
Step 2: Decide on a Platform
The back-end software (or the platform) that supports video collaboration is the glue that ties the entire system together. Sometimes, organizations will already have a platform such as Zoom, BlueJeans, Lifesize Cloud, Microsoft Teams or Cisco Webex in place. If not, they will often have an audio conferencing solution from a vendor that also offers video. This is a good place to start, as we can discuss how these platforms are already being used, whether employees seem satisfied with them and whether these existing platforms are a good fit for an organization's desired use cases.
While the experience with some platforms may vary, most are compatible with endpoints from a range of different vendors. Beyond a desire to build on what they already have — and, of course, cost — organizations should prioritize usability when selecting a platform. Increasingly, users demand solutions that allow them to walk into a meeting room, hit a single button and automatically launch a scheduled meeting. The more complicated a system is, the less likely employees are to use it.
Step 3: Select the Endpoints
Finally, the fun stuff! Once an organization defines its use cases and decides on a platform, it's time to pick out which combination of cameras, video displays, audio tools and other equipment will support its desired outcomes. Truly, video collaboration equipment has come a long way in recent years, to the point that the technology (when implemented well) now "disappears" during meetings, allowing participants to focus fully on the topic at hand. Cameras can automatically track who is speaking and zoom in on the action, providing a better experience for remote participants. And ultra high-definition displays and quality audio systems create the illusion that everyone is actually collaborating together in the same room.
Really, discussions about video collaboration should be happening within nearly every organization. By starting these conversations with a focus on end goals, IT and business leaders can be confident that the solutions they implement will help them address their unique challenges and create value well into the future.
To learn more about how CDW can help you find collaboration tools that fit your users' needs and your business goals, visit our Business Communication Tools page.