Microsoft and Cisco: When Collaboration Worlds Collide
While the vendors are often present in the same environment, finding ways for them to work together can be difficult.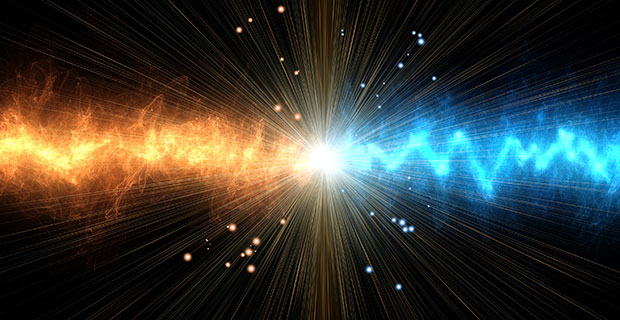 "How do I get the most out of my investment?" It's a question all IT organizations ask themselves when they review applications they have in their environment, especially when considering upgrades and migrations. This question can and ought to be answered with both technical and user adoption considerations in mind. And it presents quite the complex and confusing landscape for those that have (or are considering) some combination of multiple collaboration vendors.
Today, I will focus mainly on the technical side, and let's face it: Many companies have both Microsoft and Cisco Collaboration products in their environment. Is there a way for the two to live in harmony and still get the most out of the investment? The answer is somewhere in between "Yes, well sort of" and, "It depends."
 How Cisco and Microsoft Differ
Cisco and Microsoft Collaboration products unquestionably offer many overlapping features and functions, but each also has its own special sauce. Take, for instance, Microsoft's Office 365. Cisco offers no equivalents for Microsoft Word, Powerpoint or Excel (to name a few major apps), nor do I expect they ever will, as office productivity software of this type is just not in their wheelhouse. When talking about collaboration, the vendor's offerings as a whole need to be taken into consideration.
While Microsoft has open APIs into their Office suite, applications like Skype for Business are going to naturally plug into an Office application, whereas Cisco's Jabber client requires some tweaks to get it to work just right (and, in fact, lacks API access to some features, such as presence bubbles in Outlook, on the Mac). Plus, if Microsoft changes something in the Office stack, it is very likely that Skype for Business will have an updated integration to support it well before anyone else. Microsoft also owns email, calendar and identity in this stack.
On the Cisco side, the strong networking heritage shines through. Need an end-to-end QoS/QoE solution for not only your voice and video but also your enterprise applications? Count on Cisco to provide a tightly integrated, fully featured, well-architected and documented offering that supports not only Cisco phones, but many other applications as well. Offering common, standards-based protocols across the product lines ensures this to be the case.
The Big Three Collaboration Features
But enough of the exclusive stuff, as each vendor loudly trumpets what they do best in a multiplicity of white papers, blogs, configuration guides, data sheets and so forth. Where it gets really interesting is the overlap and integration. Many companies are in the process of migrating to or looking at Office 365. For those that already have Cisco collaboration solutions in place, some questions arise: What features should I turn on? What is going to be a support nightmare and/or give my users headaches? To answer these and other similar questions, we really need to look at a few of the most important pillars of collaboration. Here at CDW we categorize these as "Call," "Message" and "Meet."
1. Voice and Video Calling
"Call" is simple to understand: What do you want to use for voice and video calling? Long gone are the days of separate voice and video systems, as modern enterprise-class systems roll both into a single platform. On the Microsoft side, Skype for Business, on-premises, hybrid and cloud; on the Cisco side, Unified Communications Manager, on-premises or hosted with a partner in the cloud, and Spark Call as a pure-cloud play.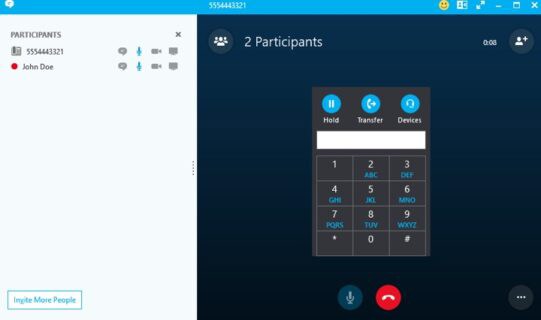 Focusing on Communications Manager and Skype for Business today, your best bet is to pick one or the other for your calling needs. I have had many customers ask me how to integrate the two and my suggestion is don't, at least not for calling purposes. For anyone that has gone through a merger or migration, having two disparate calling platforms in the same environment can be a huge pain to manage. You'll have separate dial plans, provisioning, end user training, admin training, etc. And what about single number reach? Users are in for a world of confusion when they are enabled for Enterprise Voice on Skype while simultaneously using a Cisco desk phone.
You may ask, "What about having my Polycom video endpoints register to Skype for Business, but have Cisco for telephony?" That is a simpler proposition, as you may design your dial plan to cleanly separate the two, but many Cisco phones also have video capabilities as well, not to mention soft clients. What if your users then ask to call into a Skype registered Polycom video room from their Cisco 8865 IP video phone? Well, it is possible, but realize that the two systems don't speak the same video codecs natively and you must purchase, stand up and/or support a video bridge that would interwork the two video standards together, such as Polycom RealConnect and Cisco Meeting Server.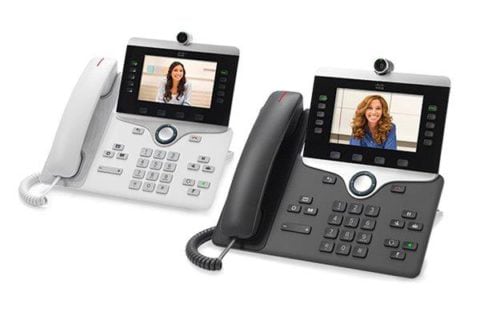 The Cisco IP Phone 8865

You really need to pick one to do your PBX functions. Your help desk and end users will thank you. When deciding on one over the other, Skype for Business on-premises (and soon to be in the cloud, called Cloud PBX), as well as Cisco's Communications Manager, have most of the important end users features. I suggest looking to the other topics I mentioned to steer you in the right direction. If you already have both in your environment and are attempting to use them simultaneously for calling features, you may want to look at a migration strategy that offers the needed features, but place all of your calling features on one single platform.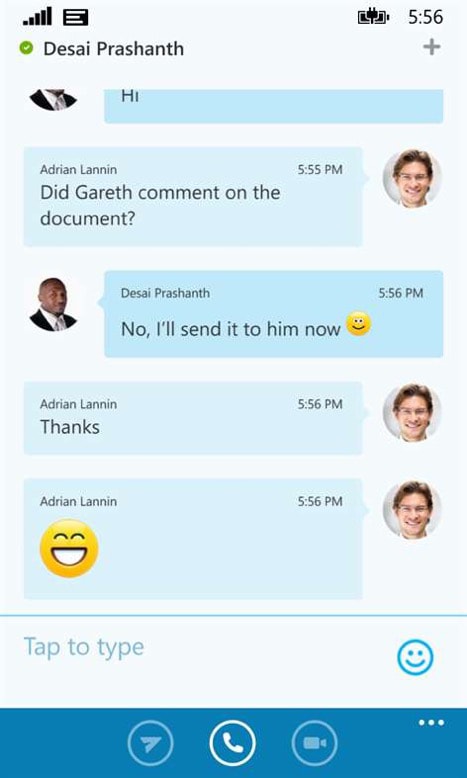 A screen shot of a Skype for Business instant message

2. Instant Messaging
Moving on to message, which is the instant messaging feature, you're comparing Skype for Business on the Microsoft side and Cisco Jabber using Cisco's IM and Presence server. Once again, while it is possible to integrate these two, you really should pick one for your instant messaging platform. Both applications support intra or inter domain federation with the other.
But when you have issues, do you really want to have a finger pointing match between Cisco and Microsoft technical support? Also, an integration like this is only partially featured. Yes, it is fine for instant messaging and presence features, but both Skype and Jabber offer many other features that cannot interoperate, such as file share, group messaging and screen sharing, to name a few. Communication, training and support to your end users will not be a fun time.
Business Messaging?
We can't move past the message discussion without talking about Microsoft Teams and Cisco Spark. These are the hottest new applications from two of the top players in the market in the business messaging space. To some extent, these applications could coexist: Spark tends to do team-based real-time chat better and allows people outside of your organization to participate easily, whereas Teams offers threaded conversation, OneNote integration, Wiki-like features and organized file sharing, making it much more functional and integrated for an internal team working on a project together.
There is overlap, however, and this could add to user confusion. Both have audio and video calling capabilities, both allow file share and creating channels (Microsoft) or spaces (Cisco) for team discussions. For now, we should not assume that these two applications will make your decision for you, unless you were an early adopter of Spark Call, and even then, the unique capabilities that Microsoft Teams offers should not leave it off the table.
3. Meetings
The meet feature is another instance where you should pick one, but here's where I see many companies trying to mix their two environments more heavily. On the Microsoft side, you have Skype Meetings, while on the Cisco side you have WebEx. It's a little subjective when you ask people about which one they prefer, though they each cover the core requirements of most companies. Be aware that having a single meeting platform that supports audio only, web, and video makes for a better user experience.

Choose One to Go All-In
Naturally, each vendor would like to have all of your business for call, message and meet. Honestly, going all-in for your collaboration solution is not a bad idea. You will get the best integration of features across the three pillars. For example, you would not plan on doing Skype for Business Voice and then use Cisco WebEx for meetings; you would already be entitled to Skype Meetings for that function and a simple "Join" button in Skype would be present to make joining a Skype Meeting a simple event. Your user experience would just not be as good with Skype+WebEx.
That said, there is one scenario that does tend to crop up periodically: Cisco Calling with Skype for Business Messaging and Meetings. More than a few customers invested in OCS or Lync (the progenitors of Skype for Business) over Jabber. In the last few years, the feature gaps between Jabber and Skype were mostly overcome, so more recent adopters of Cisco's stack may have decided to go all-in on Cisco Jabber. If you were in the earlier group of companies, you are faced with a decision: Do you want to go all-in on Skype for Business or retrain your users on messaging and meeting?
So, what do you do?
There are a few things you should think about:
Do you have a significant investment in video with Cisco? There are not any options for you to move your video endpoints to Skype for Business. Your only options would be to migrate to a supported solution, e.g. Polycom, or run dual infrastructures, which we already decided was a bad idea.
If you bought into WebEx, do you have a long-term subscription? What will your user experience be when those users are moved to Skype Meetings?
Does your user base heavily leverage physical phones? Cisco has been working the PBX market for more than 15 years, not to mention the cost of replacing all of your handsets. However, be aware that Cisco has dropped a few of their Gen 1 and Gen 2 phones from the latest rounds of Communications Manager. If you have a bunch of older, end-of-life desk phones in your environment, they may not be supported in the next few years, so you may have to refresh anyway.
Do you have a large mobile team? While both platforms have mobile offerings, Skype caters to and has a long history of soft client telephony. Keep in mind though, headsets will need to be purchased.
Do you have a large analog base? If so, be prepared for another cost in analog gateways.
Do your users handle change well? Will they accept a shift in platform easily or will significant adoption related training and communication be needed? With which platform will your users be better able to accept change (phone/video or IM)?
Do you have all of the features that you need on your Cisco platform? Are there some features that fit a need on Skype?
Is your network prepared for soft client audio and video, especially on wireless?
Have you already purchased or are considering purchasing E3 or E5 CALs from Microsoft, or have you had incentives to move? If so, some of these costs could be absorbed through that migration.
What can you support? Does your support staff have a deep background in one product over the other?
What do your users need in order to do their job? While we haven't covered each and every corner case that you might consider, the key considerations of call, message and meet are the most important things to keep in mind.
Learn more about how CDW can help you make informed collaboration decisions by getting a collaboration consultation and setting up a Collaboration Experience Workshop.