How UCaaS Enables a Hybrid Workforce
By adopting cloud-based unified communications solutions, organizations can set themselves up to support the workforce of the future.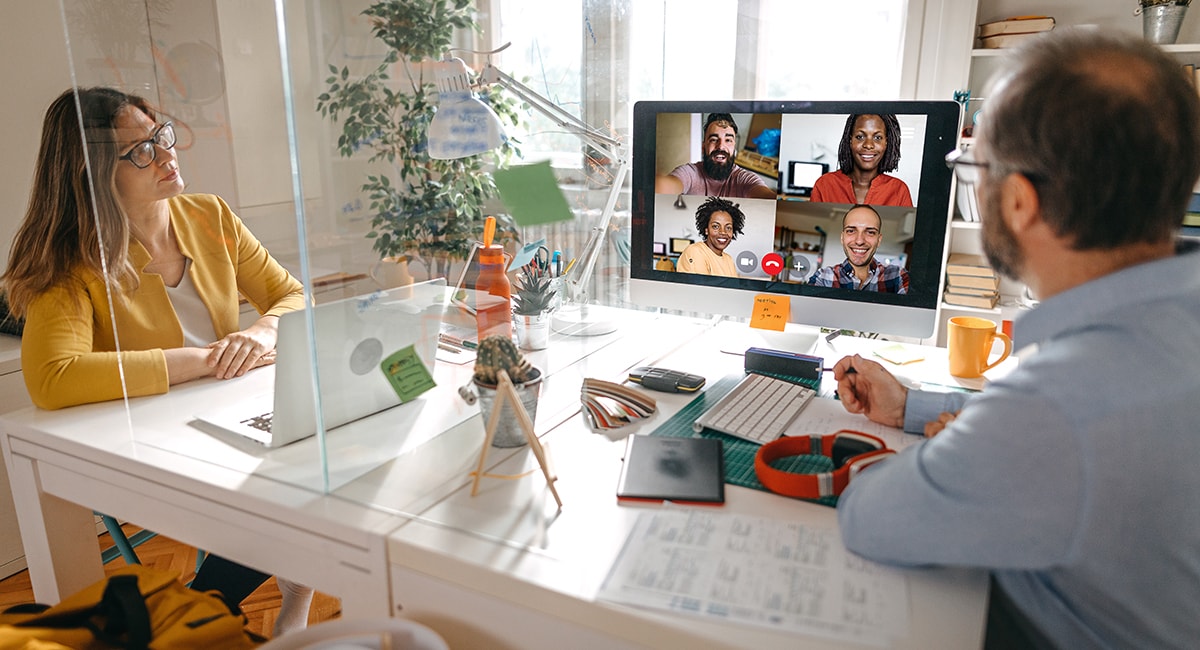 We still don't know when or how the COVID-19 pandemic will end, but one thing seems certain: The workplace is unlikely to ever look the same.
While it has become clear that most businesses will maintain physical office spaces, the majority of employers say they will give their employees some choice over where they want to work once the pandemic is over. The likely result? A hybrid workforce made up of employees who split their time between home and the office, depending on their roles and their to-do lists on any given workday.
The end of the pandemic won't mean the end of remote work. Click here to learn how to optimize secure work-from-home experiences well into the future.
Unified Communications as a Service (UCaaS) platforms are uniquely suited to support such an arrangement, offering the following benefits:
Anytime, Anywhere Connectivity
UCaaS solutions tend to have a more location-neutral feel than traditional premises-based tools, giving employees a more consistent experience to connect with colleagues and customers. The solutions are driven by highly available hosted infrastructures and can deliver uptime numbers that many organizations maintaining on-premises systems might find difficult to achieve. Most solutions are hosted in top-tier, geographically diverse data center locations and peer with multiple carriers, making their services ubiquitous. With UCaaS, workers can simply log in, no matter their physical location, and get to work. While this can also be accomplished with premises-based self-maintained systems, it requires a fair amount of engineering and infrastructure.
Improved Engagement for Remote Workers
According to one survey, 75 percent of senior business executives say that video meetings enhance both the engagement and effectiveness of remote participants. In a hybrid world, this type of dynamic workplace participation for people working from home is an absolute must. Many organizations are already using cloud-based videoconferencing platforms to extend meetings beyond the conference room. A shift to UCaaS as a complete platform collaboration tool is all-encompassing: call, message, meet, share and potentially contact center. This helps enable workers by providing access to all collaboration workloads in one interface and a cohesive, consistent experience in or out of the office.
Innovative Updates
Many organizations struggle with keeping tools up to date and rolling out new versions and updates as they become available. It takes time to plan and execute upgrades to back-end systems, hardware refresh is expensive and often a prerequisite, managing licensing for various components is cumbersome, and the list goes on. Even after a successful infrastructure upgrade, there are additional considerations, such as feature configuration, client Q&A, security testing and end-user deployment. One of the benefits of cloud tools is the instant access to new features, security patches and other updates provided as part of the service. This allows administrators to focus on structured and thoughtful adoption efforts to ensure success for the end-user community.
Simplified Scalability
As an organization experiences growth or a cultural shift, such as enabling remote users, UCaaS solutions can quickly accommodate these trends. While an on-premises system might require time-consuming (and costly) infrastructure and networking investments, a company can expand its number of UCaaS licenses almost instantaneously. And because of the cloud-native architecture of UCaaS, these services can offer the flexibility of providing the same experience across devices, wherever and whenever staff need to work.
Streamlined IT Management
Today's IT organizations strive to align themselves with their companies' missions and business objectives. Shifting collaboration workloads to the cloud allows IT workers to focus on aligning usage and adoption with specific business use cases. Instead of planning upgrades and designing complex dial plans, engineers can spend more time examining analytics and workflows to provide the best experience. Vendor management and procurement is simplified as well. By consolidating collaboration workloads into a single UCaaS solution, the public switched telephone network, conferencing and meetings, and calling platforms can be consolidated to a single bill.
CDW-Enhanced Adoption
Technology problems aren't the only thing that can sink a collaboration effort. Organizations often find that encouraging employees to adopt new tools is more challenging than they thought — especially in companies where workers have been doing things the same way for years and don't see a need to change. CDW offers collaboration workshops to help customers assess, measure and track adoption, and to assist our customers in choosing the right tools for their organizations.