How to Choose the Right Network Management Solution for You
These three questions will help you determine the best path to centralized network control.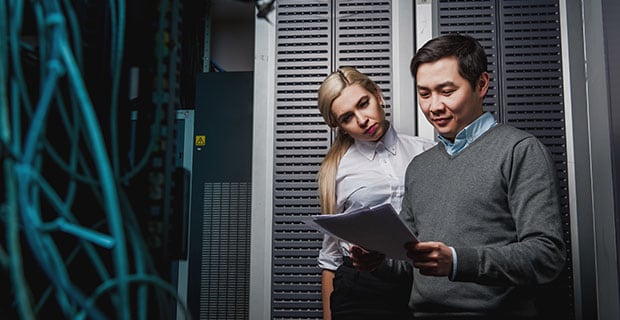 Network management software is a huge component for gaining centralized visibility into infrastructure, which IT managers crave. By consolidating management information onto a single dashboard, IT staff can monitor uptime, change configurations, add hardware and much more. For such an important function, picking the right solution is a pivotal decision.
Organizations have dozens of network management solutions to choose from, ranging from proprietary software created for a specific platform to vendor-neutral consoles that let IT staff control a variety of hardware. IT professionals will need various capabilities, depending on whether they're handling a relatively straightforward local area network or a hybrid network involving mobile devices, Internet of Things systems, virtual private networks, cloud servers and other technologies.
Considering All the Factors
Regardless, every IT manager considering a network management solution needs to answer three key questions:
1. Should we go with proprietary network management software or a more open platform?
The answer usually depends on whether the organization operates a homogenous network or a heterogenous one. If all your network gear comes from a vendor such as Cisco Systems, Hewlett Packard Enterprise (HPE) or Juniper Networks, it almost always makes more sense to go with that vendor's solution, as it will likely offer platform-specific features and APIs that will let you customize the software to your environment.
Vendor-neutral solutions tend to rely more heavily on open standards and offer a universal look and feel, regardless of whose logo is on the hardware. They may — or may not — have application programming interfaces (APIs) that allow for customization.
Even with a homogenous network, though, your interests may vary. Some IT managers crave simplicity and want one vendor to deal with. Others hate to put all their eggs in one basket and want a network management software capable of supporting multiple platforms, so they can keep their options open down the road.
2. Should we stay on-premises or migrate to the cloud?
Many network managers have been wary of network management solutions in the cloud, mostly because of concerns about security and regulatory compliance. But for many organizations, such concerns have melted away in recent years. All major cloud vendors meet stringent state and federal requirements, and these companies likely have more resources at their disposal for securing networks than your organization has.
The benefits of having your network managagement solution ing a network in the cloud are simplicity and speed. You can access analytics, change configurations, troubleshoot problems and resolve support tickets much faster in the cloud — and you can do it from virtually anywhere with an internet connection.
But a key difference with the cloud is how it's paid for. Cloud providers deliver services by subscription, not through a perpetual license. These costs must be carefully managed.
3. If we move to the cloud, what happens to my job?
It's a myth that moving to the cloud eliminates the need for network managers — but it will change the nature of the work. Instead of racking and stacking in the data center, you'll be allocating resources and managing deployments from a console. This should leave you with the flexibility and freedom to take on more challenging work that benefits your employer and enhances your career. The rest is up to you.
Learn more about how CDW's experts can help you find the right management solution for your network.

This blog post brought to you by: