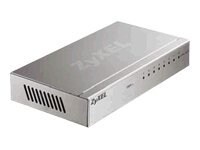 Quick tech specs
View All
Know your gear
The ZyXEL GS-108B supports intelligent power-saving technology as most other Ethernet switches were designed to supply full power on all ports regardless of the status of connected computers. The GS-108B is intelligent enough to sense the status of computers on each port and to adjust power allocation to achieve the best energy-saving performance.

Unlike other switches that set unnecessarily high power output level to the longest cable length, the GS-108B is able to detect the actual length of cables on each port and adjust its power output accordingly. ZyXEL GS-108B not only comes with reliable performance, but also the commitment to energy saving for environment.

ZyXEL's GS-108B 10/100/1000Mbps desktop switches are designed for reliable high-performance networks. Thanks to the non-blocking switching fabric in full-duplex mode, the Store-and-Forward service brings low-latency and error-free packet delivery. With these features, the transmission efficiency can be boosted dramatically.

With the N-way auto-negotiation function, the GS-108B automatically connects to its network counterparts with the highest possible network speed and activates duplex mode automatically. All it takes to enliven your network is just plugging in the cable, and no manual configuration is required.

The stylish compact metal housing fits any working environment. GS-108B comes with different port configurations for affordable and reliable SOHO network expansion needs.