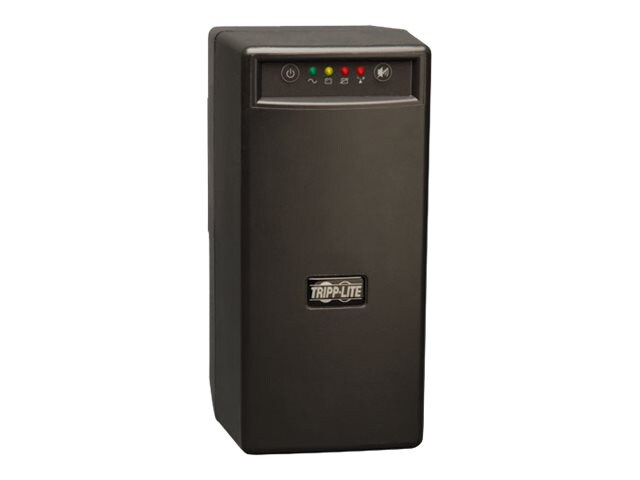 Quick tech specs
External PC standby sine wave Uninterrupted Power Supply provides long-lasting battery backup and prevents data loss and downtime during brownouts and blackout
375W UPS capacity with 3.3 minutes runtime at 100% load and 11.1 minutes at 50% load
3-year Tripp Lite Warranty/ $150,000 Lifetime Insurance
Supports small business workstations desktop PCs point-of-sale equipment phone system audio/video equipment and home theater systems
3 UPS battery supported outlets,3 surge-only outlets
View All
Know your gear
Tripp Lite's BC600SINE UPS system provides long-lasting battery backup for professional workstations, PCs, networking equipment and other sensitive electronics. Sine wave output in both line and battery power modes provides compatibility with all electronic loads, including PC and Mac systems fitted with Active Power Factor Corrected (PFC) power supplies. Uninterruptible Power Supply switches to battery derived sine wave AC output during power failures and severe voltage fluctuations so that connected equipment can be operated normally and shut down without data loss. Provides 18 minutes battery runtime with a typical desktop computer system (100 watts). Includes 3 battery-supported outlets for computer, monitor and one vital system peripheral, plus 3 additional surge suppression-only outlets for printers and other system accessories not requiring battery support. USB port enables optional unattended system shutdown without data loss in case of extended power failure; cable included. USB interface enables integration with built-in power management and auto shutdown features of Windows and Mac OS X. PowerAlert software is also included for a variety of desktop and network shutdown agents. Built-in audible alarm and 4 front-panel LEDs indicate line power status, battery power status, overload status and battery low/replace status. 650VA/375W power handling ability supports professional workstations, desktop PCs, point-of-sale equipment, small business phone systems, audio/video equipment and home theater systems. Supports user battery replacement via built-in access panel. 3-year warranty. $150,000 connected equipment insurance (USA, Puerto Rico, and Canada only).
Key Features
Tripp Lite's BC600SINE tower, sine wave UPS system provides long-lasting battery backup for a variety of computer and electronic applications
Sine wave output in both line and battery modes provides compatibility with all electronic loads, including PC and Mac systems fitted with Active Power Factor Corrected (PFC) power supplies
BC600SINE UPS system switches to battery derived sine wave AC output during power failures and severe voltage fluctuations with enough time to shut down without data loss
650VA / 375 watt UPS capacity with 3.3 minutes runtime at 100% load and 11.1 minutes at 50% load
Provides 18 minutes battery runtime with a typical desktop computer system consuming 100 watts
Includes 3 battery-supported outlets for computer, monitor and one vital system peripheral, plus 3 additional surge suppression-only outlets for printers and other system accessories not requiring battery support
USB port enables optional unattended system shutdown without data loss in case of extended power failure; USB cable included

HID enabled USB interface enables integration with built-in power management and auto shutdown features of Windows and Mac OS X
PowerAlert software CD included
Built-in audible alarm with cancel switch warns of power failure conditions; once silenced, alarm will re-sound as batteries approach full discharge
Alarm can be permanently silenced via PowerAlert interface
4 front panel LEDs indicate line power status, battery power status, overload status and battery low/replace status
Supports user battery replacement via built-in access panel
3 year product warranty / $150,000 Ultimate Lifetime Insurance (USA, Puerto Rico and Canada only)

Tripp Lite UPS Desktop 600VA 375W Battery Backup Pure Sine Wave Tower 120V
is rated
4.70
out of
5
by
6
.
Rated

5

out of

5
by
Frank
from
Highly recommend
Great UPS. Easy to understand indicator lights. Pure Sine Wave output. Use this for my 27 inch iMac with Retinal Display
Date published: 2021-09-15T00:00:00-04:00
Rated

5

out of

5
by
Rob
from
Works as avertised
Backup for our building HVAC control computer. Works as it should.
Date published: 2021-09-16T00:00:00-04:00
Rated

5

out of

5
by
Nick42
from
null
Love these little beasts. For a bargain price, the pure sine wave prevents the the dreaded HP Proliant power drop (because of switching time sensitivity) At this price each smaller server has it's own UPS. For the larger servers/hosts we use the larger capacity version(s). Just wish it had better indicators (else it would be 5 star)
Date published: 2014-04-10T00:00:00-04:00
Rated

5

out of

5
by
the planetarian
from
It is solid!
Everything I want in a battery backup/power conditioner. My system runs without a hiccup through thunderstorms and brief power outages. My BC600SINE makes me smile.
Date published: 2014-10-29T00:00:00-04:00
Rated

5

out of

5
by
ERIC M.
from
Small with pure sinewave output
Over all I really like these units, we have a handful. You can adjust the sensitivity and they tolerate our backup generator unlike some other brands and we love the output waveform. The down sides are only a few outlets in the back, none of which are well marked. I say that since it is normally dark or dim where folks put UPS units and the text is just embossed in the dark plastic, so it's hard to see which side is surge only. We now use a label maker to mark the outlets. Like others have mentioned it would really be nice to have an LCD with load and runtime information on the front display since we don't have these units hooked up via USB. I guess the real test will be to see if they continue to operate in a few years time. My company is moving to Tripp Lite from another manf. because of problems with cheap relays on the other brand recently and way too many failures.
Date published: 2021-09-29T17:28:17-04:00
Rated

5

out of

5
by
Blaine
from
I bought 4 of them
I am very surprised with the output waveform when on the battery. Very clean sinusoidal waveform. Small form factor as well. Would recommend
Date published: 2022-08-21T00:00:00-04:00