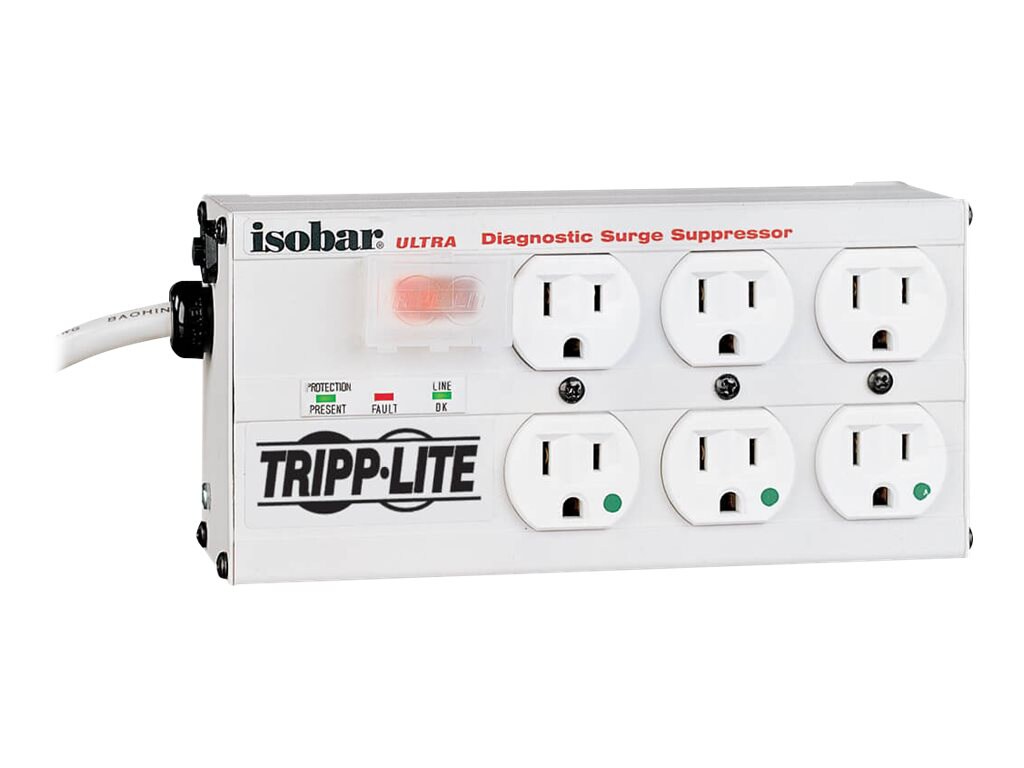 Quick tech specs
6 hospital grade outlets provide premium protection for hospitals and other healthcare environments outside of patient-care vicinities
12A resettable circuit breaker prevents dangerous overloads
Extension Strip/ PDU Strip/ Surge Supressor/ Isobar
6 outlets in isolated filter banks and 15 ft. AC power cord with 515 hospital grade plug
Outlets accommodate up to 3 bulky transformers without blocking other outlets
Lifetime Tripp Lite Warranty
View All
Know your gear
For more than 20 years, America's leading companies have trusted Tripp Lite's Isobar Premium surge and noise suppressors to protect sensitive computer, networking and telecom equipment. With more than 14 million satisfied customers, the Isobar remains the world's #1 selling premium surge suppressor. Loaded with a generous combination of high quality components, near indestructible all-metal case and unique noise filtration system, the Isobar offers the highest level of protection attainable in a multi-outlet strip. Robust surge suppression circuits with sine-wave tracking offer extreme levels of protection against the heaviest normal mode surge conditions. Isobar's unique protection system combines large torroidal chokes, ferrite rod-core inductors, HF/VHF capacitors and metal oxide varistors into an exclusive isolated filter bank that removes EMI/RFI interference, even noise generated by other pieces of connected equipment. ISOBAR6ULTRAHG offers 6 high quality hospital-grade outlets arranged in one filter bank to prevent system crashes, reboots and performance problems common as noisy system peripherals are powered off and on. Surge suppression rated at 3330 joules. Widely spaced NEMA 5-15 hospital-grade outlets accommodate up to 3 large transformer plugs without blocking outlets. Diagnostic LEDs confirm power availability, line fault and protection status. Includes 15 foot AC line cord with high quality hospital-grade input plug, keyhole mounting tabs and a set of 4 child safety covers. Lifetime warranty.







Features



Tripp Lite's ISOBAR is the world's #1 selling premium suppressor series with more than 14 million satisfied customers and a safety-tested history of 20+ years







Robust surge suppression with sine-wave tracking protects against the heaviest of surge conditions







Multi-component suppression circuits combine torroidal chokes, ferrite rod-core inductors, HF/VHF capacitors and metal oxide varistors into an exclusive isolated filter bank that removes EMI/RFI interference, even noise from other pieces of connected equipment.







6 hospital-grade outlets







Surge suppression rated at 600 joules







Widely spaced outlets accommodate up to 3 large transformer plugs without blocking outlets







3 LED indicators confirm suppressor operation and site wiring status, plus warning of suppressor or electrical fault conditions







Lighted power switch with safety cover confirms power on/off status







15-ft., 14 gauge AC line cord with hospital-grade input plug







Keyhole mounting tabs







120V AC, 50/60Hz electrical compatibility







Lifetime Warranty







UL1449 listed — surge suppression (330V let-through NM)







Certified by UL (USA) and cUL (Canada)







Typical Applications



Ideal for premium protection with hospital-grade receptacles and plug where durability and reliability is required. Not for use where NEC requires hospital-grade receptacles.







Package Includes



ISOBAR6ULTRAHG Surge Suppressor



Instruction manual with warranty information
Tripp Lite Isobar Surge Protector Medical Metal 6 Outlet 15ft Cord
is rated
4.90
out of
5
by
13
.
Rated

5

out of

5
by
Marlene
from
I would buy it again.
Use to protect expensive computer and printer. We have numerous short power outages.
Date published: 2021-01-12T00:00:00-05:00
Rated

5

out of

5
by
Dennis
from
Everyone Should have One or Two
This product has preformed as advertised for the two weeks since installation. Like the LED's that indicate the status of the surge protector.
Date published: 2021-01-15T00:00:00-05:00
Rated

5

out of

5
by
RANDY
from
TrippLite for the win!
Purchased a VERY expensive adjustable bed..and I live in FL, the lightning capital of the world. Purchased the TrippLite to protect my investment. Quality build and previous experience with the brand made the purchase a no- brainer.
Date published: 2021-10-31T00:00:00-04:00
Rated

5

out of

5
by
Jean
from
Great for hi end stereo system
Use for office stereo system; zero degradation of sound quality Built like a brick; outlets grip the power cords very well Cord is a little long for my application (15ft), but I knew that before purchasing
Date published: 2020-06-27T00:00:00-04:00
Rated

5

out of

5
by
Wenbin
from
Tick-all-the-boxes
Things I like most: 1. Locking switch, my cat always play with the switch of my PSs and have caused several accidentally shutdowns when I use other PSs without a locking switch, so this feature is a must-have 2. Medical grade, look professional and prevent electrical leakage 3. UL 330V, effective surge protection 4. Metal housing It could be better if has: 1. it has a 45 degree right angle plug. 2. Mounted locking cover on outlets.
Date published: 2021-01-31T00:00:00-05:00
Rated

5

out of

5
by
jim.mcneil
from
null
the Isobar surge protector works great, excellent for a singel workstation. we have a large number of these in the hospital.
Date published: 2013-09-25T00:00:00-04:00
Rated

5

out of

5
by
Andres719
from
null
This a variation of the ISOBAR6ULTRA made for healthcare settings. Ultra durable surge protector. It only has 6 outlets, but it is built very well. The diagnostic LEDs are a plus.
Date published: 2013-11-25T00:00:00-05:00
Rated

5

out of

5
by
Onebrahda
from
Outstanding Warranty
I work at a 136 bed acute hospital and use them on all computer and clinical equipment. Our Electrical Utility company power is not the greatest (but not the worst either) and the isobar's keep all of our equipment in a safe operating environment. Every once in a while (because we have over 200 Isobar's in the field) we have a failed device and Tripp-Lite always sends out replacements. So far I have never been turned down on a warranty replacement. For a company to do that, tells alot about their confidence in the products. I will always recommend this product to other user's. Keep up the great work and return policy.
Date published: 2013-09-16T00:00:00-04:00
Rated

5

out of

5
by
Robert R.
from
A great product for medical office
choose this item as a way better alternate to using cyber power or other customer based products., cord length is a little long in our smaller rooms but just right for our more spacious rooms. the protection and warranty policy makes this product the greatest "bang for the buck". will buy more and recommended to other local medical offices.
Date published: 2016-09-18T00:00:00-04:00
Rated

5

out of

5
by
Mick
from
Best Built Surge Protector I've Seen
Using with musical equipment. Gives peace of mind with it's super-solid construction and high joule rating for surges. Outlets feel very solid with no movement when inserting plugs. Does a great job of filtering excess noise in the power lines. Has great indicator lights that show if protection is present and if there's a grounding fault in the line.
Date published: 2018-06-07T00:00:00-04:00
Rated

5

out of

5
by
Nurse Debbie
from
This is a must have!
I am loving this surge protector with six outlets! I do volunteer medical missions all over the world and we travel with lots of medical equipment. In many countries we need to use large voltage converters to switch the current from 220 to 110 to accommodate our machines. The 6 outlets allow us to plug in multiple pieces of equipment using just the one voltage converter. The 15ft. cord that is has allows us to move the Isobar around to an area that will also prevent tripping over all or our cords. In other countries where the electrical current is appropriate for our equipment they do tend to have power outages and often we have lost power during surgery but the surge protection of the Isobar has protected our equipment. We will definitely purchase this again in the future if and when needed. It is a solid investment and I highly recommend it!
Date published: 2017-02-09T00:00:00-05:00
Rated

5

out of

5
by
Dennis03
from
Great product and reliable
This is not my first Tripp¥Lite product. In fact, it's my third. And because of my success with the first two, it is my third. FYI, I still own and use the other two. I especially like the construction of the surge protector - solid steel and not the chintzy plastic that snaps together or is held by two screws. I think I can run over it with my car and it will still work. It's my third, but it likely won't be my last.
Date published: 2011-11-16T00:00:00-05:00
Rated

5

out of

5
by
Joseph
from
Everything about this unit looks/feels top-quality
It might be the placebo effect, but my TV seems less pixelated and both the TV's and computer's sounds seem to have less background hum when using the Tripp-Lite Hospital Grade surge protector. Everything about this unit looks/feels top-quality, and the 15' cord is handy. Nonetheless, it would be useful if Tripp-Lite would space the outlets farther apart to make wall warts easier to plug in.
Date published: 2023-01-03T00:00:00-05:00