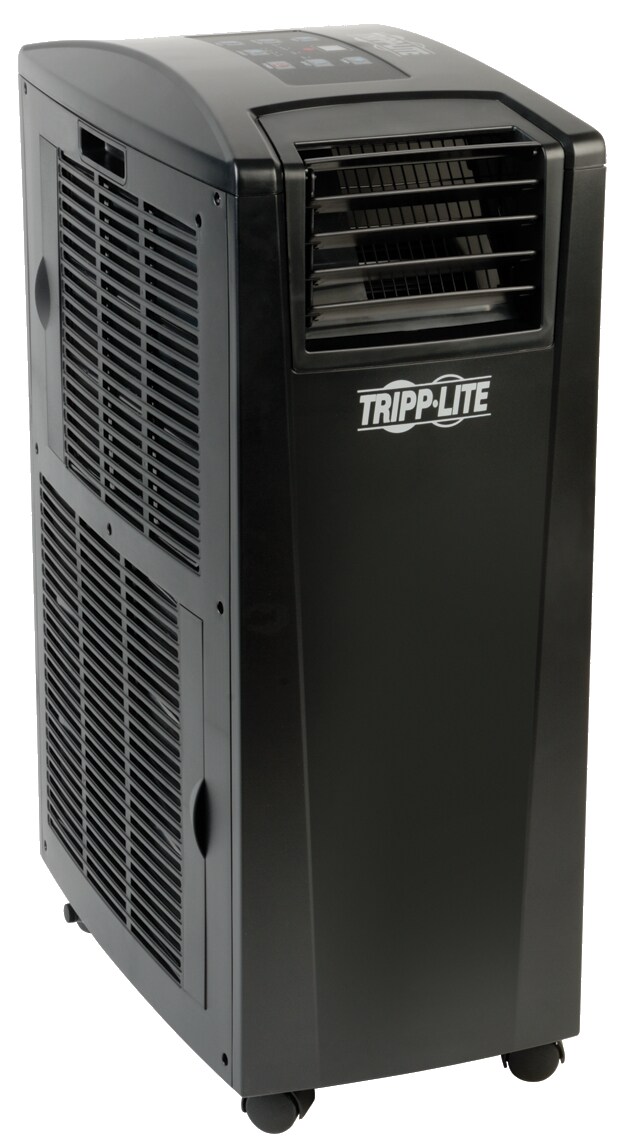 Quick tech specs
SmartRack Portable Server Rack Cooling Unit 230V Pumps 12,000 BTU of cold air into server rooms wiring closets and other IT environments
Filters and dehumidifies the air to enhance equipment performance
Spot Cooling Unit/ Air Conditioner/ Cooling Fans/ Cooling Power/ Portable Cooling Unit
Ideal for cooling an overheated rack enclosure or an equipment hot-spot inside or outside a rack enclosure
Restarts automatically after power failure
Tripp Lite 1-year Warranty
View All
Know your gear
The SRXCOOL12K SmartRack 12,000 BTU 230V Portable Server Rack Cooling System pumps 12,000 BTU of cooling power into your IT environment to prevent shutdowns, malfunctions and failures caused by overheating or fluctuating temperatures. Part of the SRCOOL line, this compact, portable unit is perfect for server rooms and other IT environments with heat-sensitive equipment in areas that facility air conditioning can't reach.

The self-contained SRXCOOL12K is capable of cooling a small room using its louvered vent. A built-in evaporator expels the condensed water through the directional exhaust duct, eliminating the need for a drain tube, drain pan or water collection tank.

You can also use the included flexible tube to aim the cold air precisely where it's needed most, such as an overheated rack enclosure or an equipment hot spot. The SRXCOOL12K Portable Rack Air Conditioner also dehumidifies and filters the air, providing better air quality that can enhance equipment performance with little power consumption.

Designed for quick, simple installation, the SRXCOOL12K rolls on durable built-in casters and plugs into a standard Schuko CEE7 outlet. It's programmed to restart automatically after power failures, and you can set the built-in timer for unattended shutdown and startup.

By installing the optional SRCOOLNETLX remote management accessory (sold separately), you can also monitor temperatures, receive alerts, review logs and control settings from anywhere via SNMP, web browser, SSH or telnet.


Tripp Lite Intl Portable Cooling Unit Air Conditioner 3.4kW 230V 12kBTU
is rated
4.60
out of
5
by
5
.
Rated

5

out of

5
by
Vic
from
This is a good home air conditioner
After three hot summers the unit is still in new working condition. Good price for the money.
Date published: 2015-05-11T00:00:00-04:00
Rated

5

out of

5
by
Jeff P
from
Works great in our server room.
Great and inexpensive product.
Date published: 2018-11-27T00:00:00-05:00
Rated

5

out of

5
by
hackerbob
from
This product is a solid performer
Having used other brands, they all worked for a period of months then started deteriorating. This is, by far, the best cooling system for computer rooms I have ever found. The ability to vent the condensate with the heat makes the unit ideal in a server room without a drain.
Date published: 2013-09-08T00:00:00-04:00
Rated

5

out of

5
by
phil0975
from
Great Product Over all
There are couple of flaws like the ducting for the exhaust but overall this unit is cheap and effective. We did have one of the units throw a compressor but we bought a backup unit since these are cheap.
Date published: 2012-03-20T00:00:00-04:00
Rated

5

out of

5
by
Rajith
from
Value for Money
This product is good and value for money. There is no water which makes it perfect for server room
Date published: 2012-10-04T00:00:00-04:00
Rated

5

out of

5
by
Ian Dawson
from
This is the best thing we've done for our server system!!!
This AC is absolutely incredible. We run a media company located in Fort Lauderdale, Florida with summers reaching 90+ dg every day. We run Mac OS-X server with two pegasus backups. We built a custom contained box. Before we installed a dedicated AC system we had server problems every other month. Our disk would die frequently and we would have to recover data left and right. one time our server completely crashed from overheating and we had to spend 28k to recover the data. This system cost just over $500.00 bucks and runs every day continuously throughout the year. Since installed we haven't a single drive failure, it's been going strong for two years. I highly recommend this system for a small office server.
Date published: 2015-12-03T00:00:00-05:00
Rated

5

out of

5
by
A. Williams
from
Great Product for Server Room
The TrippLite SRKool is a great product for a small server room. It cools very well and is a dependable device.
Date published: 2017-06-16T00:00:00-04:00