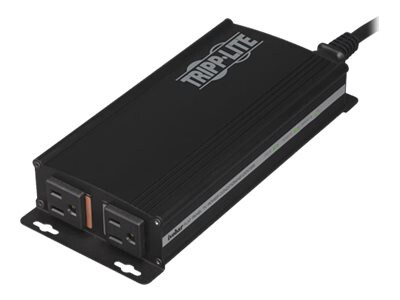 Quick tech specs
Premium protection for A/V home theater components against dangerous power surges spikes and line noise
2 NEMA 5-15R surge-protected outlets
Power Conditioning Center/ Surge Protector/ Multiple Outlet Power Strip/ Surge Suppressor
Recommended for professional-grade home theater installations- Detachable 10 ft. and 18 in. power cords with right-angle plugs
12 A/ AC 120 V/ 5100 Joules
Lifetime Tripp Lite Warranty /$100,000 Lifetime Insurance
View All
Know your gear
Tripp Lite's AV2FP Professional Isobar Flat Panel Power Conditioning Center for digital displays provides ultimate protection (5100 joules) stopping damaging surges/spikes. Filters disruptive EMI/RFI line noise so digital displays perform to their full capability! You can see and hear the difference: sharper, crisper deeper, video; helps maintain longer component life spans. Perfect for flat-panel digital displays, front-screen projection systems and more. High Definition bi-directional 2.2 GHz (gold) coaxial protects against surges /spikes from coming in on the coax input. Network/Ethernet protection with RJ45 covers all 8 pins for matrix switchers and streaming internet content. Premium Isobar surge protection technology. Low-profile all-metal housing installs neatly behind flat-panel displays. 3 diagnostic LEDs report conditions, 2 AC outlets, includes detachable 10-ft and 18-in power cords with right-angle plugs, circuit breaker, fail-safe thermal fusing and audible alarm. Built-in mounting bracket.


Tripp Lite Home Theater Isobar Surge Low Profile Metal 2 Outlet RJ45 Coax
is rated
2.50
out of
5
by
2
.
Rated

5

out of

5
by
guerrero
from
yes
I think that it is a great product , with a few exceptions,your led lights has different meaningon different models. on this model av 3500pc the protected led light is RED.on your model MT-6PLUS the grounded led light is red,and the protected led light is GREEN.and on your model AV10IRG your grounded led light is RED ,and your protected light is GREEN witch i think should be the right color for protected.and you may be asking your self how do i know this,I have bought all three models.
Date published: 2017-11-21T00:00:00-05:00
Rated

5

out of

5
by
JT
from
Excellent product for recording studios!
I bought this unit to get rid of the noice in my pro audio recording set-up and it did the trick.No more buzz and noises from my Imac and Mackie HR824 speakers and Genelec's. It's the only product I have found that can stop all of the noise I have been experiencing. Thank you!
Date published: 2016-09-28T00:00:00-04:00
Rated

5

out of

5
by
Bob73
from
no problems after several years of use
I use this device for my flat screen t.v. Previously I used the kind of protection you can get in the computer store, but more than one had blown out. This one still works.
Date published: 2014-10-14T00:00:00-04:00
Rated

5

out of

5
by
Safe Power Lover
from
Works as advertised.
I have lost a TV and other electrical items in the past due to lightning strikes and voltage spikes in my area. Now no problems. Slim compact design and easy to read voltage display. Would highly recommend and it's a great value for the price compared to other comparable products.
Date published: 2019-01-03T00:00:00-05:00
Rated

5

out of

5
by
Peter
from
Bells and Whistles
This product has all the bells and whistles. I'm not sure that it is really necessary.
Date published: 2014-12-11T00:00:00-05:00
Rated

5

out of

5
by
Mike
from
One of the best!
I was in the market to purchase a new large screen tv. I felt that with the extra expence I needed something to protect not only the new set but other equipment like my new external bose speaker system. I looked around and decided to go with one of the best we'll know brands in the market. They have been doing it for years. I picked Tripp lite. The unit looks and I hope performs great. I've had several power drops and surges recently and you really do not know how good a product is until there's a costly problem. The unit works seamlessly. With the extra warrenty included it was a sure shot.
Date published: 2013-09-08T00:00:00-04:00