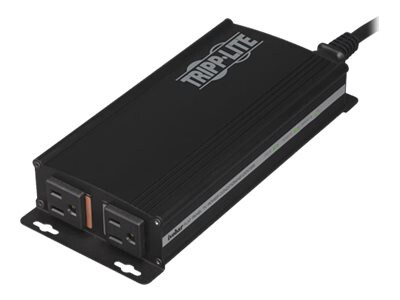 Quick tech specs
Premium protection for A/V home theater components against dangerous power surges spikes and line noise
2 NEMA 5-15R surge-protected outlets
Power Conditioning Center/ Surge Protector/ Multiple Outlet Power Strip/ Surge Suppressor
Recommended for professional-grade home theater installations- Detachable 10 ft. and 18 in. power cords with right-angle plugs
12 A/ AC 120 V/ 5100 Joules
Lifetime Tripp Lite Warranty /$100,000 Lifetime Insurance
View All
Know your gear
Tripp Lite's AV2FP Professional Isobar Flat Panel Power Conditioning Center for digital displays provides ultimate protection (5100 joules) stopping damaging surges/spikes. Filters disruptive EMI/RFI line noise so digital displays perform to their full capability! You can see and hear the difference: sharper, crisper deeper, video; helps maintain longer component life spans. Perfect for flat-panel digital displays, front-screen projection systems and more. High Definition bi-directional 2.2 GHz (gold) coaxial protects against surges /spikes from coming in on the coax input. Network/Ethernet protection with RJ45 covers all 8 pins for matrix switchers and streaming internet content. Premium Isobar surge protection technology. Low-profile all-metal housing installs neatly behind flat-panel displays. 3 diagnostic LEDs report conditions, 2 AC outlets, includes detachable 10-ft and 18-in power cords with right-angle plugs, circuit breaker, fail-safe thermal fusing and audible alarm. Built-in mounting bracket.


Tripp Lite Home Theater Isobar Surge Low Profile Metal 2 Outlet RJ45 Coax
is rated
4.40
out of
5
by
10
.
Rated

5

out of

5
by
Vegas
from
Works great
I feel confident that my equipment is protected using tripplite
Date published: 2022-02-12T00:00:00-05:00
Rated

5

out of

5
by
GARY
from
Very Good Product
I use this in my ham radio shack. I use both outlets and feel much safer having it in service. A well constructed protection device with a very good warranty.
Date published: 2022-01-31T00:00:00-05:00
Rated

5

out of

5
by
Brian
from
I would purchase this product again.
This is a very good surge protector so far, I'd recommend it to anyone looking for a surge protector.
Date published: 2020-10-25T00:00:00-04:00
Rated

5

out of

5
by
Stacy
from
Get One
power blipped, monitors flickered, that's it.
Date published: 2020-09-15T00:00:00-04:00
Rated

5

out of

5
by
Randall B.
from
Surge protection insurance with a new Tripp Lite Surge Protector
This is actually what I've been looking for. It has all the features and protection I need for my overhead projector. My previous projector was damaged by lightning and it was very costly to replace. I will be protected should it happen again. CDW makes it easy to shop, evaluate and purchase exactly what I needed.
Date published: 2020-07-29T17:00:28-04:00
Rated

5

out of

5
by
Peter
from
Bells and Whistles
This product has all the bells and whistles. I'm not sure that it is really necessary.
Date published: 2014-12-11T00:00:00-05:00
Rated

5

out of

5
by
guerrero
from
yes
I think that it is a great product , with a few exceptions,your led lights has different meaning on different models. on this model av 3500pc the protected led light is RED. on your model MT-6PLUS the grounded led light is red,and the protected led light is GREEN. and on your model AV10IRG your grounded led light is RED ,and your protected light is GREEN witch i think should be the right color for protected.and you may be asking your self how do i know this,I have bought all three models.
Date published: 2017-11-21T00:00:00-05:00
Rated

5

out of

5
by
william
from
can use this power surge anywhere in home that has a 3 prong
cord length long enough to satisfy outllets with few outlets..warrantt is excellent.safety to devices are covered and excellent
Date published: 2022-08-26T00:00:00-04:00
Rated

5

out of

5
by
Jeffery
from
Definitely recommend.
Known about the Isobar for years and use on electronic equipment and freezers to protect thousands of dollars of equipment and food. Like seeing power status on units at a glance, durability, independent duplex design with durable case and cord. Recommended many times to other people.
Date published: 2022-07-14T00:00:00-04:00
Rated

5

out of

5
by
Carlos
from
I would be sure to have one for every wall mounted TV.
This unit is perfect for mounting behind the TV on the wall since it has a very low profile and the power plugs are accessible from the side.
Date published: 2022-12-29T00:00:00-05:00