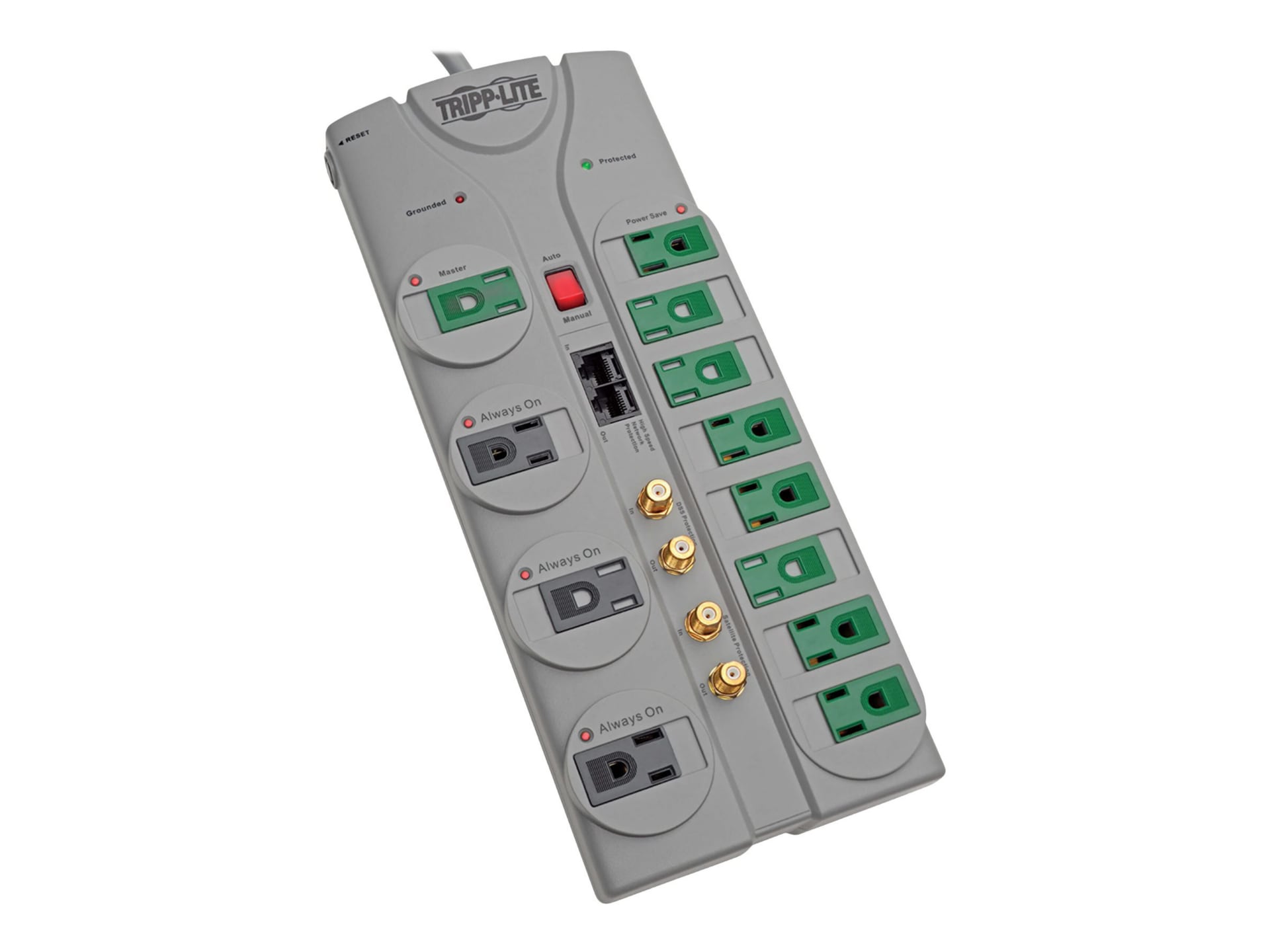 Quick tech specs
12 Outlet energy-saving configuration reduces energy waste (phantom loads) by cutting AC power to unused peripherals
Auto/Manual Switch allows users to switch between green (auto) power-save mode and standard surge protection
Power Strip/ Surge Suppressor/ power extension
12 widely spaced 5-15R AC outlets protect an entire home/business/theater system while accommodating up to 8 large transformers
3600 Joules
$250,000 Lifetime Insurance and Tripp Lite Lifetime Warranty
View All
Know your gear
Tripp Lite's TLP1210SATG offers reliable, GREEN surge technology that protects your A/V installations, the environment and your wallet. This ECO-SURGE offers a unique Netbook switch that allows users to select wattage, so ECO-SURGE are the only green surge suppressors compatible with all PCs, Notebooks and Netbooks. Energy-saving outlet configuration reduces energy waste (phantom loads) by cutting AC power to unused peripherals. The TLP1210SATG offers 3600 joules of advanced surge protection for all A/V components. You can see and hear the difference: sharper, crisper video; deeper, fuller audio; longer component life spans. Perfect for small-to-medium home/business theater installations: high-definition TVs, satellite and A/V receivers, DVD/CD players and more. 12 outlets (with transformer spacing and sliding safety covers), 2-line coaxial protection and 1-line tel/modem/Ethernet (100BaseT, high-speed) protection safeguard an entire home/business theater system. Includes two diagnostic LEDs and four status LED indicators, color-coordinated holographic outlet/plug labels, 10-ft. cord with a right-angle plug, 6-ft. coaxial cable and 6-ft. network cable. $250,000 Ultimate Lifetime Insurance coverage (USA and Canada only).
Green Outlet Array; "Master" outlet controls power flow for 1 primary and up to 8 peripheral components. "Power Save" outlets cut AC power to 8 connected components when not in use - perfect for non-essential components that do not save settings like DVD players, gaming consoles, amplifiers and speaker systems. "Always On" outlets provide continuous power to 3 critical devices that save settings like DVRs and recorders (TiVo), cable and satellite boxes
User-adjustable wattage control switch - allows for high-wattage (over 25 amps) and low-wattage (over 15 amps) components to serve as Master device
Auto/Manual Switch - allows users to switch between GREEN (auto) power-save mode and standard (manual) surge protection
3600 joules surge suppression rating with EMI/RFI line noise filtering help components perform at their peak (sharper, crisper video; deeper, fuller audio and longer component life spans)
12 widely spaced surge-protected NEMA 5-15R AC outlets safeguard and entire home/business theater system while accommodating up to 3 large transformers
Sliding safety covers protect against accidental contact
2 sets of surge-protected Type F gold coaxial connectors safeguard components on cable, satellite and antenna line
1-line tel/modem/Ethernet (100BaseT, high-speed) surge protection safeguards personal video recorders (PVRs) on a single dial-up or Ethernet line. Built-in splitter (1 jack in and 2 jacks out) allows simultaneous connection of two devices sharing a single line
10-ft. cord with right-angle NEMA 5-15P plug provides convenient location anywhere within a home/business theater system
2 diagnostic LEDs alert user to protection and grounded status and 4 status LEDs indicates when AC power is present
Keyhole slots provide convenient wall or cabinet mounting
Lifetime product warranty
Applications
Perfect for small-to-medium home/business theater installations: high-definition TVs, satellite and A/V receivers, DVD/CD players and more
Package Includes
TLP1210SATG ECO-SURGE Home/Business Theater Surge Suppressor
6-ft gold coax cable
6-ft network cable
Instruction manual with warranty information



Tripp Lite Eco Surge Protector Strip Green 12 Outlets 10ft Cord 3600 Joules
is rated
5.00
out of
5
by
5
.
Rated

5

out of

5
by
kjumpmaster
from
Outstanding
First of all besides the awesome protection and life time warranty (which I doubt will get used due to the high quality) this product is designed with the end user in mind. Plenty of space for all my home office needs as well as the extra protection for telephone, cable and DVR boxes.ThanksKen
Date published: 2013-12-18T00:00:00-05:00
Rated

5

out of

5
by
azzarellophoto
from
Great Product
Very easy to set up and use. Would recommend to a friend
Date published: 2012-06-11T00:00:00-04:00
Rated

5

out of

5
by
GroundedInHell
from
TLP1210SATG - Excellent Product
After researching many different companies that sell surge protection devices, and seeing the fine print associated with their warranties, I decided to go with Tripp Lite. I chose this product because I felt that over the course of time it was worth the small additional investment to have the eco-features included, when it comes to protecting my computers and home theater setup. I felt that over time, the ability to automatically secure power to non-essential accessory loads would result in the product paying for itself within a few years.Everything worked as described on the product pages. If you do not wish to use the eco-features, preferring that all outlets are energized at all times, you simply toggle a selector switch to manual, and you have a great 12-outlet surge protector, with ethernet/tel/dsl and dual coax protection included.
Date published: 2011-09-14T00:00:00-04:00
Rated

5

out of

5
by
Dee83
from
Well spaced & nice cord
I like the longer cord with the right angle plug. The outlets are well spaced to accomodate larger plugs without compromising available outlets.
Date published: 2013-01-29T00:00:00-05:00
Rated

5

out of

5
by
anolesoul
from
The only "brand"...
I will ever buy, in a surge Protector... The quality, reliability, and, an excellent company to totally back-up their product...without fail!
Date published: 2016-11-06T00:00:00-04:00
Rated

5

out of

5
by
desktopmingler
from
will be purchasing another for home entertainment center
Hooked my computer to the control, modem, router and light to the always on. Evertging thing else, 3 amplifiers, backup drive eq, hooked to auto off. It's great, don't have to worry about leaving moniter etc on when I leave, shrugging that needs to be off shuts off a second after computer shuts off....no more power drain from the several wall wart transformers. Worth it just for the he conveniece.
Date published: 2015-12-03T00:00:00-05:00
Rated

5

out of

5
by
skippy
from
Eco-surge impressions
This surge protector is heavy and seems to be well made. I like the layout of it and the options it offers.
Date published: 2016-02-24T00:00:00-05:00
Rated

5

out of

5
by
Flys4Fun
from
Shuts everything off for you!
I bought this because when you connect your computer to the master and turn your computer on you can have it to where it turns every thing on at one time, or off at the same time. Like your speakers, printer, monitor and anything else. Saves time and electricity. You will never forget to turn items off again. I have several different Tripp-Lite items and trust them all! Great customer service too. I would definitely buy again!
Date published: 2017-10-02T00:00:00-04:00
Rated

5

out of

5
by
Flysforfun
from
Works Great
I connect my Computer main power supply to this and when I shut my computer down it auto shuts down my Monitor, Speakers and printer. So I have no loads sucking power.
Date published: 2013-12-08T00:00:00-05:00
Rated

5

out of

5
by
roger68
from
This is a very good choice for home theater
This eco-friendly surge protector is a very good choice for today's home theater applications since it not only protects the various equipment with standard plug in protection and a robust 3600 joules rating, it also provides protection from spikes coming through coax and network connections. The green power outlets will save you money by cutting power to equipment that draws "phantom loads" while in idle mode. The only drawback is that the "power saver" outlets are spaced a little too close together for equipment that uses transformer type plugs.
Date published: 2013-03-22T00:00:00-04:00