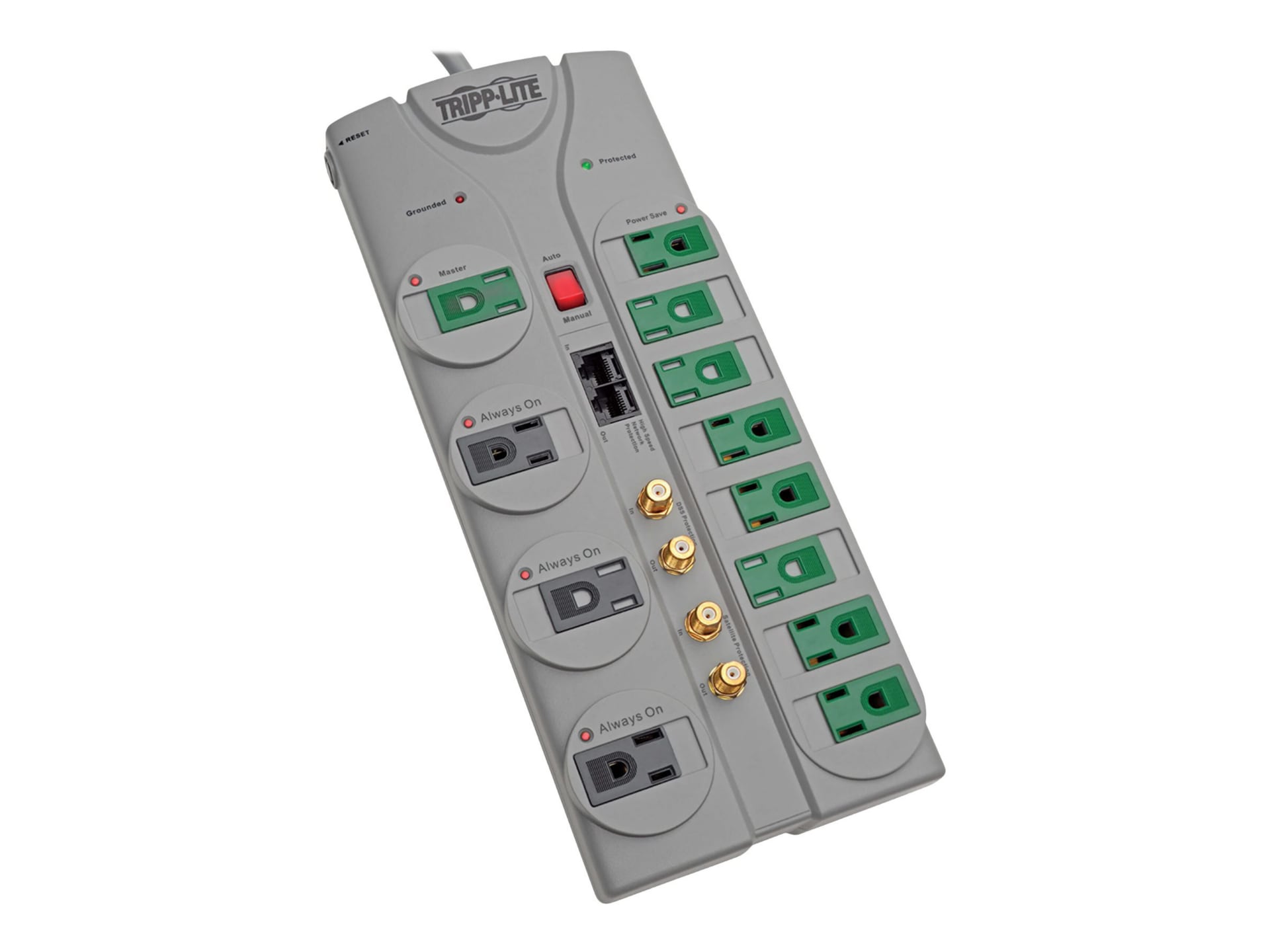 Quick tech specs
12 Outlet energy-saving configuration reduces energy waste (phantom loads) by cutting AC power to unused peripherals
Auto/Manual Switch allows users to switch between green (auto) power-save mode and standard surge protection
Power Strip/ Surge Suppressor/ power extension
12 widely spaced 5-15R AC outlets protect an entire home/business/theater system while accommodating up to 8 large transformers
3600 Joules
$250,000 Lifetime Insurance and Tripp Lite Lifetime Warranty
View All
Know your gear
Tripp Lite's TLP1210SATG offers reliable, GREEN surge technology that protects your A/V installations, the environment and your wallet. This ECO-SURGE offers a unique Netbook switch that allows users to select wattage, so ECO-SURGE are the only green surge suppressors compatible with all PCs, Notebooks and Netbooks. Energy-saving outlet configuration reduces energy waste (phantom loads) by cutting AC power to unused peripherals. The TLP1210SATG offers 3600 joules of advanced surge protection for all A/V components. You can see and hear the difference: sharper, crisper video; deeper, fuller audio; longer component life spans. Perfect for small-to-medium home/business theater installations: high-definition TVs, satellite and A/V receivers, DVD/CD players and more. 12 outlets (with transformer spacing and sliding safety covers), 2-line coaxial protection and 1-line tel/modem/Ethernet (100BaseT, high-speed) protection safeguard an entire home/business theater system. Includes two diagnostic LEDs and four status LED indicators, color-coordinated holographic outlet/plug labels, 10-ft. cord with a right-angle plug, 6-ft. coaxial cable and 6-ft. network cable. $250,000 Ultimate Lifetime Insurance coverage (USA and Canada only).
Green Outlet Array; "Master" outlet controls power flow for 1 primary and up to 8 peripheral components. "Power Save" outlets cut AC power to 8 connected components when not in use - perfect for non-essential components that do not save settings like DVD players, gaming consoles, amplifiers and speaker systems. "Always On" outlets provide continuous power to 3 critical devices that save settings like DVRs and recorders (TiVo), cable and satellite boxes
User-adjustable wattage control switch - allows for high-wattage (over 25 amps) and low-wattage (over 15 amps) components to serve as Master device
Auto/Manual Switch - allows users to switch between GREEN (auto) power-save mode and standard (manual) surge protection
3600 joules surge suppression rating with EMI/RFI line noise filtering help components perform at their peak (sharper, crisper video; deeper, fuller audio and longer component life spans)
12 widely spaced surge-protected NEMA 5-15R AC outlets safeguard and entire home/business theater system while accommodating up to 3 large transformers
Sliding safety covers protect against accidental contact
2 sets of surge-protected Type F gold coaxial connectors safeguard components on cable, satellite and antenna line
1-line tel/modem/Ethernet (100BaseT, high-speed) surge protection safeguards personal video recorders (PVRs) on a single dial-up or Ethernet line. Built-in splitter (1 jack in and 2 jacks out) allows simultaneous connection of two devices sharing a single line
10-ft. cord with right-angle NEMA 5-15P plug provides convenient location anywhere within a home/business theater system
2 diagnostic LEDs alert user to protection and grounded status and 4 status LEDs indicates when AC power is present
Keyhole slots provide convenient wall or cabinet mounting
Lifetime product warranty
Applications
Perfect for small-to-medium home/business theater installations: high-definition TVs, satellite and A/V receivers, DVD/CD players and more
Package Includes
TLP1210SATG ECO-SURGE Home/Business Theater Surge Suppressor
6-ft gold coax cable
6-ft network cable
Instruction manual with warranty information



Tripp Lite Eco Surge Protector Strip Green 12 Outlets 10ft Cord 3600 Joules
is rated
4.80
out of
5
by
12
.
Rated

5

out of

5
by
DaMole
from
Really fine surge protector with all the goodies!
Spent a month or more researching and learning jargon for surge protectors. This one fits all my wants with 12 outlets all with safety slide covers and indicator lights to show each working. Eight of outlets connected with Master outlet so when PC plugged into master all those eight will power up or shut down depending on whether PC is On or OFF. Also has four Always On outlets for keeping items such as router on no matter status of other outlets. High joule rating gives confidence in protection for surges. EMI filtering cleans up signal and reduces interference in audio system. Connections for coax cables and phone/ethernet protect those inputs also. A really great system. Love it!!!
Date published: 2019-12-04T00:00:00-05:00
Rated

5

out of

5
by
NAVAROSAS
from
Saves space
I had 2 power stips before and this one holds everything. Just had to make sure it was switch to Manual and not Automatic; with Automatic it shut everything down when I only wanted 1 computer off.
Date published: 2012-07-07T00:00:00-04:00
Rated

5

out of

5
by
desol
from
AWESOME SURGE PROTECTOR!!!
I just bought a new ALIENWARE DESKTOP POWERHOUSE-PC and needed to upgrade to a GOOD surge projector with a few extras. ECO SURGE PROTECTOR 12OUT is just that. Plenty of room to add all my other electronics. I like the 10FT long cord - it makes the biggest difference. Great product!
Date published: 2011-12-15T00:00:00-05:00
Rated

5

out of

5
by
JeffAinsco
from
RFI/EMI Filter A Big Plus and It Saves Power!
Works as specified. (I haven't had it long enough yet to determine if it will save on the power bill). I bought two of these. One is running my computer desk and the other my home theater. I plugged the LCD into the Master plug and as soon a I shut off the TV, the surge protector shuts off all other home theater components except the DVR which is plugged into one of the "always on" outlets. Outlet spacing is nice for transformer plugs. The 10 foot cord is a bit overkill for my particular application but better to have extra than not enough. I have an LCD TV (425 watts) receiver (1300 watts) and two 300 watt speakers with powered subs plus blu ray, Wii console, router, Satellite DVR and an ancient VCR all plugged into this and it handles the strain even when the volume is cranked up. Maybe I'm imagining things but I'd swear the RFI/EMI filter on the surge protector improved the sound clarity of the home theater. I used this to replace a 7 outlet surge protector made by Monster.
Date published: 2011-02-20T00:00:00-05:00
Rated

5

out of

5
by
aspen
from
surg protector
Great, protection and it shuts everything off when you shut off the desktop!
Date published: 2012-03-01T00:00:00-05:00
Rated

5

out of

5
by
Lesalou
from
Weird issues
Everything that goes into the side that is labeled "on all the time" works. Apparently the other side with several other outlets, has a time function. For some reason when I was setting up my computer, my monitor wouldn't go on when I plugged into the time function side. I had to plug my monitor inito the wall. What's the put of a surge suppressor if you can't use it to avoid surges?
Date published: 2012-08-02T00:00:00-04:00
Rated

5

out of

5
by
TVTim
from
Great Surge Protector
I have my LG TV plugged into the primary outlet and my wii, subwoofer, receiver and a few other items plugged into the other outlets. It works as expected shutting everything down after the TV is shut down. No issues after 2 months of operations. I love the 10 ft cord. While others said their TV signal improved after being plugged into this, I can't say mine did and I am not using that feature. It is more expensive than some other power saving protectors but I am long time Tripp Lite customer and have not issues with their equipment. They make a quality product and I want to protect my TV first and foremost.
Date published: 2012-02-23T00:00:00-05:00
Rated

5

out of

5
by
azzarellophoto
from
Great Product
Very easy to set up and use. Would recommend to a friend
Date published: 2012-06-11T00:00:00-04:00
Rated

5

out of

5
by
quiltmaker
from
This is the second surge protector and they do a great job.
Used to protect my computer and printer/scanner. Had a major power issue and it protected my new computer and printer. It took out the surge protector but not my electronics. I would recommend them highly.
Date published: 2017-01-02T00:00:00-05:00
Rated

5

out of

5
by
wnoguchi
from
Great product
Great to have so many outlets and a long lenthgh cord. With the benefits of being energy efficient .
Date published: 2011-12-08T00:00:00-05:00
Rated

5

out of

5
by
Flys4Fun
from
Shuts everything off for you!
I bought this because when you connect your computer to the master and turn your computer on you can have it to where it turns every thing on at one time, or off at the same time. Like your speakers, printer, monitor and anything else. Saves time and electricity. You will never forget to turn items off again. I have several different Tripp-Lite items and trust them all! Great customer service too. I would definitely buy again!
Date published: 2017-10-02T00:00:00-04:00
Rated

5

out of

5
by
Dee83
from
Well spaced & nice cord
I like the longer cord with the right angle plug. The outlets are well spaced to accomodate larger plugs without compromising available outlets.
Date published: 2013-01-29T00:00:00-05:00