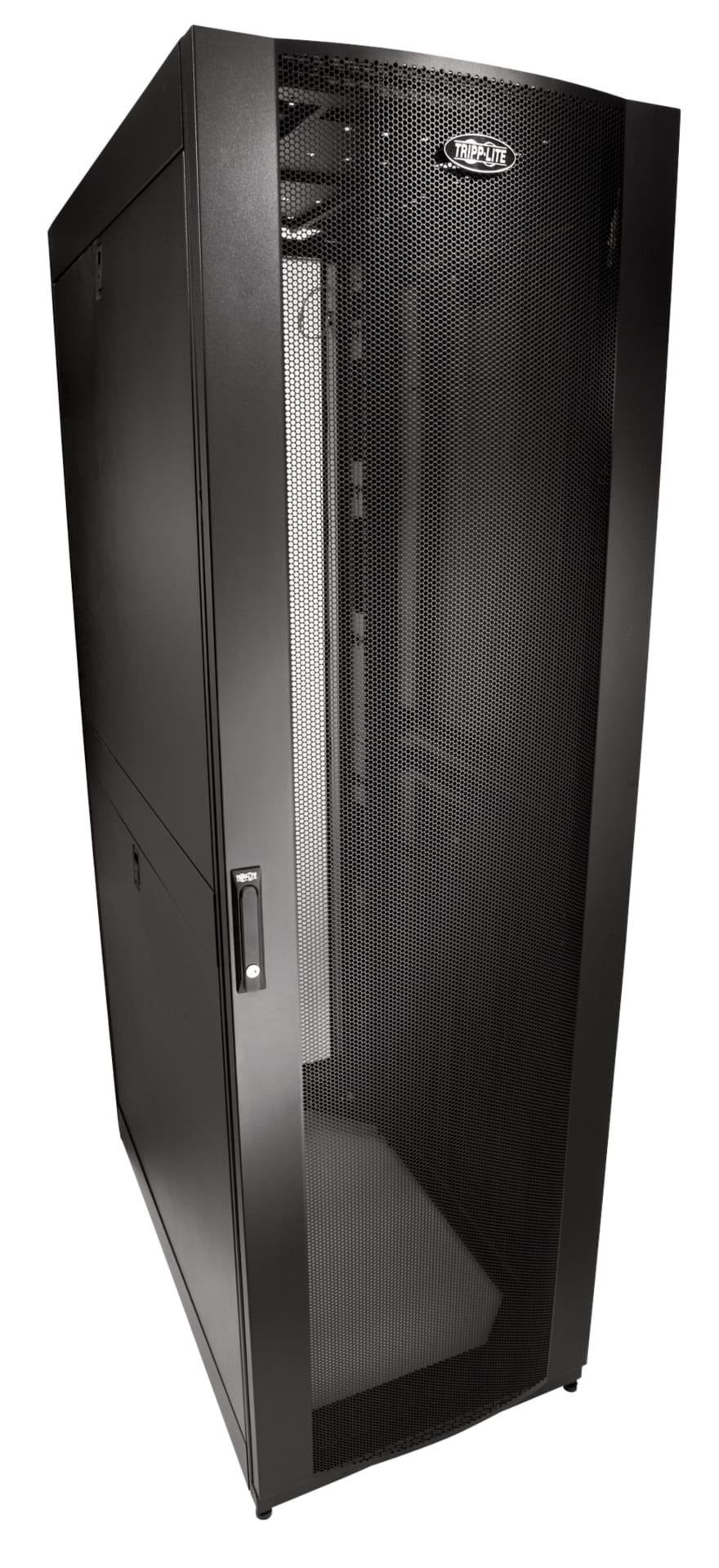 Quick tech specs
Heavy-duty locking 42U Rack Enclosure Cabinet that accommodates all standard 19-in rackmount equipment
Standard 24" width and 42" depth for optimal use of floor space
Pre-installed casters and leveling feet/rolls through 7ft doorway
5-Year Tripp Lite Warranty
Ships fully assembled for quick deployment in secure high-density server/IT networking environment
3000lb stationary/ 2250lb rolling load capacity
Server Rack/ Rack Cabinet/ Storage Rack/ Floor Standing Rack
View All
Know your gear
Tripp Lite SmartRack enclosures are designed for secure, high density server and networking applications in IT environments. Designed with provisions to integrate cooling, power distribution and cable management, SmartRack enclosures make ideal homes for mission-critical equipment. Vendor-neutral square hole/cage nut mounting for guaranteed compatibility with all EIA-310-D compliant 19" equipment. Enclosures ship fully assembled for rapid deployment and roll into place on heavy-duty casters. Toolless mounting slots allow quick installation of PDUs and vertical cable managers. Adjustable mounting rails include an easy-view depth index to eliminate time-consuming measurements. Lightweight modular doors and side panels provide safe, convenient service access. Integrated baying tabs facilitate combining enclosures in rows for standard data center baying applications. SmartRack enclosures hold up to 3000 lbs and support cooling, cable management, power distribution and monitoring features that keep critical servers and network equipment operating nonstop. Perforated doors permit massive front to rear airflow that exceeds servers manufacturer requirements. Enclosures are fully compatible with hot-aisle / cold-aisle data center configurations.

* 42U rack enclosure with doors and side panels
* Front and rear sets of equipment mounting rails adjust in 1/4" increments. Adjustment is quick and convenient. The easy-view depth index ensures consistent rail placement without requiring time-consuming measurements.
* Toolless accessory mounting rails (2 rails per enclosure) include slots for quick installation of compatible PDUs and vertical cable managers. Mounting slots are arranged in an industry-standard pattern compatible with a wide variety of accessories. Each rail can accommodate two vertical PDUs or cable managers side-by-side (four items per enclosure).
* Textured powder coat finish for tough resistance to environmental concerns such as deployment in warehouses.
* Massive front to rear ventilation capacity. 65+% open space in door perforation pattern meets or exceeds server manufacturer requirements.
* Maximum usable internal depth of 37 inches/94 cm (front to rear rail).
* Weight ratings of 3000 lb stationary and 2250 lb rolling.
* Front door is locking, reversible and removable.
* Rear doors are locking and reversible. Split rear door design reduces clearance requirements for service entry allowing the enclosure to be placed closer to a wall.
* Locking removable side panels are 'half size' to make them smaller and lighter improving ease of installation and servicing. Two side panels per side (4 panels total). Side panels are keyed alike to the front and rear doors.
* Built in baying tabs allow enclosures to be combined securely in rows. Center-to-center width can be set at 600mm or 24" to match standard data center floor tiles.
* Casters are pre-installed and support a rolling load capacity of 2250 lbs, allowing the enclosures to be pre-configured and rolled to the final installation location. Casters are removable.
* Leveling feet extend to allow enclosure to be positioned on uneven floors. Levelers are removable.
* Compact design allows the enclosure to roll through standard height commercial doorways.
* Convenient grounding system. All components are grounded to the enclosure frame which includes multiple connections for facility ground. Front and rear doors include quick-release ground wires.
* Open bottom for cable access.
* Top panel has generous cable access holes. Panel can be removed toollessly in seconds without having to disconnect cables first.
* Included stabilizing brackets are used for shipment and can be reattached at the bottom of the enclosure frame on the inside or outside of the rack.
* Compatibility with airflow optimization accessories as well as cable management accessories.
Tripp Lite 42U Rack Enclosure Server Cabinet Premium w Doors & Side Panels
is rated
5.00
out of
5
by
12
.
Rated

5

out of

5
by
Al
from
Built like a tank!
This unit is solid! Yet it moves effortlessly on wheels. Plus it looks a lot cleaner than an open rack in the customer's environment.
Date published: 2021-10-21T00:00:00-04:00
Rated

5

out of

5
by
JoeSap1001
from
Sturdy, secure, impressive
When clients and other guests visit our office, they love when I show them my rack. It's a physical representation of how securely and carefully we handle data and equipment in our technology consultancy. Highly recommended.
Date published: 2014-10-01T00:00:00-04:00
Rated

5

out of

5
by
paul64
from
Perfect Cabinet
I needed a cabinet that was slimmer than the majority of standing enclosures. This perfectly fit the bill. It was easy to move since it had wheels, once in place, I set casters in place. The cabinet is sturdy and now houses my servers.
Date published: 2013-08-22T00:00:00-04:00
Rated

5

out of

5
by
Snelson1005
from
VERY! well designed.
The unit just arrived and unpacked. The design is clean and every detail has been thought through. The only issue found was rubbing by cardboard packaging on the side panels during shipping has abraded the paint.
Date published: 2012-10-04T00:00:00-04:00
Rated

5

out of

5
by
JTS, Renewable Energy IT/SCADA
from
I continue to buy this product
We build a lot of renewable energy projects and always specify this rack (SR42UB). We have it installed in corporate server rooms and substation control houses. The rack has many options that make it a fit for every environment and security requirement. What I like the most about the SR42UB is that all of the panels and doors can be easily removed/replaced and they are made of sturdy, light-weight steel. Grounding points for the rack are well placed and everywhere they are required.
Date published: 2019-05-30T00:00:00-04:00
Rated

5

out of

5
by
Horsefly
from
Amazing functionality
This product provides cutting edge versatility and functionality, ensuring the top standards are met in our product goals again and again.
Date published: 2022-11-02T00:00:00-04:00
Rated

5

out of

5
by
Tom
from
Tripp-Lite 42U Cabinet Review
Cabinet is exacting what I expected. I have used this brand and model cabinet in the past with no issues. Would buy again.
Date published: 2022-09-21T00:00:00-04:00
Rated

5

out of

5
by
Way
from
I would definitely buy this product again.
Great product for single rack data room or for huge datacenters. This is a rack I would standardize on.
Date published: 2022-05-20T00:00:00-04:00
Rated

5

out of

5
by
Kevan
from
great product
Great product - did find that side panel locks can open with just a little pressure - make sure they are locked - also easy to fit in upside down - took some time to remove it
Date published: 2021-04-19T00:00:00-04:00
Rated

5

out of

5
by
Arnold
from
A good option for any Data Center.
The options with this rack should fulfill just about any needs in your server room or data center. So many ways to modify, configure and accessorize to your liking. Great for rack mount servers.
Date published: 2020-01-02T00:00:00-05:00
Rated

5

out of

5
by
El Jordo Guapo
from
We us this model on all our jobs!
This rack is very good. We go through a lot of these at work. I work in solar controls and we use these in our SCADAs and they are perfect for our scope of work. The black color matches nicely with all of the components we put in it to create a nice color scheme. The metal is strong and sturdy and we have never had a problem with denting. Thanks Tripp-Lite!
Date published: 2021-08-23T00:00:00-04:00
Rated

5

out of

5
by
Jimbo61
from
High Quality Rack at an Affordable Price Point
The quality of this rack is apparent at first touch. The fit and finish are superb. I love the ease of removing the side panels for easy access when installing equipment.
Date published: 2021-07-09T00:00:00-04:00