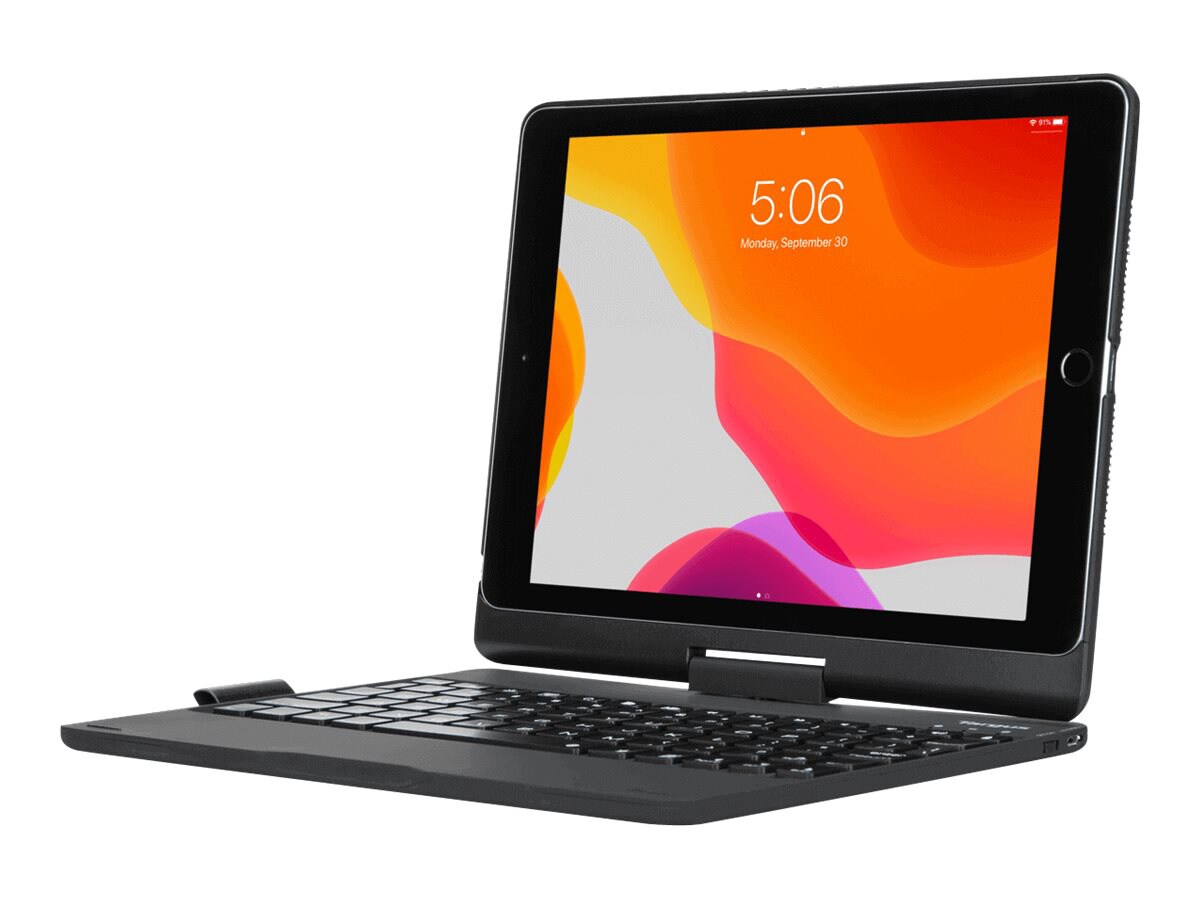 Quick tech specs
Keyboard and folio case
wireless
US
black case
8th generation); 10.5-inch iPad Air (3rd generation); 10.5-inch iPad Pro
backlit
QWERTY
black keyboard
for Apple 10.2-inch iPad (7th generation
View All
Know your gear
The VersaType for iPad (8th and 7th gen.) 10.2-inch, iPad Air 10.5-inch, iPad Pro 10.5-inch adds functionality and protection to your device?while adding little in terms of bulk or weight. The hard shell case offers considerable scratch and impact protection when closed, and opens up a world of productivity. The keyboard is designed to provide a laptop-like typing experience with a full QWERTY layout.

The case seamlessly transitions from closed, protective mode, to open laptop mode, to presentation mode to flat, hidden keyboard tablet mode. The specially engineered hinge rotates 360° and pivots 130° to achieve virtually any viewing angle desired. When the case is closed in protective mode, it puts the device to sleep and allows access to all ports.

With up to 350 hours of battery life and backlit keys for easy viewing in the dark, it's the ultimate keyboard case to take with you anywhere.
Targus VersaType Keyboard case for iPad 10.2" 7th,8th & 9th gen.
is rated
4.80
out of
5
by
16
.
Rated

5

out of

5
by
Fuelman1
from
Great quality
This Ipad case is excellent. It fits perfectly and is very well made. The fit is snug and I really like the way it opens. It doesn't just flop around. There is some tension to keep it open so it won't just flop closed while you are using it. The keys on the keyboard have a very nice feel to them. This would be an excellent case for anyone who uses their Ipad frequently to type.
Date published: 2020-10-07T00:00:00-04:00
Rated

5

out of

5
by
Betty
from
Keyboard problem
This is my second one. I had the first one about a year when the keyboard stopped working.
Date published: 2021-05-20T00:00:00-04:00
Rated

5

out of

5
by
kev94
from
Great Features
What an awesome little Case. It's basically everything bundled into one package. It's a keyboard, a stand, a case and an extra battery. Each one of the features are top notch too 4 ft military grade drop rating, swivel and multiple viewing modes, backlight keyboard with different colors and settings and extra battery life up to 350 hours. I honestly could not ask for more in a case. I love the look and feel and just everything about this case. It is definitely a premium product, I wouldn't expect anything less from Targus. I'm amazed at how they packed everything into this case and still kept it relatively slim. This would make a great gift for anyone that has an Ipad.
Date published: 2020-10-06T00:00:00-04:00
Rated

5

out of

5
by
SYG3
from
Makes iPad Versatile!
The Targus-VersaType for iPad case is the one to beat all others and to turn your good iPad into a GREAT versatile mobile office! I was so excited to get a case that allowed me to type and use my iPad as a small laptop and being able to just carry it right in my purse without needing a large laptop bag. This is an awesome way to bring my office with me and always be productive on the go.
Date published: 2020-10-22T00:00:00-04:00
Rated

5

out of

5
by
celine30
from
Versatile and sturdy
This Targus case and keyboard offers the ultimate level of convenience and efficiency. I can easily work on assignments on my iPad now, rather than using my heavy computer, because of the keyboard function. The keyboard is smooth and simple. Love the stylus holder on the side. I can safely confirm that this case duo is very useful for college students.
Date published: 2020-10-08T00:00:00-04:00
Rated

5

out of

5
by
Texasd
from
Finally a great keyboard and cover for my ipad
Finally I can keep a clean Ipad screen instead of typing on the screen and constantly having to clean it. The cover protects the ipad really nicely also. I wish I had found this product years ago. I can now really maximize the use of my ipad since i can not type like a computer keyboard
Date published: 2020-10-11T00:00:00-04:00
Rated

5

out of

5
by
Jack
from
Love it
Works great for me with the keyboard attached. Have dropped a couple of times and held with no problem.
Date published: 2022-03-11T00:00:00-05:00
Rated

5

out of

5
by
Angel
from
Good concept.
Great concept. Looks great the keyboard lights up nicely. iPad good perfectly heavy duty feeling but not bulky. Only issue is that j can't get the Bluetooth to connect and be able to actually use the keyboard.
Date published: 2020-10-23T00:00:00-04:00
Rated

5

out of

5
by
Sarah
from
Functions Well
This case and keyboard is pretty awesome. I like that it also comes with a pen. It is easy to detach when you don't need it. Connects easily and also protects the screen when closed. Hopefully it will last a while.
Date published: 2020-10-12T00:00:00-04:00
Rated

5

out of

5
by
slimazn
from
Very Useful
I've been needing a keyboard for my ipad to do school work and this was perfect. I love the look and feel of it, being a case and a keyboard at the same time is very useful but it is quiet heavy. Connecting to bluetooth took a bit long since I was confused on how to do so. I had to use the instruction to learn how to connect the bluetooth to my ipad. Typing felt great. I love being able to change the colors glowing under the keys! I love the shortcuts keys thats very useful like to pop out a search bar or go back home. Overall I highly recommend it for anyone who likes to type on a keyboard and need a case at the same time.
Date published: 2020-10-07T00:00:00-04:00
Rated

5

out of

5
by
Jbrown
from
Great keyboard!
My kids are doing remote learning. The school ran out of computers and we only have one. Both my kids have school at the same time. I got this keyboard to go with our iPad so my 5th grader can do school work! It works great and we have no issues!
Date published: 2020-11-06T00:00:00-05:00
Rated

5

out of

5
by
Tommy566
from
Awesome keyboard/case combo!
This is the first keyboard I've tried with my iPad and I'm so glad I decided to give it a go! I instantly become so much more efficient when using my iPad. The case and keyboard feel very durable and I love the rotating hinge. The backlit keys are also a huge plus when using it at night or in a dark room. I've read in some other reviews that they had difficulty connecting the Bluetooth keyboard to the iPad but I didn't have an issues. This case/keyboard combo is a game changer for anyone who owns an iPad, highly recommend!
Date published: 2020-10-19T00:00:00-04:00
Rated

5

out of

5
by
Maribell
from
Excellent source
Has a great manage and protect the ipad perfectly.
Date published: 2020-10-05T00:00:00-04:00
Rated

5

out of

5
by
Jules
from
Feels like a real computer
I purchased this at an OfficeMax and was so surprised at how easy it is to use and its versatility in any environment. I work in a teaching setting, and this keyboard case can bounce back and forth from reading view, presentation view, and typing mode. I am still finding out all the different features, but this was definitely a purchase well made. The only issue is that the case shows fingerprints very easily, but that can be easily remedied by some vinyl stickers to distract from the smears.
Date published: 2020-11-12T00:00:00-05:00
Rated

5

out of

5
by
Hbmoe
from
Great features
I'm very impressed with the build quality and feel of the keyboard and the protection for my IPad. Also the four different views/ways you can use this case. Very happy! I would recommend this iPad case.
Date published: 2020-10-01T00:00:00-04:00
Rated

5

out of

5
by
old Salt 135
from
Just like having a laptop!
This a versatile keypad case for my iPad 10.2 " It offers great protection and the key board links to the iPad seamlessly. The qwerty layout works well and holds the iPad at a good viewing angle of your choice.
Date published: 2020-10-16T00:00:00-04:00