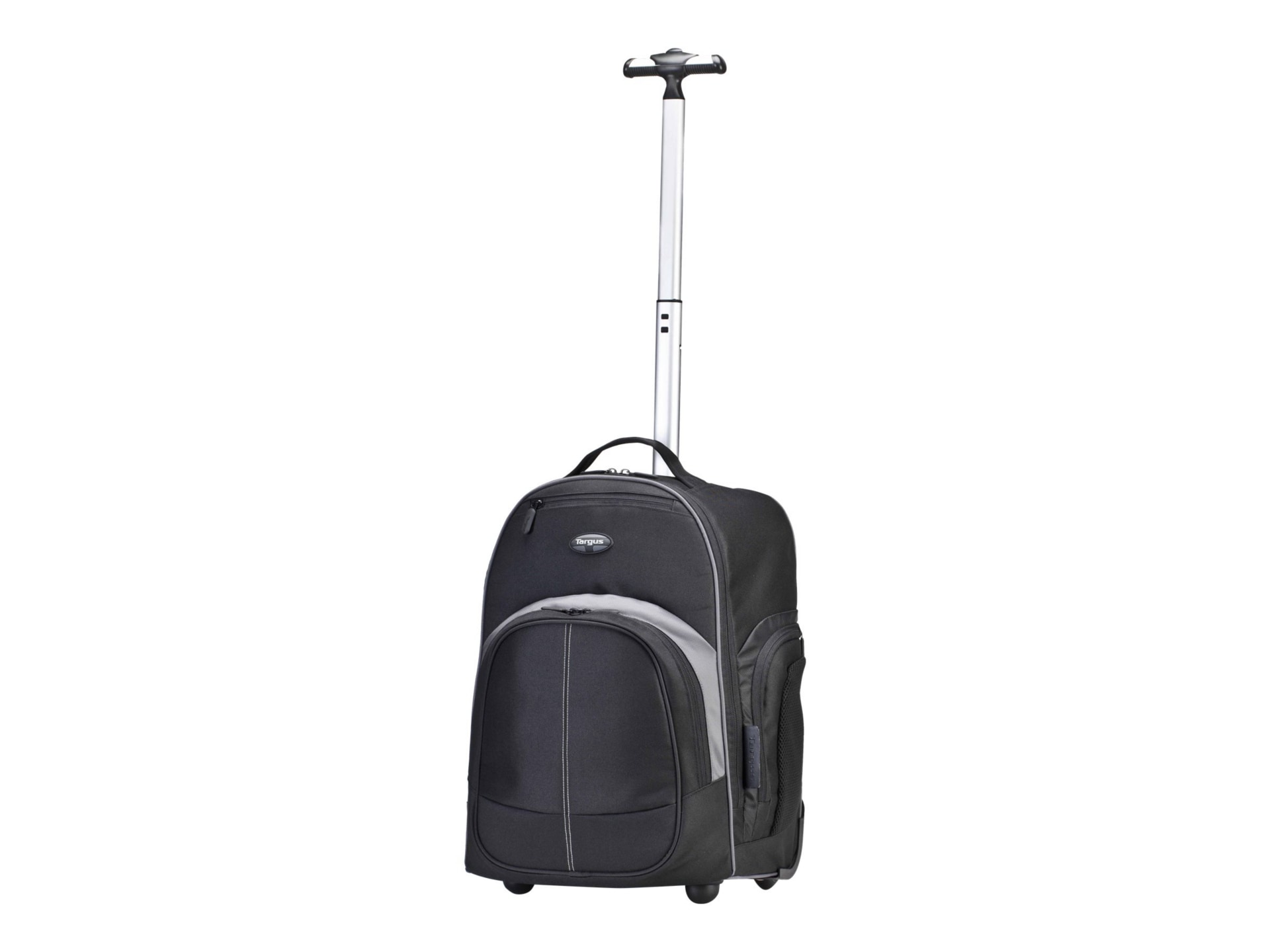 Quick tech specs
View All
Know your gear
The Targus 16" Compact Rolling Backpack in sleek black goes anywhere you go. Use it as a carry on or a bag for getting around campus – this backpack is functional in every way. Fully equipped with quiet roller wheels and a retractable handle, you'll be rolling your materials easily and comfortably. Integrated into the main compartment is a soft-lined interior pocket specifically for your media tablet, protecting it from bumps and scratches. The roller backpack has a large compartment for storing books, documents and folders. In a separate section, there is a full workstation where you can store all your accessories, key fobs and pens. For additional storage, there are 2 side mesh pockets – one is zippered for secure storage. Not only is there separate space for your books and tablets, but there are two elastic straps that can hold a change of clothes. Pick up and go when rolling becomes inconvenient – the roller features two shoulder straps for carrying ease that can be tucked away when not in use. The fold away covers acts as wheel covers when used as a backpack. Lightweight and sleek, the Compact Rolling Backpack is 20% lighter than equivalent bags on the market.

Targus Compact Rolling Backpack
is rated
4.50
out of
5
by
26
.
Rated

5

out of

5
by
Verified Buyer
from
Good bag worth the ptice
Good bag
Date published: 2017-01-13T00:00:00-05:00
Rated

5

out of

5
by
lazer
from
Handle stuck up
Handle stuck in the up position after 1 month of use. The place where the handle extends into the bag is very bulky. It doesn't hold as much as it seems like it should.
Date published: 2020-10-01T00:00:00-04:00
Rated

5

out of

5
by
LouAnne
from
Exceptional travel bag
Best travel backpack on the market, spacious and organized compartments, light weight, rolls when your connecting flight is in another terminal and fits underneath the airline seat.
Date published: 2022-02-23T00:00:00-05:00
Rated

5

out of

5
by
Jo12256
from
Quality Computer Backpack
I needed a new computer bag and wanted the option of having a rolling bag vs only a backpack. Targus has designed a bag with lots of organizing compartments for all my stuff. From the areas for pens, phone and files to a double padded area for my laptop. The bag is easy to change from backpack to roller. The wheels are solid and very sturdy. The stitching is heavy duty and I think this bag will work well for me for a long time.
Date published: 2023-07-31T00:00:00-04:00
Rated

5

out of

5
by
Becky86
from
Great laptop bag!
This rolling laptop bag/backpack is great! It keeps my laptop safe and secure. I love that it allows me to roll or or use it as a back pack too. Plenty of room for chords other items you might need for work/school. Great for traveling too! Great quality bag!
Date published: 2023-07-26T00:00:00-04:00
Rated

5

out of

5
by
Kylestrubs
from
Not stylish but effective
The look and style leaves a little to be desired. The pull handle is slightly too big for a normal pull through the concourse. The bag is nice and the zippers work well. There isn't a ton of room but if you didn't want to have the bag attached to your back this would make sense.
Date published: 2023-07-28T00:00:00-04:00
Rated

5

out of

5
by
Susie2
from
great features!
I love that this backpack can roll! It has been so helpful in my travels. Works for most airline carry on size restrictions. I was impressed by the quality and durability plus it's just been refreshing to be able to just use this bag instead of a smaller bag I have to carry on my shoulder.
Date published: 2023-08-07T00:00:00-04:00
Rated

5

out of

5
by
Karma2u
from
On the go storage
If you are out and about and limited on space this is perfect. Backpack itself is durable and spacious. Provides a protected area to store your laptop securely. Adjustable to fit your style preference. Plenty of space for other belongings. An all in one convenient bag!
Date published: 2023-08-08T00:00:00-04:00
Rated

5

out of

5
by
PaparazziMom619
from
Great backpack
This is a very great rolling laptop backpack..very durable and have so many spaces. Very sturdy as well and fit everything I needed for my stuff. It's very easy to.roll and pull. Extra layer protection inside for my laptop and important documrnts.
Date published: 2023-07-24T00:00:00-04:00
Rated

5

out of

5
by
atx5
from
Great for travel
This has been really great for traveling the last few weeks. It's easy to carry and you can fit all of your travel accessories in it. When you get to the airport and want to roll, it glides with ease!
Date published: 2023-07-25T00:00:00-04:00
Rated

5

out of

5
by
Frankietee
from
Very sturdy well constructed
This Targus - 16" Compact Rolling Backpack has space for everything you can carry it three ways I use it all the time you will love this rolling backpack it has a space for all your things and the handle on the top and the back straps this is a great bag.
Date published: 2023-07-25T00:00:00-04:00
Rated

5

out of

5
by
Joe B TPA
from
Ok, but a few glitches and problematic warranty.
I bought this item in 2017 and it is a nice size, but items tend to flop around in each compartment...pens fall out of pen slots, the pockets with Velcro closures don't really keep items secure. About a year and a half ago the handle started sticking in the up position. Very annoying when you're trying to get into your airline seat and holding up the line. It has gotten so bad that I called to file a warranty claim. Targus offered a replacement if I sent back the old item. However, I'm in Florida and they are in Anaheim, CA. The cost for shipping is over $30 and I only paid about $50 in 2017 for the backpack. I guess $30 is less than $70 for a new one, but I'll go with a different brand and hope I get a better item.
Date published: 2021-01-13T00:00:00-05:00
Rated

5

out of

5
by
Guenan
from
Will it fit under the seat on a plane!?
This is an awesome well-made product......I'm just not sure if it will fit under a seat on a plane. Seems a bit large..... :(
Date published: 2023-06-14T00:00:00-04:00
Rated

5

out of

5
by
My rolling laptop case
from
Great Targus rolling laptop case
My employer will be asking our staff to transport our company-owned laptops to and from work in the future. I purchased this case as it is good-looking and very functional and generated good reviews. I used it for the first time very recently. Everything worked fine and I did notice some superficial scratches on the wheels and rollers after my first use of the case and smoothed them out with petroleum jelly. The wheels are functional; this is a cosmetic observation alone. Lesson learned: the route to my office from public transportation has sidewalk surfaces that are rough and we have curb cuts that are also made of a textured plastic that may have scratched the wheels. Next time I use my Targus 16" Rolling Backpack I will stay on smooth surfaces in order to keep it nice-looking and functional. This very minor observation aside, I do like the case and think it's a "keeper".
Date published: 2023-03-05T00:00:00-05:00
Rated

5

out of

5
by
robinr6900
from
Great concept for a laptop carrier!
I recrived this Targus 16' Compact Rolling Backpack and I really am surprised at how well it is .sde. It has a lot of compartments for everyday items that I need when I attend night classes at my local community college. The wheels glide easily for me and I love the fact it doubles as a back pack.
Date published: 2023-07-06T00:00:00-04:00
Rated

5

out of

5
by
Marshapep
from
Spacious
This is a spacious compact rolling backpack. I have used it to pack essentials for a weekend get away including my laptop. I am looking forward to using it as a carry on for my next flight. I think it would also be great for students as it has more than enough room for books and electronics
Date published: 2023-07-08T00:00:00-04:00
Rated

5

out of

5
by
SEdwards
from
Targus
Are you looking for that perfect backpack for work or school if you the Targus compact rolling backpack is the answer. This backpack is compact yet offers all the space need it to carry every day work essentials. There's a padded place for your laptop, front zipper pouch, where you can have pencils, pens, paper, clips, markers, notepads , etc. The main compartment can be used to keep your notebooks, files, or whatever you need. The best part about this backpack is that it has a pull up handle to guide the backpack on wheels. This is a great backpack made of good quality.
Date published: 2023-07-09T00:00:00-04:00
Rated

5

out of

5
by
Tanochan
from
Looks like an ordinary backpack cept it has wheels
I like this rolling backpack, even tho IMO it could do with some improvement. I used it for short weekend business trips. While I prefer rolling it, I sometimes need to wear it as a backpack if I'm rushing from one gate to another. I feel that the shoulder pads could use a bit more padding. Thank you for including a soft covering for the wheels. We all know when wheeling it around, you never know what those wheels will roll over. So having an extra soft panel to cover the wheels is an excellent idea. This will keep the dirty wheels from I like that it has a mesh pocket for my water bottle. The wheel construction is similar to rollerblade wheels, meaning it should last a long time. This backpack, even with wheels, is very light.
Date published: 2023-07-10T00:00:00-04:00
Rated

5

out of

5
by
Tofu9
from
Well made and roomy
This rolling backpack is very well made. It holds a lot and has many compartments. It has many thoughtful features such as interlocking straps to hold clothing and an outside pocket for a water bottle. The smaller outside compartment has room for a tablet, pens and other items There is a small padded zippered compartment near the top that my phone fits in. The handle and straps are padded. There is even a piece of material that is used to cover the straps when used with wheels or to cover the wheels when used as a backpack. This fabric uses Velcro type fasteners- the soft side of the fastener would be against your back. However I feel that the wheel cover fabric is a bit too skimpy - it just barely covers the wheels. The bottom of the pack by the wheels feels hard. Luckily the wheels miss hitting my back while worn as a backpack. The overall size (13.38" x 7.48" x 19.29") makes it a bit too large to use as a personal item on some airlines. Although it would work as a carry-on I would prefer to have it handy since it can hold my tablet and PC. It seems sturdy when placed on the floor and does not seem like it would tip. Note that the PC goes in the flap portion of the main compartment.
Date published: 2023-07-11T00:00:00-04:00
Rated

5

out of

5
by
Mariah
from
Great quality
This backpack is perfect for on the go! I really enjoy that it fits both my laptop and my tablet at the same time. The inside is high quality so I feel my electronics are safe and padded. I really enjoy the wheels as well, especially when I have the bag packed full and I don't want to carry it. It's easy to switch from straps to wheels too!
Date published: 2023-07-11T00:00:00-04:00
Rated

5

out of

5
by
Sheka87
from
Loving my backpack
I absolutely love my Targus 16" Compact Rolling Backpack it's so professional. I love house I can use it as a little suitcase as well as a laptop case. It has a hidden handle to you can either carry it on back or pull handle up and pull it. It's very well made, and It has several compartments. I recommend this rolling backpack.
Date published: 2023-07-18T00:00:00-04:00
Rated

5

out of

5
by
Maggie888
from
Smart Design
I wish I had this rolling backpack / case years ago. It is such a clever design and makes it so much easier to carry all the things you need - including your water bottle. A lot zippered pockets that have features that make it easy to keep everything you need organized. So no searching for items as everything is easy to access. Sewn in pockets to hold pencils pens along with other essentials. Pocket for your water bottle on the side. Padded pockets for your laptop and tablets. Straps keep items secured. The back straps are also nicely padded to make it more comfortable to carry. The extendable handle is tall enough so it is easy to roll without having to bend over. The wheels move and maneuver smoothly. Makes everything neat, accessible and secure. I will be buying a few of these for family members as gifts.
Date published: 2023-07-18T00:00:00-04:00
Rated

5

out of

5
by
Carebearkiller5
from
Perfect
So much room. I can easily put all sorts of stuff in here. Nice handle and seems sturdy. I definitely recommend and give it two thumbs up. Nice quality, durable, good wheels and zippers are nice. Can't complain.
Date published: 2023-07-14T00:00:00-04:00
Rated

5

out of

5
by
CindyT70
from
Very Roomy
This 16-in rolling backpack is a godsend to anyone who doesn't like carrying them on their back or in their hand you simply pull the handle up and pull it behind you, it everything that you need for school or college it will very safely and securely hold your laptop , it holds up to a 15 to 16 in laptop plus, there's room for books notebooks pens pencils crayons anything that you will need.
Date published: 2023-07-16T00:00:00-04:00
Rated

5

out of

5
by
Debbie1105
from
Holds my laptop perfectly.
Targus rolling backpack for 16" laptop this is functional and roomy. My laptop fit perfectly in it. This compact bag makes it super easy to take my laptop with me on trips. I can use it as a backpack or roll it along with the wheels. The bag has extra room for other items I need to pack with it, such as usb drives, mouse, etc. It looks great and is made with a great material. The zippers work perfectly and the handle functions well up and down. The wheels roll very smoothly. Overall a great product to buy and recommend to others.
Date published: 2023-07-20T00:00:00-04:00
Rated

5

out of

5
by
Joedtip
from
Works great
This Targus - 16" Compact Rolling Backpack works great. Very easy to maneuver through the walkways of my job. It holds a lot of my work documents and also my laptop. It has kept my laptop safe inside from damage so far.
Date published: 2023-08-25T00:00:00-04:00