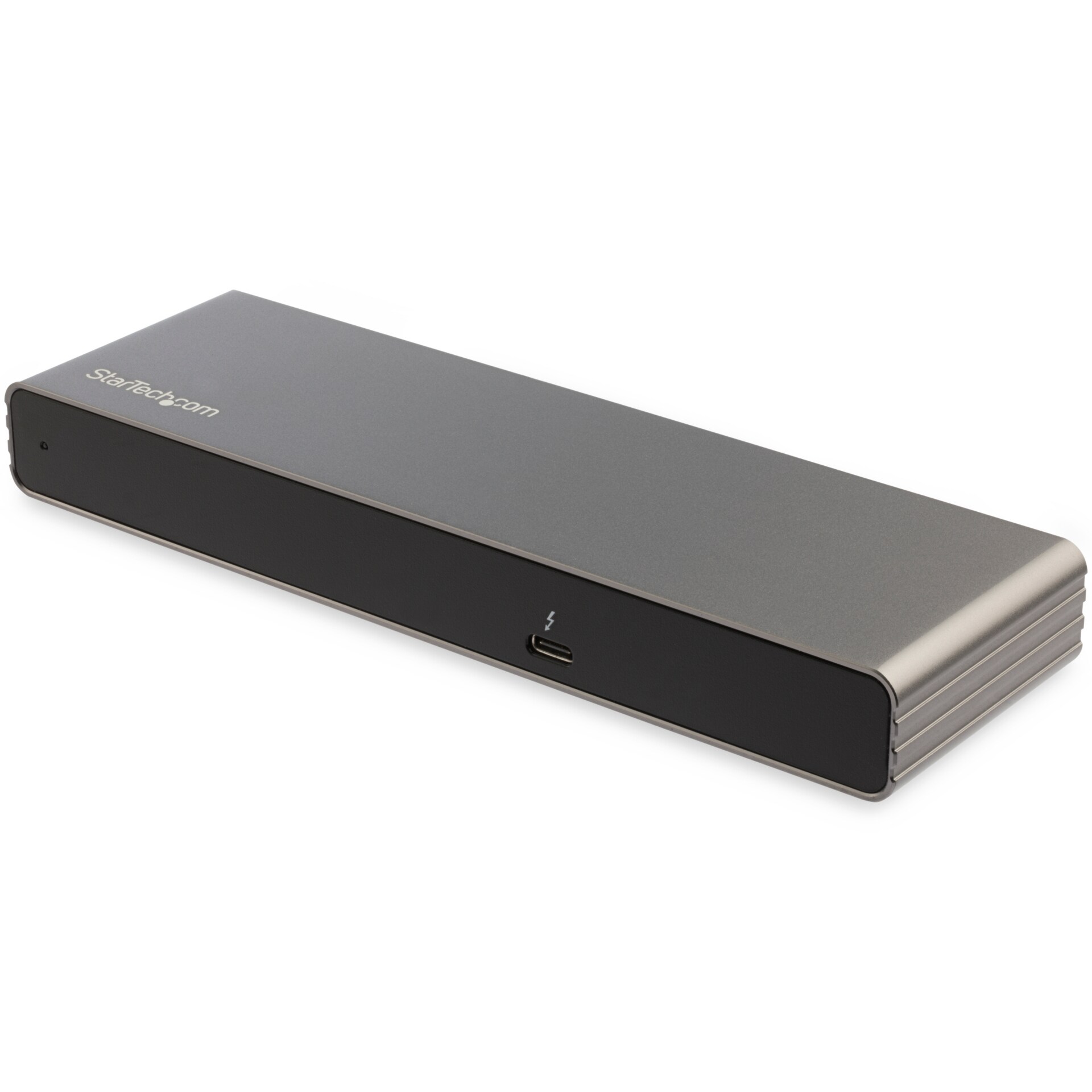 Quick tech specs
Thunderbolt 3 certified docking station dual 4K60Hz/85W Power Delivery/USB-A hub and Gigabit Ethernet ports
No driver setup or additional display adapters | Thunderbolt 3 cable incl.
Extended dual display support on MacBooks w/Intel/M1 MAX/M1 PRO chip and single display w/older M1 chip
Flexible monitor combinations: Dual DisplayPort | DP + HDMI | DP + VGA | HDMI + VGA
Universal Thunderbolt 3 dock for TB3 laptops incl MacBooks Windows macOS
For photography/video production/CAD design
View All
Know your gear
This Thunderbolt 3 docking station packs big performance into a cost-effective, compact mini dock, delivering essential connections for productivity. The bus-powered Thunderbolt 3 dock lets you connect to dual 4K HDMI displays, Gigabit Ethernet and two USB (Type-A) ports and for a flexible setup, the attached USB-C cable has an extended length of (7.9 in./ 20 cm).
Create a Dual-4K 60Hz Workstation
Great for editing 4K video or other Ultra HD tasks, this portable Thunderbolt 3 to HDMI dock supports 40Gbps of throughput and 4K resolution at 60Hz on dual HDMI monitors, through a single Thunderbolt 3 port. Run resource-demanding applications on two independent displays without draining system resources.
Connect your laptop to:
•2x 4K HDMI displays (up to 4096 x 2160p @ 60Hz)
Easy Installation and Deployment
Simply connect the?TB3 dock?to your laptop with included TB3 cable and start working immediately. No?time-consuming driver installations are required.?
The Ports You Need Most
To enhance your productivity, the Gigabit Ethernet port (with PXE Boot and Wake-on-LAN support) ensures reliable wired network access. A USB 3.0 Type-A port, with ample space around it, lets you connect a USB device, such as a flash drive, for easy file access. Connect another USB device using the USB 2.0 Type-A port.
The TB3DKM2HD is Thunderbolt Certified and backed by a StarTech.com 3-year warranty and free lifetime technical support.
StarTech.com Thunderbolt 3 Dock Dual Monitor 4K 60Hz - DP/HDMI/VGA - 85W PD
is rated
3.10
out of
5
by
10
.
Rated

5

out of

5
by
PAUL B.
from
One Cable to Connect and You're Done
Simple to use, one USB-C cable to plug into the laptop and everything is connected; 2 monitors, keyboard, mouse, printer & network. Works great.
Date published: 2020-05-18T13:07:25-04:00
Rated

5

out of

5
by
karanbazaz
from
The dock station works well with my MacBook
I has been using it for a few weeks, so far it works well.
Date published: 2019-02-13T00:00:00-05:00
Rated

5

out of

5
by
CJEFF
from
null
Simple enough to plug and go. Only issue is that it doesn't power my Mac as advertised. But it's not an inconvenience to plug in the dock and the Mac charger.
Date published: 2019-01-16T00:00:00-05:00
Rated

5

out of

5
by
batista
from
Not worked as expected
- VGA signal produces waves on screen at 1920x1200 @60Hz (with the same cable and monitor that works well with other PC) - Mouse and keyboard disconnects intermittently when external SSD requires bandwith + Power delivery works + Build quality
Date published: 2019-05-20T00:00:00-04:00
Rated

5

out of

5
by
McBee
from
Good features - easy install
Company provided this for my Mac Pro (2018) and it works well except - the install software will not work on my macOS Mojave 10.14.4. I will still recommend this as a good solution for adding addional monitors to the Mac.
Date published: 2019-04-21T00:00:00-04:00
Rated

5

out of

5
by
ARJUN P.
from
Great product
Great product now all my devices are connected to my Macbook using single TB3 cable.
Date published: 2020-02-26T17:08:21-05:00
Rated

5

out of

5
by
WillyD73
from
Set-up nightmare
My company bought this for me in addition to 2 monitors and a laptop with a USB-C port. I can't find step by step installation instructions anywhere. Who can help me out of this nightmare?
Date published: 2019-09-13T00:00:00-04:00
Rated

5

out of

5
by
anne1704
from
Drivers won't install
Work issued this dock for my Macbook Pro running Mojave 10.14.6. When trying to install the drivers I get the message "this driver can't be installed because your version of macOS is too new." So I guess I have a new paperweight?
Date published: 2019-09-20T00:00:00-04:00
Rated

5

out of

5
by
locus123
from
Works great after screen roulette finishes
No issues when it's working. There doesn't seem to be any rhyme or reason when plugging it in to a Macbook on whether the external monitors will come back in the same rotation or not. Usually flipping the cable over or closing the laptop screen before plugging in will fix it. It's a small annoyance, but otherwise the dock works great.
Date published: 2020-07-21T00:00:00-04:00
Rated

5

out of

5
by
CriticalThinking
from
Unreliable
We bought five (5) of these units to work with Lenovo ThinkPad's. These laptops are equipped with TB3. We've ensured that the TB firmware is up to date on the systems. It does show connected in the Thunderbolt manager (Intel). If you connect a USB, fine, connect a monitor, gamble, connect two monitors, USB stops working. Reboot with a single monitor, USB still isn't working. Unplug USB (camera, USB, keyboard) and reboot with a single monitor, then plug in the USB, 50/50 chance of working. Absolutely unbelievable that a $600 dock is this un-reliable.
Date published: 2022-08-30T00:00:00-04:00