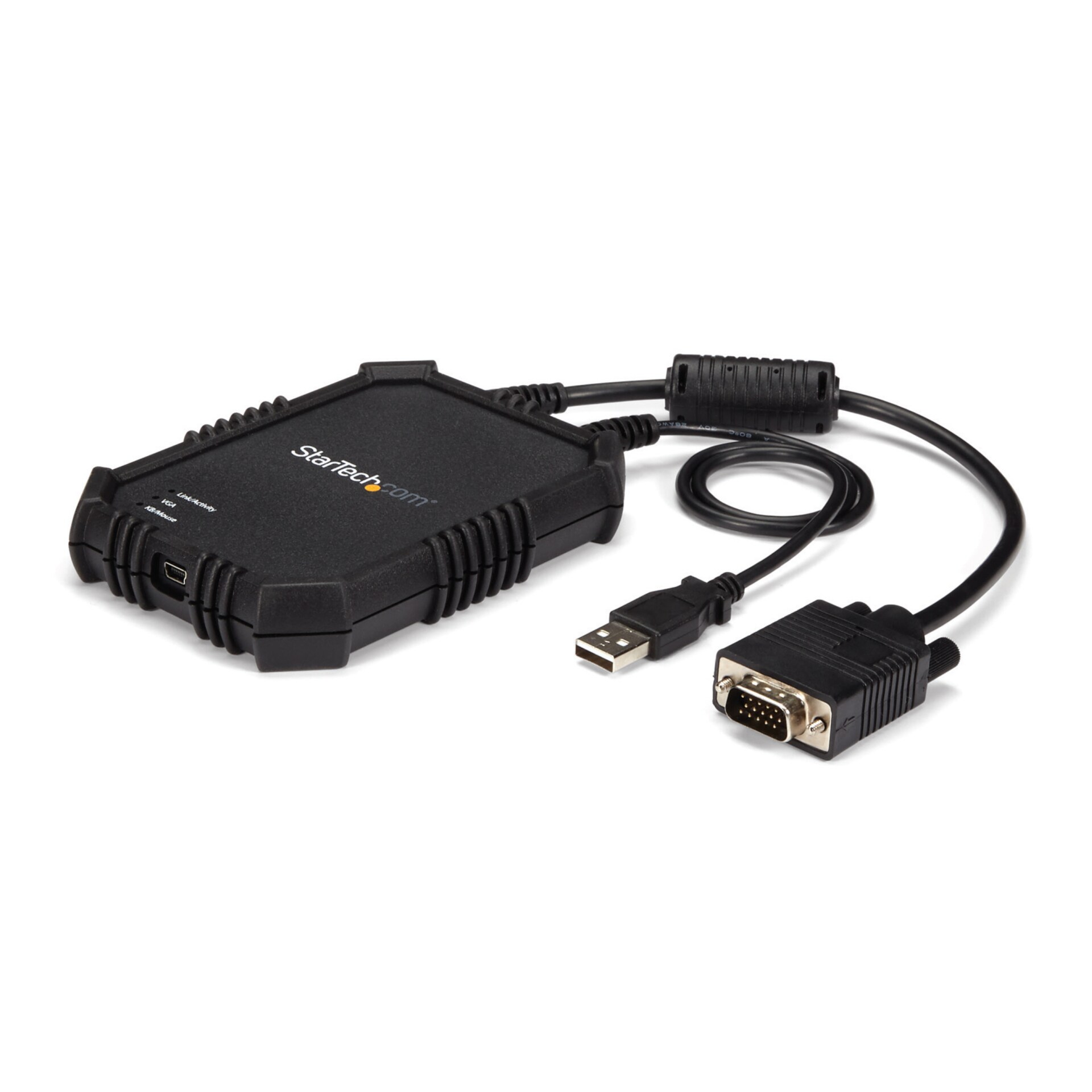 Quick tech specs
Turn your laptop into a portable KVM console for accessing servers ATMs and kiosks with file transfer and video capture
Portable USB Crash Cart Adapter/Portable KVM Console
Transfer files from laptop to the connected PC
Integrated KVM Cables
Rugged for maximum durability
Compatible with the Dell PowerEdge R series Rack Server
Record video of on-screen activity
Supports resolutions up to 1920x1200
Perfect for mobile administrators travelling between data centers or server rooms
View All
Know your gear
Use this USB crash-cart adapter to turn your laptop into a portable KVM console for accessing servers, ATMs and kiosks with file transfer and video capture. This rugged and portable USB crash cart adapter lets you turn your laptop into a portable console for accessing servers, desktops and laptops, as well as ATMs, kiosks or any computing device that features both VGA and USB ports.

This adapter also supports local file transfer and video capturing built into the software.

This crash cart adapter has been specifically designed for maximum durability. It features a rugged, rubberized housing that can handle drops by absorbing shock, to make sure that you're equipped for unexpected challenges.

Troubleshoot your devices quickly and easily. Simply connect the crash cart adapter to your laptop using the included USB cable, then connect the integrated USB and VGA cables to your server.

The crash cart adapter features a flexible software interface that offers robust performance. It enables you to transfer files from your laptop to the server, monitor and capture activity from the connected device as video for records or instructional purposes, and take screenshots and scale the display window to full-screen mode or smaller, without scroll bars.

This compact crash cart adapter lets you connect to a headless device using only a laptop, eliminating the need to lug around an awkward, traditional server room crash cart. With optimal portability in mind for your mobile administration or repairs, this pocket-sized adapter features a small footprint and lightweight design that easily fits inside your laptop bag.

The adapter is USB powered so you won't need to carry a power adapter. Plus, the KVM cables are attached to the crash cart adapter so you won't need additional accessories to connect it to your server. The built-in cables have been engineered with strain relief, preventing them from wearing or breaking.

With no server-side software installation required, the USB crash cart adapter provides BIOS-level control of any PC or device that has both a VGA port and a USB port.


StarTech.com Laptop to Server KVM Console - Rugged USB Crash Cart Adapter
is rated
4.00
out of
5
by
3
.
Rated

5

out of

5
by
MrScott
from
Good but needs replaceable cables
The rugged design is great for when you inevitably drop it. But after numerous insertion cycles and moving equipment round that sometime comes in contact with cable ends they do eventually become damaged. There is no way to replace the cables on this KVM. This also means you cannot put a different cable on that may be of a better length for servers reach in a tall rack. This means the full weight of the kvm is hanging on the video cable. Not bad for a few times but after day after days of use it causes wear and tear to the cable ends. Once your cables ends are damaged you are screwed and need a new expensive KVM. I tried port savers on the Video cable but it makes screwing in the server side to hold its weight not possible and it often falls A video extension cable just adds too much cable length to be lugging around. Please update this to include replaceable USB and Video cables for the server connection side. Other than that this thing works great as designed. Even off a Apple MacBook. Great for a portable data center crash cart off your laptop. Size is not bad and software works for the most part. A few function keys that may not exist on your laptop should be implemented on a virtual bar for easy access if I was to get picky. I give it a B+. Still the best portable crash cart on your laptop on the market.
Date published: 2016-12-22T00:00:00-05:00
Rated

5

out of

5
by
richc
from
Invaluable for working in the field!
We purchased these because we often need to console a system in the field and console using the lights out management interface isn't reliable. With this KVM Console we can use our laptops to access the console on our systems in the field instead of configuring remote console over Ethernet and relying on out of band management to access our system consoles.
Date published: 2018-11-02T00:00:00-04:00
Rated

5

out of

5
by
radmanrugg
from
Needs improvement.
KVM usually works. Mac Software: Right now I upgraded to High Sierra and the software stopped working. Trying to find a solution. Before that I often have to reset the video to get it to take a change in resolution during POST on some servers rather that automatically. The MAC software could use more keys (del) on the optional key window or user selectable keys to keep handy. Also the keys should be mapped to button in the window title and not in a separate window. It is nice that I can get to F keys which on a Mac is a bit of a pain to use the keyboard since they default to other functions. Could also use a Video reset button. Also could scale the video captured to scale to the current window size. It does to some degree but has grey areas around the video if the resolution is smaller than the window. Hardware: It is fairly rugged. It has 2 wire connections on one side (console side) and a USB plug hole on the other. So I have to fiddle with unplugging the USB and trying to coil up the cords on the other side which includes a giant RFI core on the Video cable and the giant video cable end. Its ends up being messier than it should be to be put in a backpack. Also if and pins get bent on the 15 pin VGA cord you are done with no way to repair. It would be a huge improvement if the console side (VGA / USB) had just connectors so you could 1) use any cable length you want 2) allow you to replace the video cable once they inevitably wear out due to a large number of insertion cycles and normal wear and tear. As it is the video cable is short and after a so many insertion cycles won't stay in the connectors under its own weight. If I could just plug a cable of my choice in, I could rest it on the floor with a longer set of cables. I did purchase VGA and USB extension cables that help but the connections are again a disturbance in ability to coil up when done. Over all this needs improvement. 1 Mac Software needs Video reset button to affect sensed resolution on console window or better detection in the first place 2 Video capture should scale up if window is bigger than the capture. 3 Mac Software needs User define-able keys on for extra keys (lots of keys I don't use and 1 I don't have (del key)). 4 Mac on screen hot keys should be allowed in the title bar as compared to another window. 5 Hardware needs video connectors directly on the unit for all 3 cables. 6 Case could use a design that allows cables to be wrapped around it for storage / transportation. But right now this is probably the best portable console you can get right now. So I am not directing you to anything else. Just hope Star Tech upgrades this thing before someone comes along and makes a better one.
Date published: 2017-10-07T00:00:00-04:00