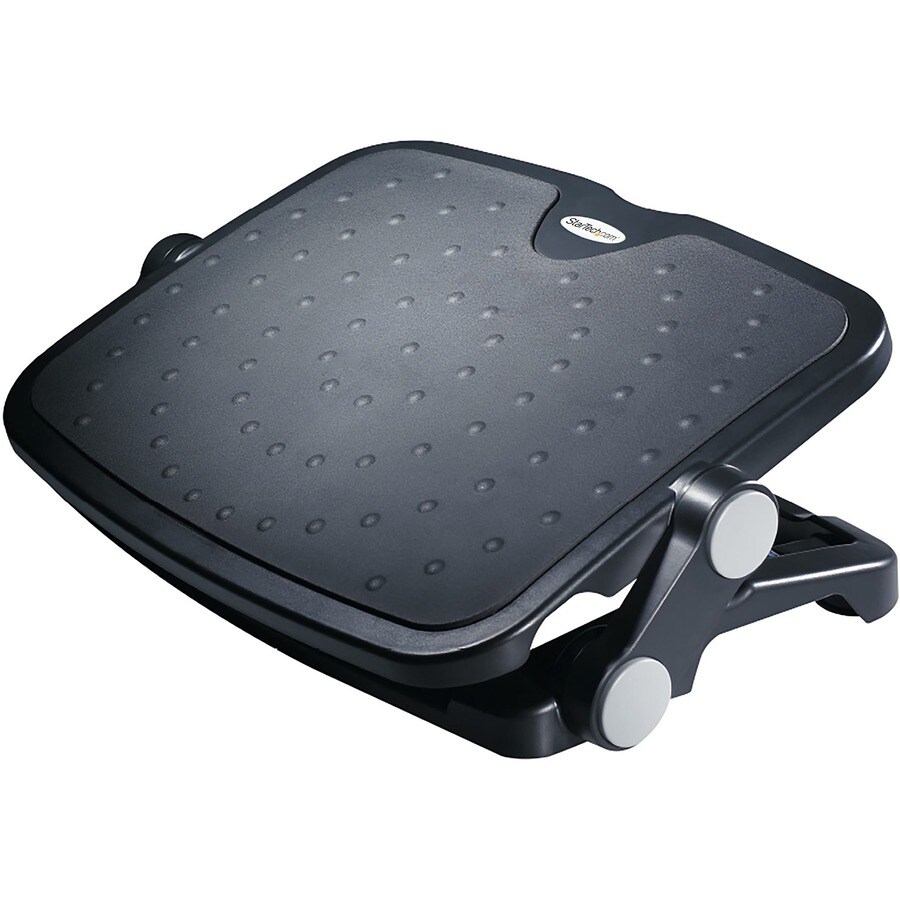 Quick tech specs
Create a more comfortable ergonomic workspace
Ergonomic Footrest for Desk
Office Footrest Stool
Adjustable foot rest that provides a cost-effective way to modify your workstation
Adjustable Under Desk Foot Rest
Large 18x14in anti-slip platform
Customize your work set-up with two adjustable heights (3.7 to 4.8in) two tilt angles 15°/ 30°
View All
Know your gear
This adjustable under-desk foot rest helps to increase your comfort and productivity, by keeping you ergonomically positioned throughout the day. It's a cost-effective way to modify your workstation. You can customize your foot rest to your most comfortable position by easily adjusting the height and angle atany time.
Adjustable features for greater comfort
Proper alignment of your feet and back helps you to work in greater comfort all day. The under-desk foot rest helps you maintain better posture by customizing your work setup.
The foot rest features a large platform that's designed to accommodate a wide range of user needs. It is ideally sized at 18 in. x 14 in. (45cm x 35cm) to provide daily comfort and also fit easily under your desk. You can quickly adjust the height of the foot rest from 3.7 inches to 4.8 inches.
With a simple push on the platform, you can also adjust the angle of your foot rest, with two tilt positions: 0° to 15° and 0° to 30°. These adjustable features allow you to personalize your workstation for greater comfort.
Increase movement while sitting
The rocking design lets you exercise your feet back and forth, helping to stretch your ankles and calves. The foot rest elevates your feet to improve your blood circulation and reduce fatigue.
Non-slip rubberized surface
The rubberized platform surface prevents your feet from slipping off the footrest. The massage bumps help to soothe your feet during extended periods of sitting.
The FTRST1 is backed by a StarTech.com 5-year warranty and free lifetime technical support.
StarTech.com Adjustable Under Desk Foot Rest - Ergonomic Foot Rest 18x14in
is rated
4.78
out of
5
by
9
.
Rated

5

out of

5
by
Fitgeek71
from
Angle & Height doesn't lock into place
When you change the angle of the foot rest, it doesn't lock into place at any certain angle. It's a completely mobile platform that rotates freely so any weight you put the front or back, it'll rotate freely towards that directly. I wish it could lock into a certain angle. Also, it has 2 vertical height settings, but the height is only held at that height by a metal bar into a plastic groove on the ground, which means it's not locked at all. That mixed with the freely rotating platform, you'll constantly be moving the metal bar out of plastic groove and mess up the height. Good news is, it's cheap, but if you need something better, I would go with something pricier with better quality. HOWEVER, if you like it to rotate freely due to wanting constant movement or fidgeting, then perhaps it was designed for you.
Date published: 2019-07-11T00:00:00-04:00
Rated

5

out of

5
by
Andrew11
from
Break bad posture habits!
I admit this is my first footrest, and I wonder why I never got one before. Besides putting your feet on a good angle and reducing pain, it actually trains you to put your feet where they should be, out in front of you, not tucked under the chair or resting on your toes. Build quality is excellent, platform is large and rubber coated, and adjustments are very easy. It's also a lot sturdier than I thought it would be, having big feet you're always concerned about breaking what's underneath them. � I received this product in exchange for an unbiased review
Date published: 2018-02-27T00:00:00-05:00
Rated

5

out of

5
by
djluislatino5
from
Great product
I received this product to test and I am very satisfied with this footrest. The width is adequate for me to feel comfortable using it. It is sturdy and feels like it will last a long time. It is easy to adjust, but not so easy that I can do it accidentally. It has a good amount of options for how it can be positioned. Overall, a good product! Note: "I received this product in exchange for an unbiased review."
Date published: 2018-01-29T00:00:00-05:00
Rated

5

out of

5
by
sgto416
from
Works as it should!
If I am working for a long period of time I place my feet in the under-desk foot rest for instant relief of pain. I never thought of using something like this but this is a must for anyone that works for any extended period of time sat down working. I did not have to make any adjustments out of the box but this could be adjusted for most people. I received this product in exchange for an unbiased review.
Date published: 2019-01-27T00:00:00-05:00
Rated

5

out of

5
by
macphoto1980
from
Love it- Great product
I am a person who spends hours in front of the computer and this helps the pain in my legs from sitting so long. The foot rest offers easy positioning to get the right feel for you. I found the item to have enough weight that it was not sliding all over which was an issue i had with another manufactures unit. If you are looking for a product to help with ergonomics then this is a solid and well built piece that does just what it is intended to do.
Date published: 2018-02-13T00:00:00-05:00
Rated

5

out of

5
by
wzzardp1
from
Great Comfortable Footrest
Another great product from StarTech. This product is light, portable to some degree but why it is small enough to move from office to office, desk to desk, it might be a stretch to carry in anything but a large laptop case or rolling case. It does the trick to protect basic support to your feet in order to make your work day and back a little less stressed. It is constructed of light plastic with a couple of height adjustments, which should work for most individuals. It comes pre-assembled and comes with a guide to aid you in finding the correct postion and adjustment for your foot rest. Coupled with a great chair and desk, you will have the perfect and comfortable work environment at work and at home. It is after all, all about proper positioning and placement. This works just as well at home as it does at the office, like a kitchen table, etc, etc. It has provided relief to my back and comfort for my feet and legs. At the lowest setting you can "rock" your feet and legs slightly and it does help with tired legs and feet. If you need an assessment / accomodation for work, please be sure to mention this product for your overall assessment / accomodation besides a proper chair, desk and computer stands. It is usually either a company arranged item or your benefits provider is responsibl for any assessment or accomodation for you to do your job effectively. For home, please consult your spouse and ask for one and order one for use at home. It is reasonably priced and comes with the great StarTech 2-year warranty. I received this product in exchange for an unbiased review.
Date published: 2018-02-15T00:00:00-05:00
Rated

5

out of

5
by
JimR7621
from
Quality Adjustable Foot Rest
I have been in the AV/IT Integration space for over 30 years. I found this unit easy to setup and use. The large rubberized platform design 18 in. x 14 in. fits my large size 15 shoes comfortable. I especially enjoy the rocking design which lets me exercise my feet back and forth, stretching my ankles and calves. The massage bumps are a very nice feature. What is Included: 1 - Footrest 1 - Quick Start Guide Note: "I received this product in exchange for an unbiased review."
Date published: 2018-01-21T00:00:00-05:00
Rated

5

out of

5
by
morty
from
The foot rest is awesome…
Easily adjustable keeping my legs level, body straight so that my posture and circulation is much better. I no longer have to sit crossing my legs or resting my feet underneath on the base of the chair. I thought I'd have an issue with my feet sliding off at an angle but the rubberized material really holds on to the soles of my shoes well. I received this product in exchange for an unbiased review.
Date published: 2018-02-16T00:00:00-05:00
Rated

5

out of

5
by
Manny
from
Under-Desk Foot Rest works as advertised
I owned another unit and was not happy. The Startech unit is great.
Date published: 2018-02-23T00:00:00-05:00